Adobe Photoshop is an amazing photo editing software. It is a basic & must-have tool for professional designers & photographers & digital entrepreneurs. They know the value of high-quality images. Only using Photoshop you can edit an ordinary image perfectly & gives an eye-catching look in the photo.
Whatever learning & using Photoshop is not so easy. It is not just one click editing software. It provides an exclusive feature that needs dedication & effort to learn. Practice is the key to develop your skills. I am going to share some tricks, strategy & guidelines that make your journey smooth.
Are you a beginner? No idea from where to start with Photoshop then this article is for you. You will get some awesome ideas on how to start with Photoshop.
Photoshop is a robust software that has some advanced features. But this article is especially for the beginner. I am sharing the easy Photoshop basic tutorial that helps you to introduce with Photoshop. So, let know the process of how to create your own design or How to edit your image according to your demand in Photoshop.
Why Photoshop:
Nowadays Photography is a world craze. Moreover, in the digital age, the online marketplace is increasing rapidly. Photographers or Digital entrepreneurs are hungry for iconic images. A perfect image can change their future. Attractive quality images bring a flow of success for them. Photoshop gives them the opportunity to get wonderful pictures. Perfection can be achieved only using Photoshop. Because human does not error-free so popular photographer's snap's still needed some modification that is called Photo editing.
If you are a Creative designer you need a platform to implement your idea. Undoubtedly there is no alternative to Photoshop. You can design anything you want & support many formats you need.
Photoshop allows you to have full control over your work. This is the only user-friendly software where you can implement exactly what you dream of.
So, now you can feel how importance Photoshop for Designing or photo Editing.
Pro Photoshop Service Provider:
If you are a busy photographer or entrepreneur struggling with the tight deadline then I have an alternative option for you. You can choose the right Pro Photoshop Service Provider who can deliver your work perfectly within a short time.
Pro Photoshop service provider is those who edit your images using Photoshop according to your demand. Here all the proficiency responsibility is taken by the service provider.
I use Graphic Experts India to edit some of my images I just fall in love with their quality. High-quality services at the lowest price, you can definitely pick them. They don't provide ordinary editing rather amazing realistic editing you will find.
There is some other service provider like fix the photo, clippingpanda.com, etc.
Getting started with Photoshop: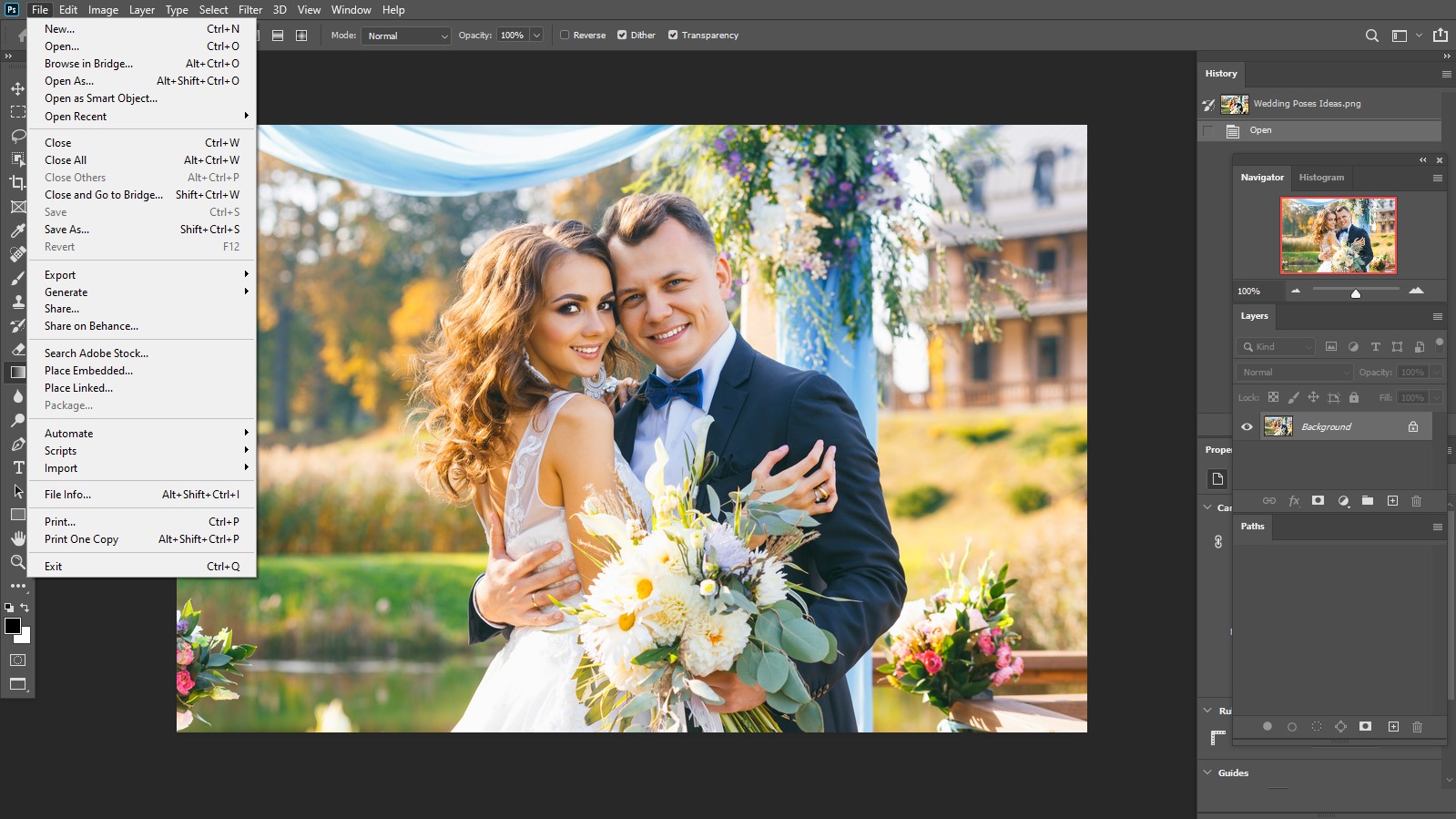 You have two options
Open Image to edit:
To open an image from the Menubar Just select File> Open > Select your images
After selecting click on open. Now your image is ready for editing.
Create a new File To design:
To create a new File From the menubar just select File> New. Then enter your project name. For the custom project, you can also define size, color Mode, background-color. Color Mode specifies whether your design is printable then choose CMYK but if it is for web choose RGB Mode. Moreover, you can select some built-in sizes like A4, A5 directly from the preset menu.
Get familiar With the Photoshop:
After opening Photoshop you will get an awesome interface.
Menu bar: At the top of the software you will get menubar like File-Edit-Image & other necessary menus that give you a variety of adjustments & panels.
Options Bar: Immediate under the menu bar options Bar displayed the tool you are currently working with.
Document Window: Under Options bar is the Document window where you find your current work. Multiple open documents also show in the document window tab.
Tools Panel: On the left all the essential tools for Photo editing & artwork & designing. Similar tools are grouped together. You can pick them just right-click the mouse the detail editing tools option you can find. For example, right-click on the Magic Wand Tool, you will find two options Quick Selection tool & Magic Wand Tool.
Panels: On the right side you get Color, Layers & Properties. Under the window menu, you will get the complete panels list needs for photo editing.
Photoshop Toolbox Uses: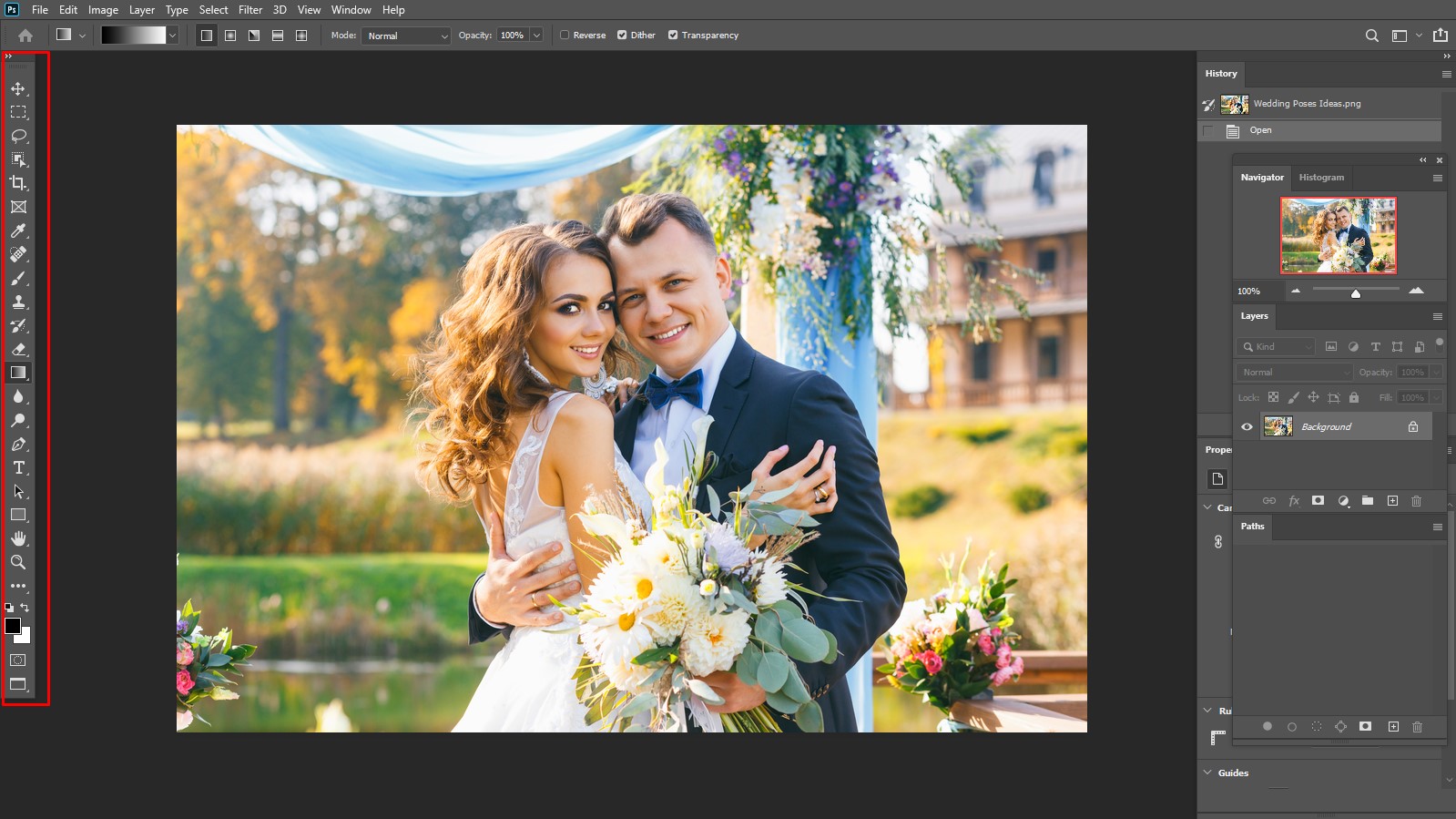 The basic use of all the tools is enlightening here.
Now some selection, cropping & moving tools are focusing.
Basically, this tool is used for selection purposes. You can draw geometric shapes using this tool.
The most used tool in Photoshop is the move Tool. For photo editing or designing you need to move specific layers. Just select the layer & then click on the move tool you can easily drag the layer right or left & up or down.
Lasso is one of the easiest selection tools. You can draw a selection border using the Lasso Tool. You can cut the objects from the background using the Lasso Tool. Just pick lasso & Select the object then click on the add layer mask. It will cut the object from the background.
Magic wand tool is the best tool for quick selection. It selects pixels depends on object shape or detecting edges. So this selection is more efficient. It can automatically fix the shapes so you don't need hard labor to use this.
It is a convenient path selection tool. From the window just select the path or shape using the path selection tool, you can easily move the object.
Crop tool allows you to select a particular area & destruct the outside area. It helps to bring attraction to your image to cut the unnecessary pixels. Cropping helps to photo-resizing.
Some special photo retouching, painting & masking tools are added here.
Healing Brush is the key magic of Photo Retouch up. It allows for removing scratches, blemishes, spots, etc from the photo. Creating a predefined pattern you can easily blend the imperfections into the leftover images.
Brush Tool is basically used for painting or color mixing or Image masking.
Some missing portions of an image can be copied using the Clone Stamp Tool.
History Brush Tool is like a clone tool. It preserves the first step of an image. By default, the history Brush tool can back the pixels found on when it started.
The background eraser tool is essential when you are done with image masking. To click on the eraser & select any part of the images that will be removed. Eraser tools can remove anything you want.
Brush tool helps you to blurry the background. After selecting Blur Tool then from the options bar choose Brush, preset picker then blur the area you want to do.
Light is the main beauty of an image. Dodge tool helps you to lighten or darken areas of the photo.
How to use drawing, clipping & Type tools are explaining here.
The Pen tool is the boss of all the tools in Photoshop. Using the pen tool you can draw a path & clipping the product from the background. This process is known as clipping path. You can easily draw a vector or cartoon or design pattern using the pen tool. Just click on the pen tool select the edge & drag to create a handle. If you don't drag the mouse you don't get handle that you can't modify or recorrect your shape. Each right-clicks create a new anchor point. You can create both shapes & path using the Pen Tool.
Using Text you can write anything. Just click on Text from the menu bar, you can select the font style & sizes.
Other necessary tools are here:
Zoom Tool: Zoom tool helps to increase or decrease your images. Click on the zoom tool, You will get two options like Zoom In or Zoom Out.
Rotate, transform, skew: You can enter Control+t then right-click the selected layer you can choose rotation, transform or skew.
Save: To save a file just select File-Save as-Choose the Formate pdf/png/jpg/other & click on save. It will be saved.
These are all the basic steps you need to start with Photoshop. You will be a Photoshop expert definitely if you are dedicated & hardworking & follow all the tips.