Fueled with the ever-changing technological landscape, one debate has made it to the center-stage for small business owners. What is more important for small business? Is it website alone or social media? Creating both is not difficult anymore.
You just have to type how to create a blog website in the search engine and create your online presence in form of a website in no time. Similarly, putting your small business on social media is not complicated at all as is usually a one-step process.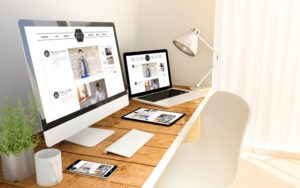 The simple answer to this question is that both website and social media complement each other and they need to be used together to gain more leads for your business. They work together in different ways to help you meet the goals of communicating with your customers and keeping them engaged.
Social Media
The selling point of social media is that most potential customers of any business are already using it. Facebook has a billion users and Twitter, Instagram, and Snapchat have hundreds of million users. Here are some advantages of using social media for your small business:
Free – Social media is free to use. The smooth process requires you to register your business page and gain immense benefit from it.
Few commitments – You do not have to tie yourself with your social media page. If for some reason you think it is not working for your business, you can delete your page and turn to other modes of lead generation.
Engagement – Social media is all about interaction. It tends to add the human factor to your business where you get to portray yourself and your business as a living entity.
Reach – Another significant benefit of using social media for your business is the reach you get from it. You get to find new leads and talk to the existing one with ease, no matter wherever they are in the world.
Although social media is not all rainbows and butterflies, most of its benefits outweigh the cons. If you can save yourself from the distractors on social media, you can gain enormous benefits for your business.
Website
A website puts you in the position of a boss. You get to make whatever changes you want and portray how you differ from your competition. Here are some pros that will help you understand the importance of using a website for your business.
Credibility – a website adds to your credibility. Customers expect serious and stable companies to have their websites as they portray a message that this particular business is not messing around.
Control – Having your website means that you have full control over everything, from the themes to the content you post which is solely yours and is protected by copyrights.
Marketing – a website helps you to market in the right way. With the options of having sections such as About us, Blog, as well as posting your customer reviews, and videos you get to let people know about who you are indeed.
Availability – A website helps your business to be open 24/7. This works best if your clients are all over the world and you can stay open to provide some services to your customers via your website every day of the year including holidays, unlike your physical store.
Although having a website is great, it also has some downsides. It requires maintenance and requires more effort to reach out to people. However, once it picks ups momentum, it will help you get clients on its own.
Creating a Balance
Good news is that there are no limitations as you can use both these platforms for your business. Having a website behind a social media page will help the customers trust you better. Moreover, the usage of social media has increased its appeal.
People now also want their favorite businesses to have a social media presence where they can interact with them easier and faster. Therefore, it is best for a small business to both have a social media page and a website that verifies its credibility.