I know why you're here.
You're looking for dropshipping tools that can take your ecommerce business to greater heights, aren't you?
If you answered with a "yes," then you've come to the right place.
Despite the cutthroat competition in the ecommerce space, you can still succeed in your online endeavor with the right tools and studying comprehensive guides about dropshipping.
Let's look into five tried and tested dropshipping tools that seasoned ecommerce entrepreneurs are using.
1. Oberlo
Online businesses are rapidly growing leaner and faster.
If you want to keep on pace with your competitors — or dominate them, even — then you need to have ecommerce tools that can streamline your operations.
Ecommerce solutions such as Oberlo is one such tool.
It offers features that will automate crucial aspects of your ecommerce business so you won't have to spend countless hours doing menial — yet, important — tasks.
Oberlo is an online marketplace where you can find products you can sell, and integrate the products seamlessly to your store through automation.
With the Oberlo plugin, you can import product images, prices, and all the necessary information from suppliers to your Shopify store.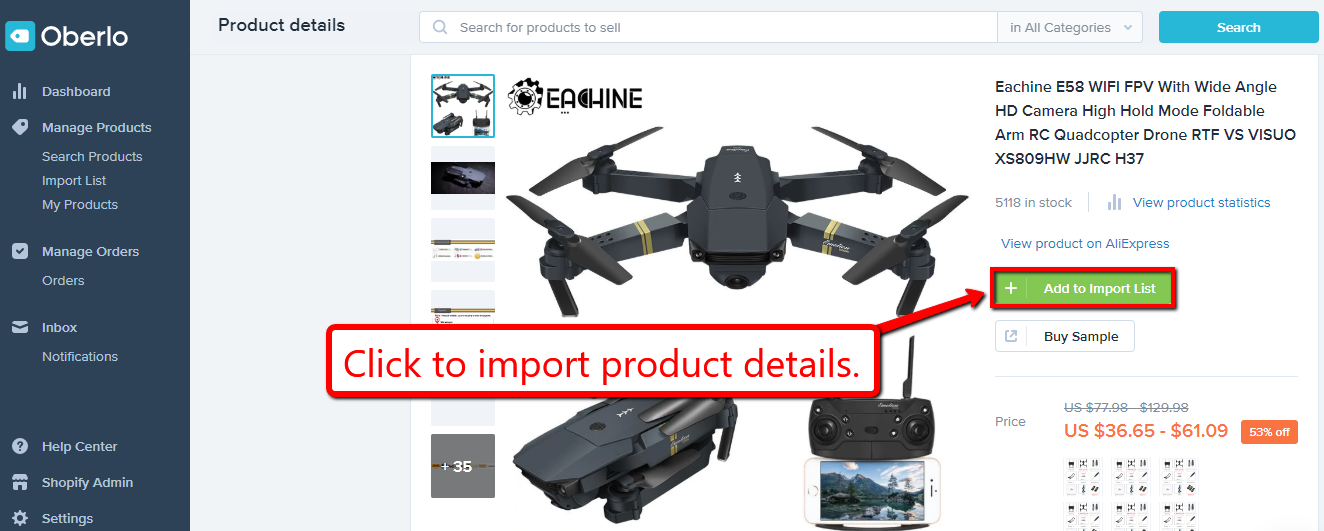 All you need to do is choose the product you want, click on the "Add to Import List" button and the product details will be added to your import list.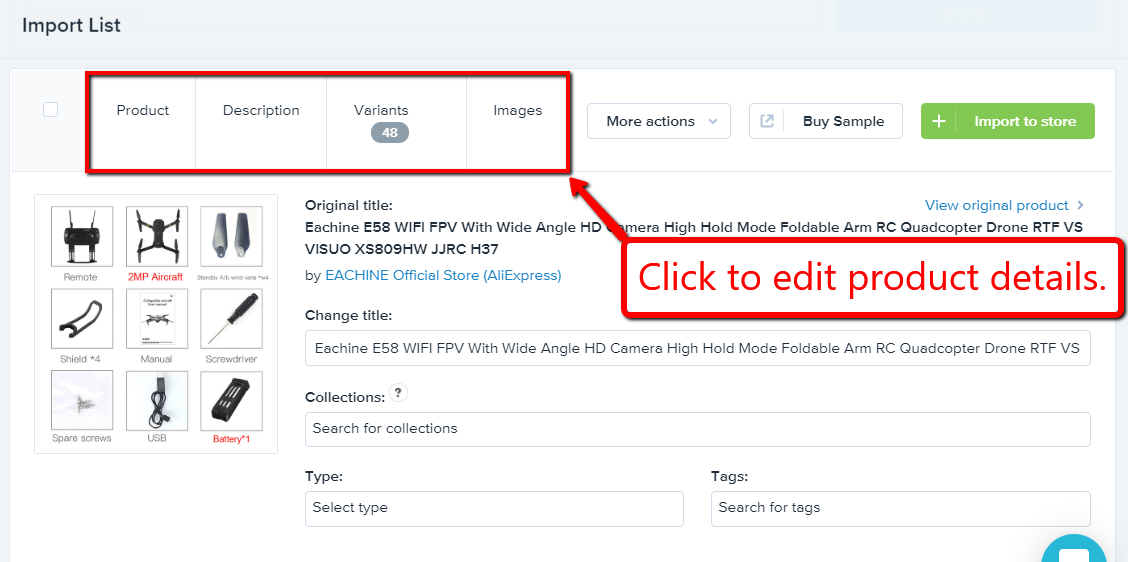 You have the option to edit the product details on your Oberlo import list page or your Shopify store once you're done importing the information.
Another remarkable feature that Oberlo offers is the automatic syncing of product information and updates, such as price changes, the number of remaining stocks, and more from the suppliers to your Shopify store.
Automation features like these can be just what you need to streamline certain business processes, which, in turn, will save you time and effort. Instead of spending several hours looking for reliable merchants, and copy and pasting their products' marketing materials on your website, you can use Oberlo to do all of these in a couple of minutes.
Your product integration, at the very least, will only require you a couple of clicks.
Oberlo also has a pool or reliable merchants that you can work with, so you won't have to worry about whether the merchant you're dealing with is trustworthy or not.
2. Google Trends
Speaking of faster, leaner, and more streamlined ecommerce business operations, one factor that can have a significant impact on dropshipping businesses are trends.
Branding trends, for example, can reshape your entire marketing strategy to get the best results for your dropshipping business.
Even your products will have their "peak seasons," where sales and competition will increase, and "low seasons" where there is little to no demand.
So to capitalize on these peaks and lows, you can use Google Trends if you want to promote your ecommerce store around seasonal trends.
For instance, you can be selling a "summer" product like swimsuits.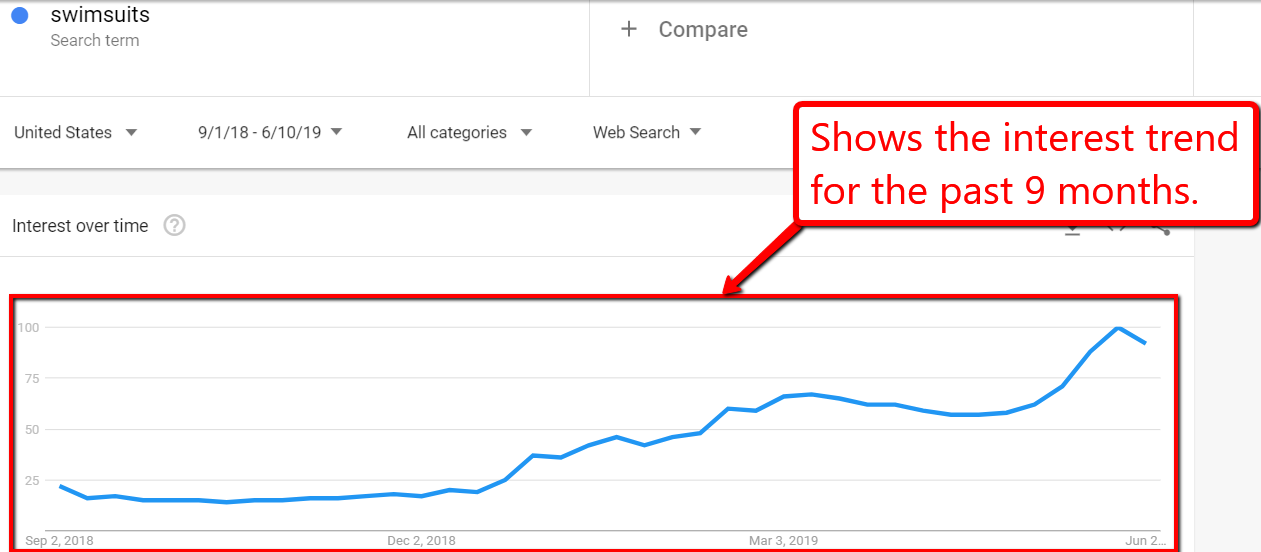 The screenshot above shows the low months for swimsuits from September to December, and the demand starts to rise again around January.
This data can give you an idea on when you should start building your swimsuit store, which would be during the low months, so by the time the demand for the product starts increasing, you're ready to sell.
Now, what can you sell when your product is offseason?
A good strategy is to offer products that can complement your products and those that would be an excellent match during the offseason.
So since swimsuits are offseason during the winter months, a good product choice would be lingerie.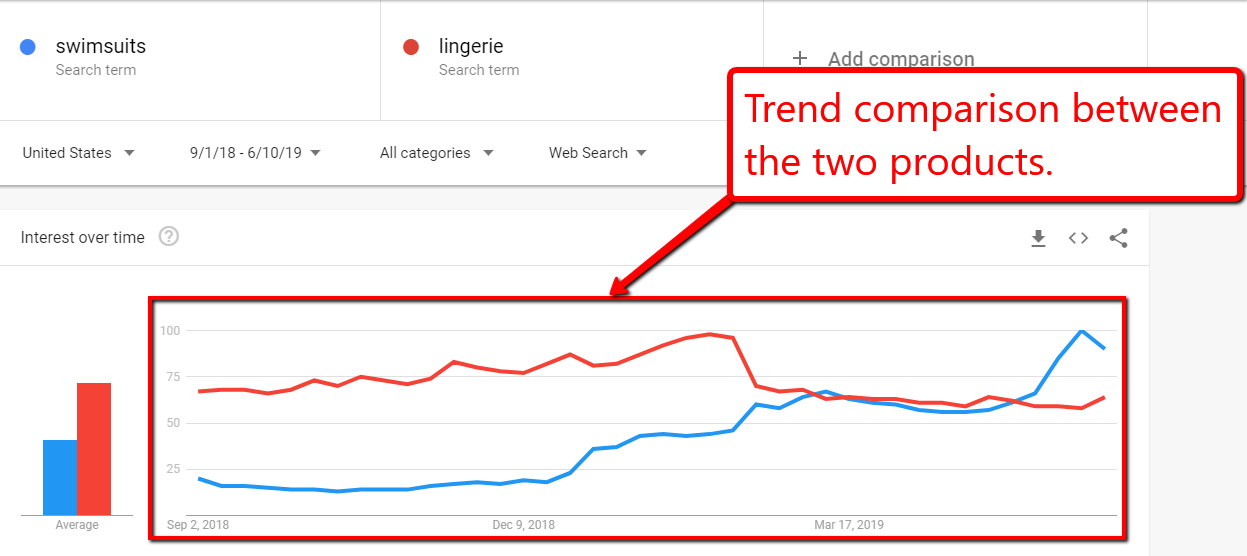 As you can see in the screenshot above, people's interest in lingerie is at its peak during the winter months, a period where swimsuits are offseason.
You also have the option to add another product to the comparison to help determine its seasonality.
Having this data will give you insights as to what products you can sell based on their seasonality.
Using Google Trends will give you real data to help ensure that you don't go in blindly with just any product during any season, and miss out on sales opportunities.
3. MailChimp
Automation has made the lives of dropshippers easier with its ability to simplify and streamline dropshipping business operation processes.
From product integration to marketing, these are aspects of your business that will take up time, effort, and workforce if you are not using automation tools for your dropshipping business.
So a dropshipping tool that you should be using by now that can aid in implementing a successful marketing campaign is Mailchimp.
MailChimp is an all-in-one marketing platform that offers the features for automated email marketing like connecting your mailing list data with the purchase history and collecting your email list database, among other features.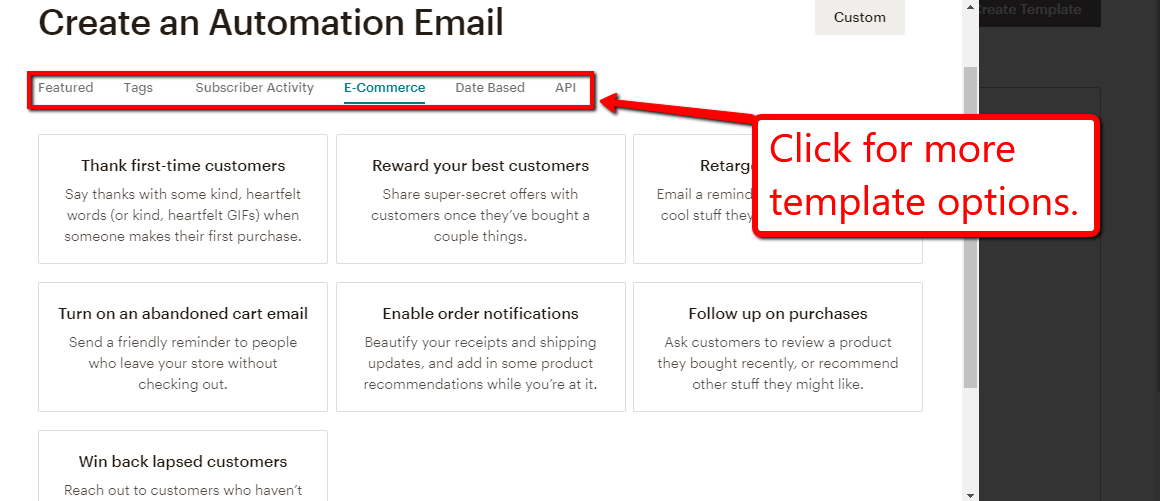 MailChimp services are free for your first 2,000 contacts to your mailing list, and the first 10,000 emails for each month with a daily limit of 2,000 sends.
Other free plan features include a few basic email templates, basic reporting, one seat with owner permission, one audience, and single email automations.
If you're on a tight budget or a startup looking for marketing automation tools, using MailChimp is an excellent way to examine the features and potential of an email automation software without having to sell a lung and a kidney.
4. ZohoMail
Operating a dropshipping business means that everything is done online, with email as the main channel of communication between you and your suppliers, customers, and other stakeholders.
The key is to keep the communication flow as smooth as possible to help avoid delays and streamline your business operations.
So to make this happen, a good strategy is to use email platforms like ZohoMail.
ZohoMail offers a secure email hosting platform with minimalist and clean interface for professional and business use.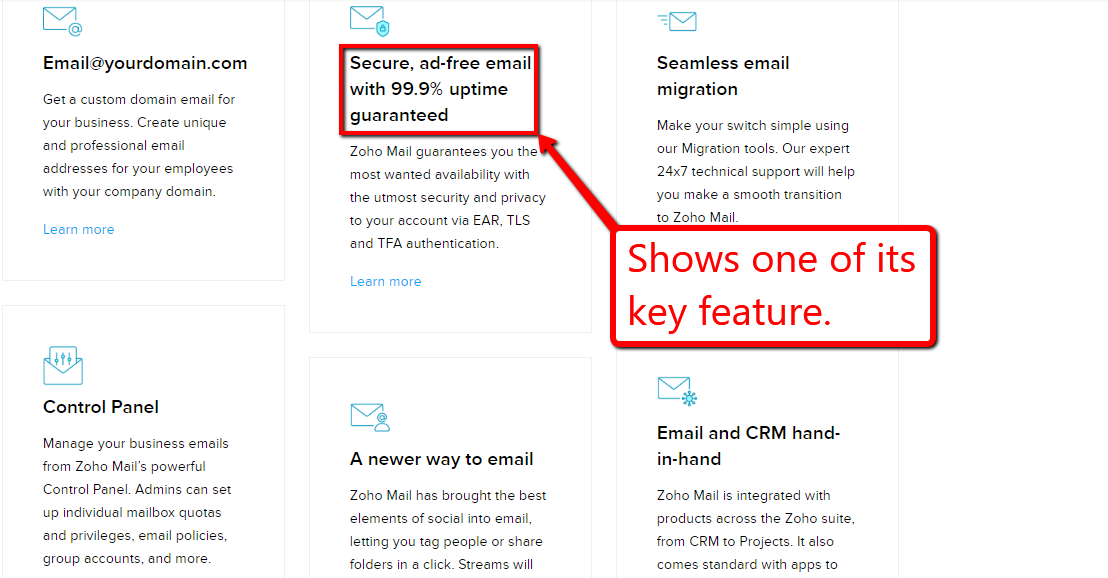 A key feature of ZohoMail is that it's ad-free, lowering the chances of getting unwanted or spam emails, and can help your business communications stay secure.
Here are ZohoMail's other in-depth features:
Allows you to create rules for the management of incoming emails and task automation. For example, you can use a rule to mark a specific email as "read" or assign it as a task.
You can also make a rule that highlights emails from specific senders or move these emails automatically to a specified folder.
Has an advanced search option to help you find emails quickly through mountain piles of emails in your inbox by searching for phrases or words contained in those emails.
Offers a quick clean through a "Scrub" feature by letting you delete or archive your emails in bulk. You can choose up to five senders, and using the Scrub feature, and you can then delete or archive all the emails from them.
Lets you create email templates you can reuse for the emails that you send regularly. For instance, if you are sending emails asking for monthly reports, then you can use the draft of that same email as a template for the following months.
Email platforms like ZohoMail can give you the ease and efficiency to manage your business communications, which can also expedite (to an extent) your business operations.
5. Facebook Messenger Live Chat
If you are serious about growing an ecommerce business, you can't be choosing between having a website or running your business through social media platforms — you need them both.
One of the factors that can contribute to the success of your dropshipping business is by providing excellent customer service through social media.
So by having an embedded Facebook Messenger on your website, you are offering customers a familiar tool to use for customer queries about your products or their purchases.
An advantage of using the Facebook Messenger live chat over other applications is that you can get more accurate insights about your site visitors because you can access their public Facebook account profile, including their names when they send a message to your page.
The tool lets you send an automated message sequence for updates about item availability, tell customers if their order has been shipped, or ask them for feedback about their website experience, among other things.
Also, you can integrate Facebook Messenger with your Shopify store.
Talking directly to your customers can give you better ideas as to their insights and what they are looking for, specifically in products.
Plus, it's an opportunity for you to build a more personal relationship with your website visitors and customers.
What's Next?
The success of your dropshipping business relies on many factors, but one of them is by using the right tools.
With the right tools, you can streamline your business operations, manage tasks efficiently, and save time and effort, thereby allowing you to focus your energy on other aspects of your business.
What other dropshipping tools do you plan on using for your ecommerce business?
Let us know, along with your suggestions and questions in the comments section below. Cheers!