Robotic Process Automation is growing exponentially across various industry segments – manufacturing, healthcare, retail, education and customer service. Studies predict that enterprises are looking to invest in RPA more so than ever in the next 3 to 5 years. Indisputably, RPA will gain a stronger foothold in our everyday lives.
Despite its rapid growth, enterprises are on the fence about adopting RPA, looking at ways to overcome the challenges in adopting and scaling RPA across the enterprise. Scalability, intelligence, and security are the features that enterprises look for when adopting RPA software. Companies such as UiPath, Blue Prism, and EdgeVerve are the top leaders or vendors in the automation industry.
What is Robotic Process Automation?
Robotic Process Automation (RPA) implements software robots to automate repetitive, rule-based processes across an enterprise, relieving humans off mundane tedious tasks and allowing them to focus on higher-value work. RPA is bringing about a disruptive transformation in the way enterprises operate. No doubt, RPA is a dynamic, adaptable tool that improves business efficiency, eliminates human errors, and makes employees more productive.
How does RPA work?
Every enterprise is unique; hence, a one-size-fits-all approach will not work. Most back-office processes, from claims processing to invoicing, can be automated.
Robots work at the UI level interacting with systems/applications
Bots can be applied across all applications
Automates repetitive, rule-based tasks (e.g. copy-pasting data, scraping data, reading databases etc.)
Tasks that are time-consuming and tedious can be automated, ensuring the human worker can be efficient and more involved in decision-making processes. The bots follow a precise set of rules, mimicking the human worker. Processes that are repetitive, structured, and time-sensitive rely on Robotic Process Automation. From identifying tasks to automate to deploying a full-scale RPA, enterprises are embracing RPA technologies more than ever.
Types of automation:
Enterprises go through a journey – from RPA 1.0 to cognitive or intelligent automation. There are three types of automation that enterprises should look at to traverse the automation journey.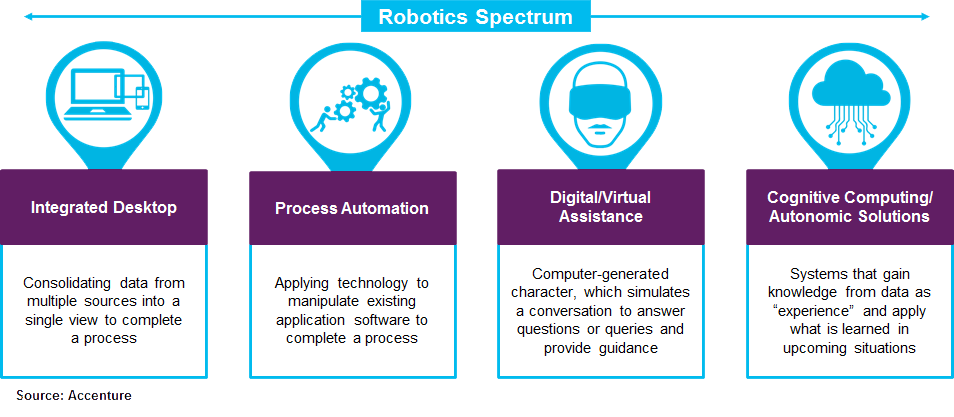 Attended Automation
Attended/Assisted automation or desktop automation is where automation is done on the desktop with bots performing repetitive, rule-based tasks and handing over the decision-making process to humans. Also known as Robotic Desktop Automation or RDA, it improves productivity, can be deployed quickly and does not require any changes or modification to the underlying systems/applications.
For instance, attended automation can be implemented in contact centers, wherein the bots display an alert or error message to the employee if the worker commits a mistake.
Unattended Automation
Processes that can be automated end-to-end without any human intervention is known as unattended/unassisted automation. Usually leveraged in tedious back-office processes, the bots here run on dedicated infrastructure, servers, or mainframes. The fully automated process improves productivity, relieving the human worker off monotonous tasks.
For example, an organization can look at unattended automaton if they are looking to automate the massive number of invoices and receipts in their finance department.
Intelligent automation
Intelligent or cognitive automation uses artificial intelligence technologies, including machine learning, semantics, deep learning, and natural language processing to make sense of the unstructured data. With the help of predictive and prescriptive analysis, intelligent automation helps automate tasks that involve decision-making and judgement.
If organizations are looking to stay ahead, creating new experiences for their customers, Intelligent Automation is the way to go. Though there are several challenges that enterprises may face when deploying IA, here are a few benefits how it can help enterprises in their digital transformation journey.
Helps reduce labor costs
Processes complex, large volume of data easily
Helps in the decision-making process, thereby achieving accuracy and speed
Eliminates manual intervention, reducing errors and improving productivity
Improves customer experience and satisfaction
Before deploying RPA, enterprises should answer a few questions — Who is responsible for implementing an RPA program or strategy? Do we have the right skills and talent to deploy RPA? How can we digitize data?
We can sum up by saying that enterprise-wide integration of RPA solutions is the way forward. Since RPA tools do not require significant IT changes, it can be deployed on existing technology and systems, delivering game-changing benefits across the enterprise. Has your organization deployed RPA solutions?