If you are just getting started in this limitless industry you will find an endless to-do list and lots of shiny objects around every corner that you feel like a need of capitalizing on right now. I know this because I have been working in this industry for 4 years now. However, if I were just starting today, I would first focus on these exact things.
The vacation rental is a great business idea. You can rent out your home to tourists and make money; especially when you are renting on trustworthy platforms like Airbnb and HomeAway. However, the big question here is if you should create a website like Airbnb and start your own vacation rental marketplace. Rather, shouldn't you just list out your home(s) on Airbnb and similar other platforms? That's where the first point in this guide comes into the play.
Market Research
To be precise, Airbnb is doing a great job, and it's available in almost every corner of the world. Therefore, there is no point going eye-to-eye with the giant, even in your local market. However, that doesn't mean you shouldn't build a site like Airbnb or drop the idea. You need a niche to make sure you aren't competing but filling the gaps left by the existing players in the market.
Market research is a fundamental step, to begin with, of any business idea. You need to understand your target audience and competitions thoroughly. If whatever, you are trying to offer them aligns with their expectations, you will surely attract more eyeballs. As per your research, you can decide if the market is ready for a new type of rental model, kind of properties you need, and the scale of your business. Eventually, you will have to find out if running an Airbnb-like business is a profitable idea in your target market.
You would also need to ensure if your niche works in your local market only or you could also expand to other locations with the same model. For example, 'Rent Like a Champion'. It's a home rental platform in the US for games and events. Each year, millions of people travel across America to attend games and other festive events. It allows these people to find affordable and comfortable homestays around these events.
'Rent like a Champion' filled a gap that Airbnb and others in the market left. If you too can fill any such gap, then yes, it is worth it to create a website like Airbnb with a unique touch. However, if you were just thinking about making some extra cash out of your home, creating a dedicated website for it would be an overwhelming idea. You should just drop it, and simply create a listing on Airbnb and others.
Rental Website
Once you are certain and have decided to fill a gap, the next step would be building your rental platform. Now, you have to deal with two big questions in this step- should you build your rental website from scratch by outsourcing your project to a software company or use a ready-made Airbnb clone script.
Building an Airbnb-like platform from scratch is a massive undertaking. It demands lots of research, development, testing, time, and money. If you have just begun with your research on how to make Airbnb website from scratch, here is a glimpse of time estimation for major phases: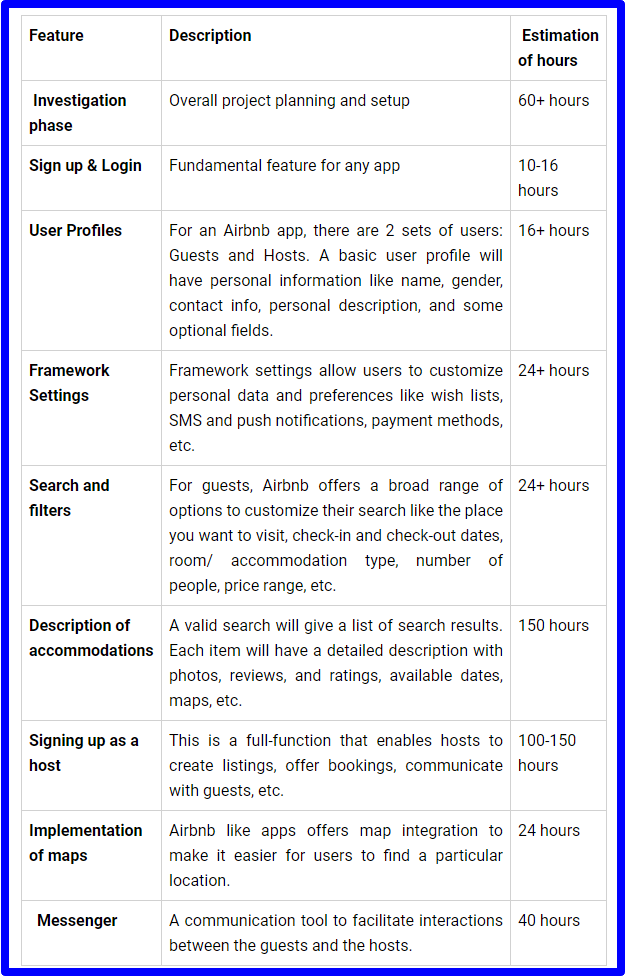 Alternatively, when you purchase an Airbnb clone and customize it to build your rental platform, you can save on most of these fronts:
You get a ready-made platform
Deployments and turnaround time are 100-times faster
The overall cost of website development is 50-times cheaper
You get open source-code access, which you can customize
Going for a ready-made script is a good idea when you want to build your website quickly in lower investment. There are multiple Airbnb script vendors in the market, just find a trustworthy script after testing out some popular names.
Content-Ready Website
Once your site is ready, it's time to fill it up with content. The key is to make your website user-friendly with useful content. Give special focus on your listing pages and provide every useful information you can think of to make browsing easier for the users. Details like high-quality images of the properties, descriptions of amenities, location, nearby landmarks, price breakdown, house-rules, FAQs, and owner's information are imperative.
Besides, you should write and publish blog content too. Blogging is an authoritative method of SEO and it engages your users at the same time. Even the giants like Airbnb publish regular blog content highlighting the stories and experiences of their guests. Sharing stories with your audience will help you build a strong connection and emotional attachment. Hire a professional copywriter to write attractive content for your site, the investment would pay off in a very short time.
Marketing and Promotion
Marketing and promotion are important, even before the launch of your website. The groundworks you do before the launch will help your business after its introduction, too. Here are the four most important things to focus your efforts on right now:
Search Engine Optimization: SEO is important in every phase of your business. It helps you to drive customers from the search engines these people are looking for services similar to yours. Especially, when your business is new and you don't yet have a popular brand identity, a good SEO will help you attract customers via their search intent. Focus equally on both on-page and off-page SEO. Here you can use your blog for link building, too. Be advised the SEO is a continuous activity, you shouldn't just quit after optimizing for once. You need to improve your search rankings constantly for not just driving new customers but also building your brand identity.
Social Media Strategy: Like SEO, social media is also an unavoidable element of marketing and promotion in today's era. You can't expect your brand to go big without having a strong social media presence. Focus on major social media platforms like Facebook, Instagram, Twitter, and Pinterest. This is where most of your target audience spends most of its time. In fact, you can use your social media channels to not just drive traffic to your site but also share your content post, which eventually helps in SEO. The key is to building a social community of users and loyal customers on these platforms and engaging them with interesting posts, announcements, and campaigns.
Email Marketing: Email is yet another pronounced marketing channel. However, it takes some time to collect email addresses before you can start shooting them. Hence, before you decide to purchase an email list, think about building your own quality lists using lead collection methods such as free coupon codes, newsletter subscription, referral programs, free/discounted first booking, etc.
Paid Ads: Paid Ads on social media, search engines, and display ad networks pay off nicely, but using them should be your own decision. Don't use them just because everyone is exploiting them. Analyze your budget, research the keywords you want to target, consider the cost, and then decide the types of Ads you want to invest in currently. For new businesses, PPC or Pay Per Click Ads can be a good investment to drive paid traffic to your website until the SEO kicks-in. Social media display Ads on Facebook and Instagram are also some great options.
To conclude
Clearly, starting a vacation rental business is not an easy job. There are tons competition and a continuous need to stay in the game with innovations. Just cloning up Airbnb's business model and offerings is not a good idea either. When it comes to starting a profitable rental business, you need something that current players aren't doing. You can create a website like Airbnb easily using a clone script, but you need a powerful plan to create a business like Airbnb. The success of every phase of your business depends entirely on your business idea and the things you are doing to attract the eyeballs with it.