For almost a century, wildland firefighters have relied upon two-way radio communications as an integral tool of operational safety and effectiveness. Firefighters utilize radio communication to talk through the loud flames and dense smoke, allowing them to organize, help each other, and save lives.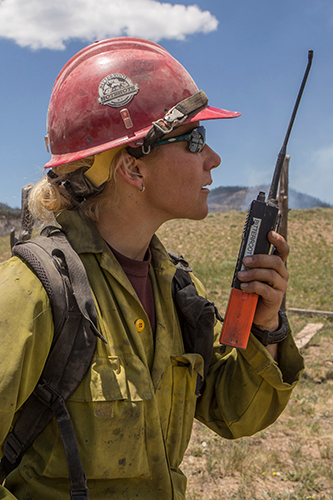 Over the last few decades, two-way radio communication has significantly advanced, bringing handheld radios and accessories built specifically for wildland firefighting. For example, whereas audio transmissions used to sound scratchy with interference, newer digital technologies have brought in crystal clear communications so there is no confusion on the fire ground. Firefighters utilize a wide range of radio accessories, including antennas, speaker microphones, cases, and headsets. Furthermore, most of the departments across the United States operate Bendix King radios. Read below and learn more about the different types of wildland firefighters and the accessories used to meet their communication needs.
Types of Wildland Firefighter Crews
Fuel Crew – Generally made up of 10 people, fuel crews focus on clearing ecological fire fuels including timber and brush, using chainsaws, hand tools, and sometimes chemicals.
Engine Crew – These crews range from 3 to 10 people and focus on fire suppression and patrolling. These firefighters engage in more strenuous tasks such as mobile attacks with engines, hose lay, burnout operations, and constructing fire lines using hand tools.
Hand Crew – The hand crew utilized chainsaws, drip torches, and other hand tools to build fire lines and mop up burned areas. These crews usually consist of around 20 people.
Hotshot Crew – Like the hand crew, they are made up of 20 people and focus on fire suppression, fuel reduction, and fire line construction. Hotshot crews are placed in the most rugged terrains, with an emphasis on fitness due to the extended periods they engage in firefighting.
Helitrack Crew – Helitrack crews specialize in aerial operations. They deliver firefighters to fight on the ground and transport cargo for support. These crews play an important role in wildland firefighting, as they can operate in areas unreachable by on-the-ground methods.
Smokejumper – Smokejumpers are some of the most highly trained firefighters, jumping from a plane with parachutes to deliver a rapid response to the fire ground. These crews provide quick fuel reduction, clearing timber and brush from the area, and consist of seasoned firefighters experienced with many of the other crews including hotshot crews and fuel crews.
Communication in Wildland Firefighting
Due to the vast distances and loud noises involved, two-way radio communication is a vital need to effectively combat wildland fires. Not only do teams need to coordinate within their groups, but critical information and updates are relayed over the radio to guide firefighters' actions.
All wildland firefighters are required to be proficient in two-way radio communication. Firstly, they must formulate the information they're transmitting before speaking. Most firefighters utilize a system called the Five C's of radio communication to ensure an effective message:
Conciseness – Be brief
Clarity – Be clear in your message
Confidence – Have confidence in the information you are sharing
Control – Stay in control of your voice inflections
Capability – Practice speaking on the radio to develop your radio capabilities
Antennas should be pointed skyward to make sure there is minimal signal interference, and the microphone should be positioned around 1 to 2 inches from your mouth to deliver a clear message. Every message is repeated back to the sender to verify the information, and you should practice repetition during drills to become skilled. Above all, firefighters should follow their department's standard operating procedures (SOPs).
To mitigate potential issues on the fire ground, there should be a continuous flow of information regarding weather, fire behavior, the arrival of resources, etc. There should be a pre-established emergency check-in procedure, which can provide teams with a regular update on the status of their crewmates.
Specific Communications Challenges Wildland Firefighters Encounter and How Using Radio Accessories Can Improve Communications.
There are many challenges when communicating during a fire. The environment is smoky, restricting visibility, firefighters use loud power tools, and the fire itself is constantly sizzling in the background. Moreover, the teams are operating at an incredibly fast pace to combat the wildfire.
The International Association of Fire Chiefs (IAFC) recommends, when practical, the use of accessories including shoulder mic, throat microphones, and in-ear microphones. When used properly, these accessories reduce the impact of background noise and significantly improve audio on the fire ground.
The most commonly used radio accessory in firefighting is the remote speaker microphone, primarily those that can withstand water, wind, dirt, and tough impacts. The latest models include noise-canceling and dual microphone technology, a big advantage when communicating in loud environments.
Ruggedness is a necessity for wildland firefighters, which is why a strong radio case is a must-have. Many firefighters carry leather radio cases to keep the heat off the radio and withstand tough impacts that are common on the fire ground. Firefighters should also look to purchase accessories with an IP68 rating, the highest level of protection for water and dirt, because of the large amounts of water being sprayed on fires and the dust/ashes kicked up.
According to the5ftfirefither.com often times Wildland firefighters are required to work (roll) up to 14 days in a row with shifts lasting up to 16 hours. With this being the case personnel must have high capacity fully charged batteries when combating wildfires. Popular two-way radios used by Wildland personnel include Motorola XTS5000 Handheld radios which are now available with industry-leading high capacity batteries These new lithium polymer XTS batteries are tested to provide personnel with 16 hour talk times. In addition to using high capacity batteries Firefighters should always make sure to have a fully charged battery before they go out – if their radio dies on the fire ground, they may not be able to get help and won't be able to complete their mission. All departments should carry enough batteries but should also possess multi-bank chargers and two-way battery analyzers to keep their batteries up to full health.
Finally, wireless two-way radio communication headsets are integral in wildland firefighting because they can fit comfortably inside the helmet and allow the user to receive transmissions directly to the ear without background interference. Although wildland firefighters are presented with numerous challenges when communicating by utilizing best practices and procuring high quality equipment improvement to operational safety and uninterrupted communications can be achieved.