Mass customization is a powerful business tool which is now swiftly changing the face of retailing, especially e-commerce. Broadly speaking, mass customization refers to the process of accommodating customer's preferences into extended-market goods and services. It enables particular modifications by the clients, which are translated into mass production to enhance the value of a product or service.
Mass customization serves as an excellent marketing and production technique for manufacturers to tailor flexibility and personalization, by allowing a shopper to blend specific designs and function features into a product while keeping the production costs to a minimum, which accounts as an important advantage of mass-produced products.
Insights into Modern Evaluation of Mass Customization
Starting from the twentieth century, worldwide corporations were focused on producing standardized products for the masses. However, later on the focus shifted and enterprises started to pay attention to specific preferences of different targeted markets, i.e. they were expected to introduce variety in products so as to satisfy different demands. At the beginning of the twenty-first century, customization was embraced by companies.
Nowadays, customers are becoming increasingly information savvy and clear about their own demands; as a consequence, mass customization is gradually turning into a necessity rather than just an option. The customization feature provides clients with an elevated level of satisfaction.
By providing the opportunity for clients to choose from a variety of products, businesses create in them an elevated level of satisfaction and therefore are able to subsequently increase conversion rates and develop an edge over the competition.
There are different types of mass customization. Check out four of them below:
Collaborative customization is where businesses work in partnership with their customers to bring tailored products uniquely created for each fringe segment.
Adaptive customization is when businesses decide to produce standard products featuring the capability of customization by the end user.
Transparent customization is when a business caters to its customers' needs by customizing the product but the users aren't made aware of how the product has been customized.
Cosmetic customization is when businesses choose to manufacture standard products but they are marketed in different ways to different customer segments.
How Mass Customization Makes a Difference
According to the report "Consumer Product Trends" by Deloitte, customization is expected to become a primary strategy for the consumer goods industry in the next five years. To be precise, customers are 42% more attracted to customization technologies offered by retail shopping sites and 19% of the buyers are willing to pay 10% extra if they have the option to customize.
The above facts clearly indicate the huge potential of this trend when it comes to generating profits and improving conversion rates.
To be precise, here are a few advantages that mass customization can bring to your business:
Financial Benefits
Higher rate of customer retention since items have alternatives and are personalized according to customer's preferences
A more expensive fair market value for modified items, which means higher revenues
Sustainable revenues as customers aren't only willing to pay more but to come back for future purchase
Operational Benefits
No need to maintain a stock of every SKU, lessening overhead expenses
Personalized orders dealt with through progressively adaptable programming and frameworks, which are much more agile and cost efficient than the traditional method
A Case Study: Baume – 3D Watch Customizer
Baume is a luxury brand based in Switzerland offering high end and cutting edge watches. The company recently launched a program, first showcased in VivaTech Paris, that enables its customers to personalize the watch with more than 2,000 possible combinations, including hands, dial, straps, engraving messages and cases. Baume's ambition is to make possible for clients to codesign with the brand their own dream watch in a "touch and feel" system with an interactive 3D product configurator.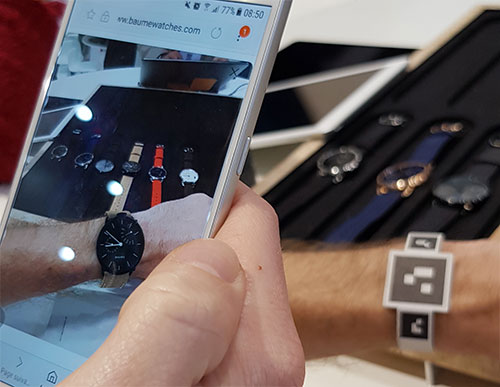 This technology, provided by a French tech startup Hapticmedia, was entirely integrated into the e-commerce website of Baume and enables every customer to make their own fully personalized watch. All watches are sold online and the company takes care of the customizations once the order is placed.
In addition, the company also provides a touch screen terminal for customers enabling them to configure their watch at a pop-up shop. To further improve the customization process, they can also connect phones to a wristband with QR codes to create a real life visualization of the watch on their own wrist, with help of AR and VR technology, so to have a 360° view of everything before taking the final.
The Future of Mass Customization
Mass customization is destined to supplant large scale manufacturing. This statement is valid because it lessens inefficiency and improves productivity. The fact that businesses manage to charge extra from clients for customization clearly shows that the market is embracing this trend.
For example, in Levi Strauss, 80% of the exclusively requested pants are easily accessible off the shelf but the clients still tend to make customized requests through the Personal Pair plan to have an expected sense of satisfaction. Custom Foot's Keegan, a footwear brand, also affirms such customer conducts.
Customers nowadays are far more educated to understand that they are not supposed to buy whatever the business thinks is best for them. The power has been transferred and brands need to concentrate on the personalized demands of each client if they want to be competitive in today's market, and this fact alone demonstrates mass customization will continue to push ahead.