Wi-Fi, a fundamental need for everyone today, almost all households, offices, institutions, medical centers, and everywhere possible, we do find a Wi-Fi connection. However, at places where many people can connect to one source at the same time, one can face serious speed issues. To take care of this, Professor Harald Hass of Edinburg University introduced Li-Fi. What is Li-Fi? Have you heard of the term before?
What is Li-Fi?
The fundamental question, what is Li-Fi? Heard whenever this term is introduced. Alike Wi-Fi, Li-Fi, is a wireless technology that transmits data at high speeds using visible light communication (VLC). Li-Fi is the abbreviation of 'Light Fidelity,' which runs wireless communication that progress at very high speeds. According to Li-Fi, our essential light source in a room can act as a router. Li-Fi enables typical household LEDs to transmit data at speeds up to 224 gigabits per second. Li-Fi gives us a way to connect directly to the source and attain much higher speeds.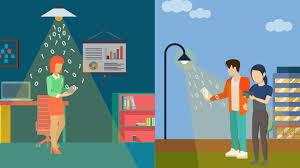 Working of Li-Fi.
Li-fi is similar to Wi-Fi, as it transmits data through electromagnetic signals. Still, Wi-Fi needs radio waves, and li-fi transmits using visible light waves. Since we now know the basic definition of what is Li-fi? Let's move towards its working. Li-fi being the visible light communication system consists of a photodetector to receive light signals and also a processing element for signals to transform the data into a streamable form.
With Li-fi, an LED light source acts as a semi-conductor, and the constant current of electricity supplied to it can be varied at extremely high speeds. In easier terms, using signal processing technology data is fed into an LED source. The data is sent embedded in its beam at rapid speeds to the photodiode or the photodetector. The minute variations in rapid dimming of the LED source is then converted into an electric signal by the receiver. That signal is then transformed back into a binary data stream that we acknowledge as web, audio, and video applications that run on internet devices.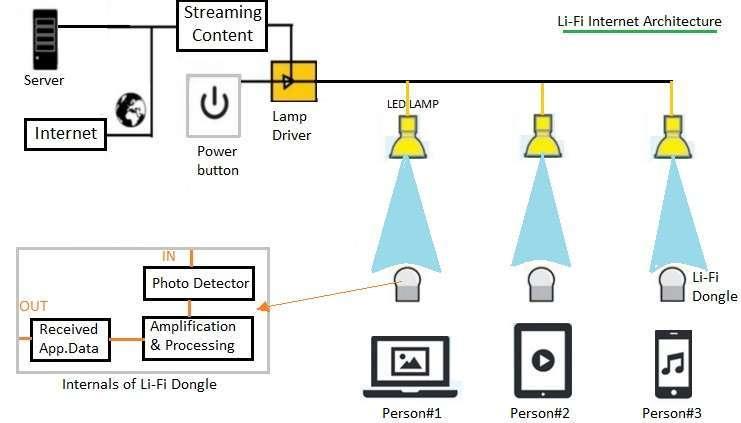 Advantages of li-fi over Wi-Fi.
Li-fi offers us better security than Wi-Fi's overloaded broadband networks. Li-fi works better in areas where radiofrequency waves are not reachable. With its tremendous speed, it can make a significant impact on the internet with the data being transferred at extremely high speeds gets more devices to connect.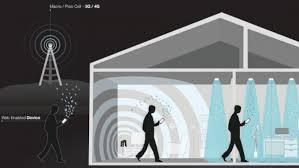 Disadvantages of Li-fi
With li-fi's mentioned speed, one can think that li-fi companies might overtake Wi-Fi within a few years, but there are a few drawbacks as well. Since we now know what is Li-Fi? And what advantages it offers we must put some light on its barriers. Li-fi signals cannot pass through walls; hence, to enjoy complete connectivity, we need to place proficient LED sources throughout the place. Also, the light source should remain on at all times in which you need to connect to the internet, including the day time, doubling up your energy consumption. Also, the lack of light sources means a lack of signals.
Li-fi Companies
There are a few li-fi companies that are investing in the field. In Nov 2014, PowerLi-fi, one of the li-fi pioneer, joined forces with Lucibel, a French lighting company, to introduce li-fi enabled products.
A li-fi ceiling unit that connects to an LED light fixture and li-fi-XC which enables to connect to a device via USB, providing about 43 Mbps from each li-fi enabled LED, are a few products PureLifi has in the market.
Well-known companies like Philips are also investing in li-fi and have offered integrated and full li-fi services, including Li-fi and LED products.
Dubai tested li-fi in 2016 and, Du and Zero1, UAE based telecommunication providers, claimed to have provided web, audio, and video streaming over li-fi connection successfully. Also, reports suggest that Apple may introduce a future iPhone having li-fi capabilities.
Charolettteville-based li-fi companies VLNcomms, founded by Maite-Pearce and Mohammad Noshad, received backing from the US Department of Energy and National Science Foundation. They also launched an LED panel, a USB stick, and a desk light all li-fi enabled.
A French real estate investment firm, Inside, has recently selected to use li-fi to connect its employees to the internet.
Li-fi is yet nowhere near becoming an alternative to Wi-Fi, as there is a vast difference in their working and areas of application. The number of li-fi companies has increased, and they are investing in the field, and we have to wait for some time to see the impact of li-fi on the world.