Graphic designs have become a massive part of marketing in every field, for this visual content quickly communicates the message to audiences. One would also agree that hiring a good professional graphic designer may cost a little too much.
But this field has also entered the freelancing world, and you can easily find on-demand graphic design services for yourself.
You can find many on-demand services in the market, but finding the right one for yourself may seem complicated and confusing. One of the famous on-demand design service providers is Penji.
Here is a detailed review of its services for you. Keep reading, and you will know how you can benefit from this graphic design service provider.
What is Penji?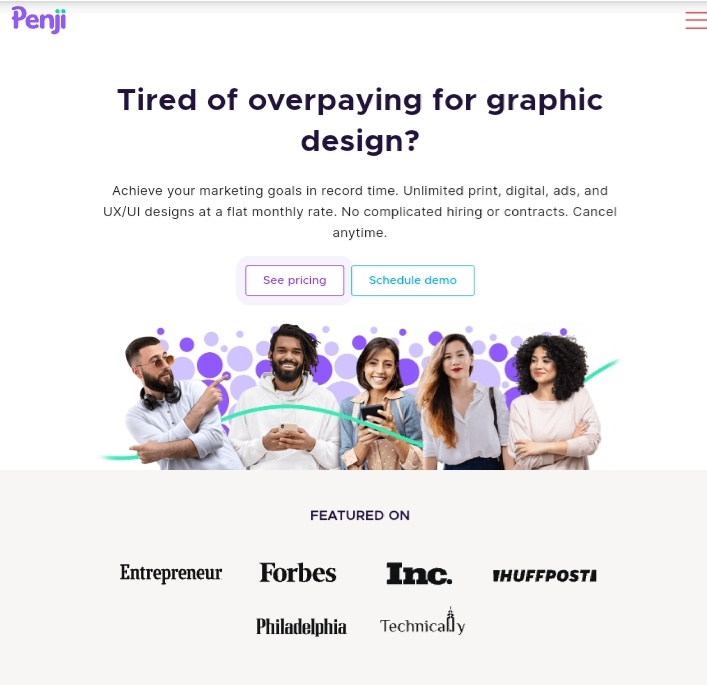 Before talking about its services, you need to know what it is to decide if you need anything that Penji offers. Penji is an unlimited graphics service that provides you with graphic designers from around the world.
It offers unique and appealing designs to fit all kinds of requirements. It allows you to meet your company's demands, clients, or employees with a satisfying output without any overhead expenses.
At a flat monthly cost, it offers you unlimited custom designs. Most people have found it helpful and promising.
What Does Penji Offer?
One of the best things about Penji is that it offers a wide range of services to choose from. You can get your advertisements for billboards, magazines, newspapers, or digital media. You can get your app or book cover designed from them. From banners and layouts to cards, coupons, and even clothing, you can get anything designed from it.
How Can You Avail the Services?
Here is a step-by-step guide on how you can get started with Penji. From giving your project details to receiving the same, here is everything you need to know about its working.
Image: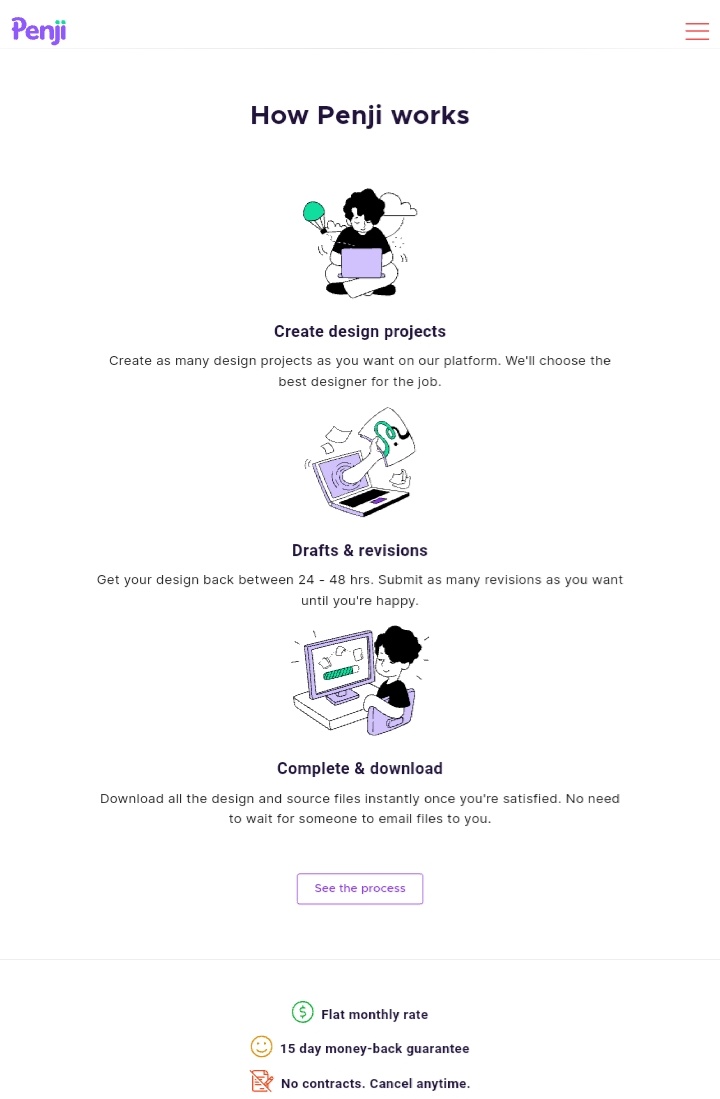 1. Create Your Design Project
For creating your design project, you must first sign up or login into Penji. After choosing the best plan for yourself, you will have to sign up if you are new to Penji.
If you have already registered with your plan, you can log in.
After logging in, you will see a dashboard where you can post your design project. You will have to fill a form which will ask you about the details of your project.
Details like project title, design category, customization level, any attachments or references, associated brands, and description of the project are needed to be filled in this form.
2. Get Connected with Designer
Once you fill and post your design project's details, the site assigns you the designer that fits best for your requirements. You can communicate with the designer for any other detail exchange.
3. Review Drafts and Get Revised
Once your assigned designer gets to work, they send you the draft of the output. You can get it revised as many times you like as it is included in your plan.
4. Download the Final Draft
When you get satisfied with the final output, you can instantly download it. You get complete ownership of your file without having to wait for someone.
Pricings
When you go to the website of Penji, you will find their pricing plans and programs. All the pricing plans have their inclusions and benefits. Details of all the plans are given below.
Image: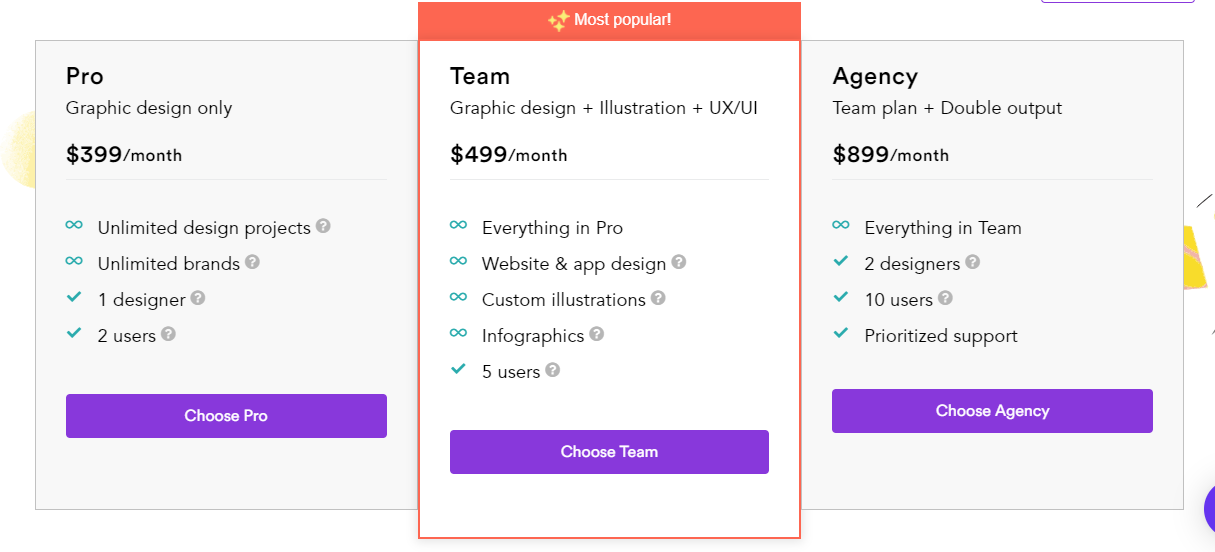 Pro
The Pro plan costs $399 per month. It offers only graphic designs. However, this plan gives unlimited design projects and unlimited brands. You will get one Penji designer assigned in this plan, and it allows two users. That is, you can add one of your team members at no extra cost.
Team
The Team plan costs $499 per month. In this plan, you get everything in the Pro plan with illustrations and UX/UI also. In detail, you will get graphic design, website and app designing, custom illustrations, and infographics.
With unlimited brands, unlimited projects, and full customer support service, you will be allowed five users in this plan. That means you can add up four more team members at the same cost.
Agency
The Agency plan costs $899 per month. This plan offers the same services as the Team plan. Graphic designs, website and app designing, custom illustrations, and infographics, you will be getting all these services. However, they assign two designers with prioritized customer support 24/7 in this plan.
Moreover, it allows ten users to be on board in this plan. This plan doubles the output. Also, this plan is suitable only when you have plenty of design requirements. Otherwise, it may just become a waste of money.
These three-monthly plans are designed for the various needs of people and businesses. However, in every plan, they offer unlimited projects and unlimited revisions so that you do not have to compromise with your creative output.
The Penji also offers a 15-day 100% money-back guarantee. This means that all its monthly plans are backed up with a 15-day money-back guarantee.
Also, they keep you free from any contracts so that you can cancel your subscription anytime you want. They insist on no hidden fees and contracts.
Conclusion
Knowing about Penji's services and prices in detail, one can agree that Penji is a good and excellent site to get your graphics done.
But with its pros, you also probably know its cons. Penji works on a monthly subscription, and it would be a complete waste if you do not have designing needs for the whole month.
So, choosing Penji for designs depends totally on your degree of requirements. Depending on your needs, you can choose the best plan for yourself.
Moreover, if you figure out that subscribing to Penji for a month is a little too much altogether, you can always go with freelance graphic designers.
For your occasional projects, freelance designers are also a great idea.