There are a couple of additive manufacturing processes already in use but 3D printing is the most popular and well known among them. It has gained a lot of popularity in the recent few years and has already slipped its way into many production houses. Just imagine the ability to visit a website online and order a product of any design and specification floating around in your mind and find it delivered at your doorstep the next day. Shopping websites are continuously trying to deliver ongoing demands by harnessing advanced 3D printing technology.
Do you know that 3D printing has potential enough to motivate the business to file a patent in the US for a truck that will be equipped with 3D printers and take orders online? They will then print the item and deliver it to the customer's doorstep or they can also buy them while on the way to it. best 3d printer under 1000 has great potential in the future for manufacturing industries. Let's talk about some of its achievements and applications of 3D printing and see whether it can live up to the hype in the future.
What is 3D Printing?
The history of 3D printing has dated way back over 30 years. When the company "3D System" created the very first 3D printer. The man behind the company was Chuck Hall. Although the technology is pretty old it has gained popularity in the recent few years. This technology has been growing at a rapid rate and we can easily evaluate this with the increase in 3D printer sales.
The process of 3D printing is a part of additive manufacturing which contrasts from the traditional subtractive manufacturing process. It starts with a computer designed 3D model. This can be achieved with CAD software which is much similar to what architects use to design houses and buildings. The software slices the design into various horizontal layers and then the file is uploaded to the 3D printer.
Now the printer starts creating the object by adding the material layer by layer. Once the process is done, the final product can be post-processed and ready to use. This technology has evolved and now there are different techniques available but the sole element remains the same. Some of the materials which are widely used in this technique are plastic, ceramics, metal, sand as well as food.
Applications of 3D Printing
3D printing technology has been widely developed by different industries and the most common one is rapid prototyping. It is also been moving its way into dental, biotech, medical for human tissue replacement, amazing isn't it? Apart from this, it is also used in the field of education, food, fashion. This technology has endless use cases and we have not yet talked about the big picture. 3D printing is also being used on a larger scale in industries such as architecture, general engineering, aerospace, construction and automotive. Making parts for aircraft, spaceships, race cars, etc.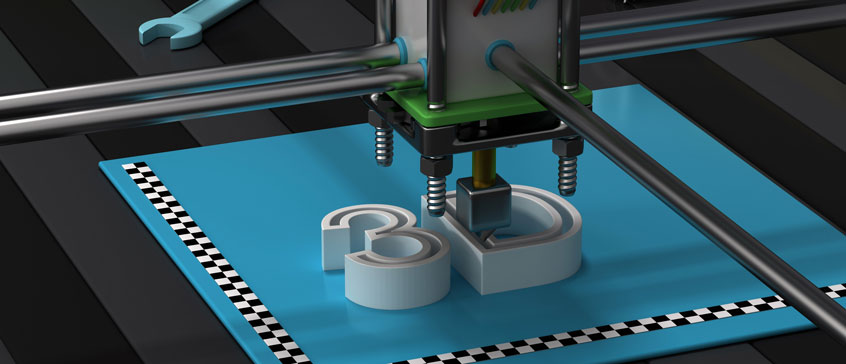 Customization
3D printing allows great customizability and you can even tweak with the 3D model in the middle of the production in case there is some issue and the next product in the product line will be made including the changes. This saves us a lot of time. The time is near when we will be able to buy customizable products as per our design with our own designs. Product customization will be an essential part of this technology in the near future. One can also buy their own 3D printer and create their own product eliminating the need of buying it from a company.
Innovation
This technology will lead to the innovation of new components in the future and at a much faster rate. We can create anything from models to clothing and since this saves a lot of time in prototyping the designers can actually focus more on the function of the product. If you are a designer then you can quickly work on one design, get the print and then quickly move on to a new design on the table. If the same was done with the traditional manufacturing process it would take weeks to get it done. This will also help grow the economy.
Cost effectiveness
As said above 3D printing can save a lot of money and eventually help grow the economy, not only by saving time but there are other corners as well. Although the technology is being used on a small scale but in the future, we can have a whole assembly line of 3D printers which will be more efficient and reduce a lot of human work. There will be only one or two-person handling the entire assembly line. 3D printing also creates a lot less waste as compared to subtractive manufacturing and is great for a large business or an enterprise.
Materials
3D printing allows us the flexibility to use various materials for different kinds of products. Nowadays a lot of the applications of this technology are for prototyping which is not strong enough to be used in the production but some car companies are using 3D printed parts which are sturdy enough. In the future, we will see this number grow rapidly when companies start using stronger materials. Not only stronger but also lighter materials will be used in spacecraft which will make them fly more efficiently saving a lot of fuel.
Future
Many tech companies like Google have already modified their hardware to perform 3D scanning and this is a clear signal that soon they will implement the same in simple devices like a smartphone, so we can easily create a 3D model of a real object.
In the future, it is predicted that 3D printing can rule the market where customers will be able to avoid most of their usual cost and time while buying simple daily use items. So, the consumer will manufacturer their own items and don't need to trade the same from a business or corporation.
It is bringing positive effects on the development in areas such as medicines and art and also saving a lot of energy and reducing waste. 3D printing has already marked its way into changing the manufacturing world as we speak and it's here to stay.