If you are a designer then you will spend a lot of time at your office desk and mistakes in choosing the table may be a nightmare. The office desk is probably the most important part of the office, where more hours are spent and more tasks are performed. Given the importance of the desk in the office, your choice becomes something of vital importance.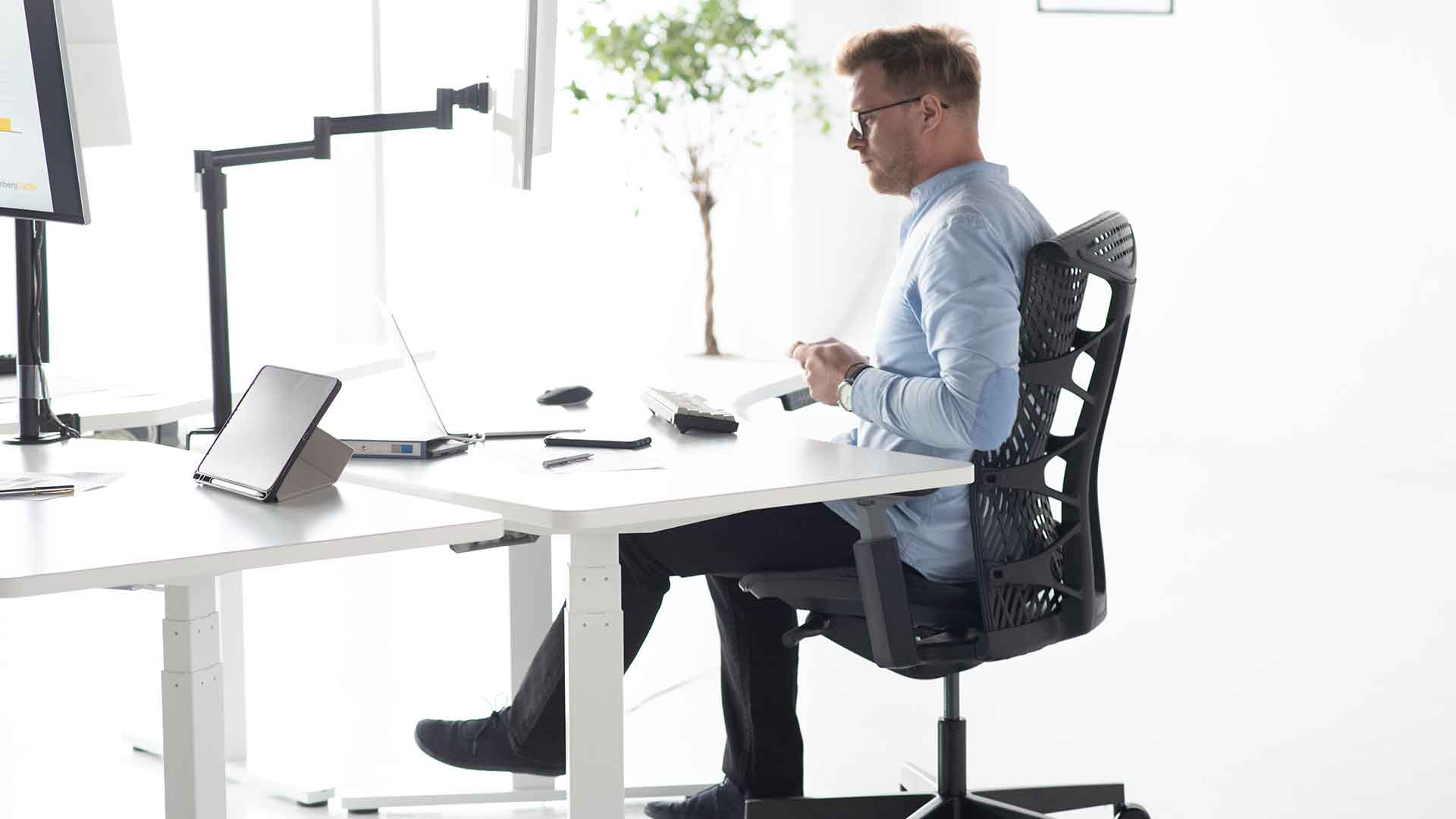 There are several factors that will influence the choice of the perfect desk for your office, especially if you are a designer who spend a lot of time every day at your desk. The office desk is one of the best tools for designers. We tell you some tips that you have to take into account.
Size
It is the first and most elemental determining factor when choosing your office desk and other best tools for designers. Depending on the space you have, you can choose desks of larger or smaller size. But having a lot of space does not directly imply opting for a larger desk, you must also think about practicality.
The desk should be large enough to allow you to work comfortably, but it should not exceed the space you need for that job. It is convenient that you take advantage of every centimeter of office. As a general rule, it can be established that an almost standard minimum size is 130 cm wide by 90 cm deep and a height between 70 and 74 cm. From there, the space and equipment you have will determine your decision: computer, telephone, work area, peripherals, etc.
Although, with everything you need, it is preferable to have large desks that allow you to have everything at hand, but you can also opt for a smaller desk if you have drawers or shelves that allow you to organize your material. Of course, if your work requires the use of plans or design, you will surely need a larger desk. Again, some best tools for graphic designers are larger than the similar ones.
Design
After size, the next factor to consider is design. As there is no office without a desk, this one will mark the air you give to the decoration and the rest of the furniture. You want a more modern workplace, take risks with the most daring models, and choose an unconventional design. If, on the other hand, you have a more serious office, a classic desk or a home office standing desk will give you the sobriety that it requires.
In any case, the harmony of the desktop with the rest of its environment is very important. Desk design can also help you do your job better and perform better. In offices with little space, it is advisable to use light-colored or glass desks, which will give you the visual amplitude that physical centimeters do not provide.
If the office is going to have several desks, in addition to unity you should look for the image. For this, there are desks of versatile designs that can be combined and even put together so that each worker has his own space within a united and harmonious set that facilitates the sharing of information and saves space.
Even though an office desk meets ergonomic elements, it will not produce the results that match expectations if not reviewed by the right chair!
It is one of the essential elements in any office and has been since its invention. The office chair is one of the best tools for designers working from home. Something that has not been lacking in any business or trade worth its salt for more than two centuries. The birth of the office chair with the approximate concept that we have today is probably set in the mid-19th century.
They say that the first chair with wheels is due to one of the greatest geniuses that Humanity has given: Charles Darwin, who one day tired of not being able to move freely around his laboratory decided to tear off the wooden legs and put iron ones with wheels that he removed from the bed.
The first office chairs
The first office chairs were made of wood and soon they began to put upholstered seats and backs. Comfort began to be sought at work. The second industrial revolution turned small companies into elegant and large companies in need of more personnel to carry correspondence, accounts or customer and supplier service. With it the concept of office was born. They were strong, simple profile chairs.
After the First World War, other materials such as aluminum or stainless steel began to be used, and later materials such as plastic, fiberglass, plastic resins or plywood were added. In 1925 Marcel Breuer designed the first chair with a steel tube. Entrepreneurs saw these materials and their new design ideas as the perfect combination for serial chair manufacturing. It was about looking for ways to reduce costs.
In the middle of the 20th century, Frank Lloyd Wright was the first to set the hierarchy in the office by designing different chairs for managers and employees. Something that is maintained in many offices today. Executive office chairs not only had a broader base or were made of different materials; they already had a mechanism that allowed the backrest to be adjusted.
Ergonomics applied to chairs
The 1960s arrive and with them the first questions about how to improve workers' health and improve their performance. In 1968, the German Wildfred Duphin created the first chair for the company that set up its own garage, which in addition to the backrest allowed height adjustment. And soon after, in the early 1970s Wilhelm Ritz used the gas cylinder for the first time to regulate height.
Evolution since then was just as frenetic as the growth of society. Chairs with lower back support appeared, simpler levers to adjust height, etc. And knowing the advantage of ergonomics in the chair, the search for the most distinctive design begins. Chairs are designed even with a spatial aspect.
The evolution of chairs already in the 21st century leads us to combine design with comfort so that work is a little more pleasant. Ergonomic chairs are now almost essential in any office and not having it is almost a sin. From the old fixed wooden chairs, the change has been impressive and each time new materials and new designs lead us to a future where office chairs almost have a life of their own.
By choosing the right office desk and supported by the ergonomic chair, you can run your designing activities better.