Big data is structured and unstructured data, as well as methods for processing them, which allow distributed analysis of information.
How is the landscape of modern retail changing and why can stores that still do not use the capabilities of big data and smart algorithms soon become uncompetitive?
Everyone understands that it is necessary to implement Big Data technologies, but often the idea of their application is rather vague.
Changing the landscape of ecommerce and traditional retail
Before the advent of personalization technologies, marketers determined customer needs based on surveys and sales analysis. However, as it turned out, this approach gives results that are little comparable with reality.
In 2018, H&M suffers a fall in profits for 10 consecutive quarters, which created a threat to the company's closure. To stabilize the situation, smart algorithms were used, which allowed to remove 40% of the store's assortment without reducing sales. This experiment showed that retailers do not always know what their customers really need.
Retailers have a huge amount of data that can be analyzed and used both for communication with customers and for optimizing various processes within the company.
What retail tasks can be solved with Big Data
With the help of big data analysis, it is possible to solve all those problems that a business already solves:
– Where to open the next store;
– What marketing campaigns should I launch;
– How to predict sales in the next month / quarter / year;
– How to highlight the "core" of the audience;
– How much you need to increase prices next month;
– How to optimize the marketing budget;
– How to predict which of the customers will cease to be customers in the coming month.
On the other hand, with the help of Big Data algorithms it is possible to solve those problems that previously were theoretically impossible to solve at an acceptable level:
– Finding hidden patterns in customer behavior;
– Personal offers (including the same product recommendations);
– Analysis of customer behavior in digital marketing channels;
etc.
If an algorithm that analyzes all the data is used to use these tasks, Big Data solutions simply show better results (usually much better) than when there were no such solutions.
When a model with an individual calculation is used, additional benefits for the business "from nothing" are created.
Customer Analysis Techniques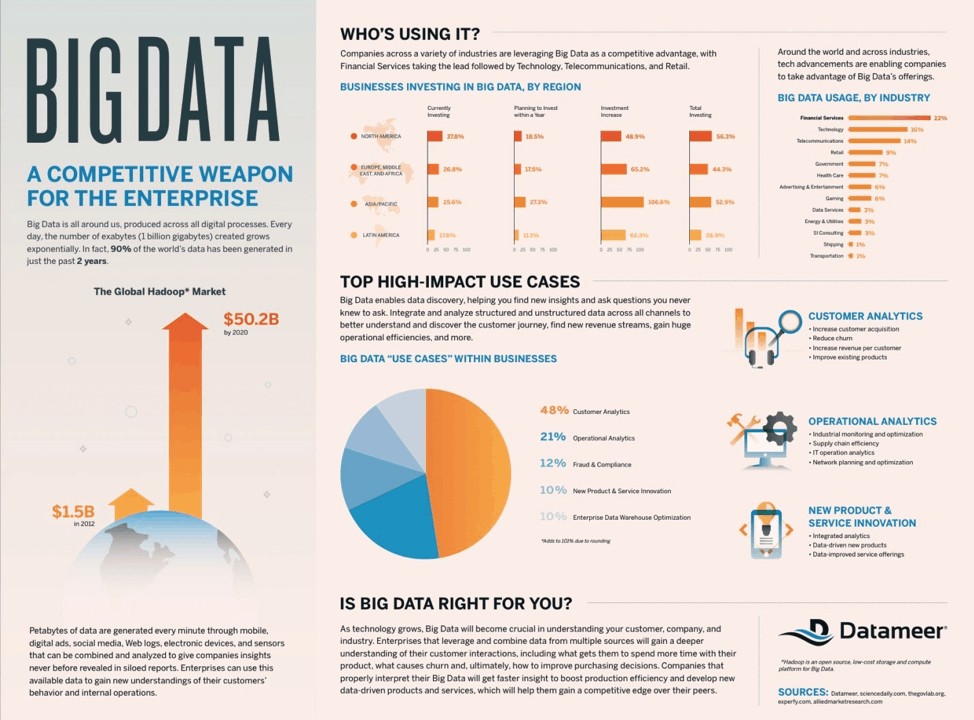 According to research conducted by DataMeer, the most common use case for big data among businesses is customer analysis. They found that:
48% of the sample companies use big data for customer analytics
21% use it to reduce operational risks
12% use it for fraud detection
10% use it for product innovation
10% use it for inventory optimization
These usage scenarios are embedded within broader strategies aimed at improving customer acquisition rates, lowering churn rates, increasing recurrent customer spending, and improving customer-product fit. The wide-scale adoption of big data for these purposes speaks volumes about its effectiveness for achieving business goals.
Improved Customer Responsiveness
Forrester published a study on marketing performance as it relates to customer experience. They found that big data represents a way for companies to reach their marketing goals through greater customer insight. According to the study, 44% of the interviewed B2C companies are using big data analytics to increase customer responsiveness, while 36% have stated that big data was essential for developing effective relationship-driven customer strategies. The logic behind this is simple at its core. "The more data you have on customers, the more you know about their needs, wants, and desires. This, in turn, enables you to approach customers where they want, when they want, with a message they'll be interested in hearing", – says specialists from LendGenius.
More Successful Customer Relationships
Big data is proving potent at providing customer service reps with insights needed to nurture long-term customer relationships. In the past, customer service was a kind of troubleshooting activity – its goal was to address customer questions and complaints if they happened to arise. With big data, this reactive approach was substituted with a proactive one. Data-driven customer service relies on continuous B2C interaction. Customer service representatives now stay in touch with customers for the entire duration of their engagement with a business. By using customer data to supervise customer development, customer service reps have the potential to drastically improve customer loyalty and customer lifetime value.
Customer Value Analytics
Customer Value Analytics is a new marketing discipline based on big data. It enables marketers to deliver synchronized customer experiences across multiple channels, including email, website, and social. This multi-pronged approach to marketing is already proving effective at shortening sales cycles while harnessing the benefits of a personalized approach to customer relationships. Customer Value Analytics works by segmenting customers into different value tiers by on a set of attributes or characteristics. The goal is to create a set of characteristics that define what is a high-value customer and then segment the existing customer population from in order from least to most valuable. These high-value targets are then systematically targeted across different channels. This kind of coordinated strategy is only possible thanks to big data analytics.
Greater Upselling Opportunities
The most straightforward way to boost sales is to pursue upselling opportunities whenever they are available. Once you have access to a customer's personal information and purchase history, it is an easy matter to find additional products and services they might find interesting. Big data is giving companies the opportunity to streamline this process by predicting the most likely upselling opportunities and scenarios. By having access to precise upselling suggestions, companies can capitalize on upselling opportunities they would have otherwise missed. The same principle applies to cross-selling – with big data, it is equally easy to find products and services related to the initial purchase.
Growing Sales with Big Data
Thanks to modern data mining techniques, it is possible to amass tons of customer data, but utilizing it in a meaningful way is another matter entirely. Companies are still exploring the venues by which big data can be used to increase sales, and their research is slowly bearing fruit. The techniques and strategies we have outlined above are the products of this research, and they are quickly becoming the new industry standard when it comes to data-driven selling. Study them, and consider trying out the ones that are suitable for your organization. Big data is the future, and the sooner you adapt to the new paradigm, the better position you will be once big data becomes the new norm.
Conclusion
In modern business, almost regardless of the specifics and industry, the value and high role of information about potential and current customers of the company, about its competitors and future trends in the market are increasingly evident. All this is becoming necessary conditions in order to maintain competition in the modern world. In this regard, and already existing examples of the success of implementing big data by large companies that are filled with the Internet, it can be assumed that the role of big data will only grow over time. Thanks to this, companies will better know and understand the needs of their customers and offer them the most relevant and suitable solutions, and consumers will be able to enjoy the products and services that best suit them.