The EaseUS has been in the market for a very long time and has a variety of Softwares. It Includes Data recovery, Partition managers, Backup & Restore, Data Transfer Tools and Utility.
But today we will be focusing on one of its popular software which is EaseUS Data Recovery Wizard Free and find out if it is actually good and can recover my data or not.
What is EaseUS?
The EaseUS Data Recovery Software Scans your PC, Memory Cards, USB Flash Drive or Digital Devices. Your Photos, Videos, Messages or any such important thing which you have lost and helps you recover it.
We all have been through this situation where we accidently delete or format something. Or it's another case where we messed up like a Virus attack or Hard Drive failure or you just formatted a partition unknowingly while trying to install an Operating System. There are other times as well where you might want to recover your lost data, and that's where EaseUS Data Recovery Software comes in play.
The EaseUS Data Recovery Software is excellent; it saves a lot of your time and comes with a decent price. So first let us check out the pricing and later we will see what it can do.
EaseUS Features
The Data Recovery WIzard from EaseUS has a lot of features baked into it. Some of the main features are the scanning Options, Filtering, Cloning, Variety of file type which you can recover and so on.
File Types
File types is not an issue when it comes to EaseUS. Whatever file type you may think of recovering, EaseUS will be compatible for that. Below are some of the popular file types which you can recover using EaseUS.
Images: JPEG, PNG, PSD, AI, RAW, BMP, GIF, SVG.
Videos: MPEG-4, WMW, AVI, QuickTime, SWF, MKV, MP4.
Audio: MP3, WAV, Ogg, AAC, AIFF, AAC, MKV, MPG, WAV.
Archives: RAR, Zip, Gzip, Stuffit, ISO.
Documents: Doc/Docx, Excel, PPT/PPTX, HTML, PDF.
Filter
You can filter files based on categories such as Graphics, Documents, Video, Audio or Emails. You also have an advanced filter option where you can filter more file types like Word, PPT, Excel, PDF or Mails.
Further Most, you can Filter files based on time and size. Let's say that the software was able to locate 1000 Files and I am looking for a file which I deleted 5 Days ago, and it was between 10MB – 100MB. So I can filter that too. It will save a lot of time and hassle.
Platform and File System Compatibility
Whether it's Windows or Mac, EaseUS supports all of them.
For Windows
Operating System – Windows 10/8.1/8/7/Vista/XP, Windows Server 2016, Windows Server 2012, Windows Server 2008, Windows Server 2003.
For Mac
Operating System – macOS 10.14 (Mojave), macOS 10.13 (High Sierra), macOS 10.12 (Sierra), Mac OS X 10.11 (El Capitan), Mac OS X 10.10 (Yosemite), Mac OS X 10.9 (Mavericks), Mac OS X 10.8 (Mountain Lion), Mac OS X 10.7 (Lion), Mac OS X 10.6 (Snow Leopard).
The EaseUS Data Recovery Wizard supports most of the file system such as:
FAT(FAT12,FAT16,FAT32)
exFAT
NTFS
NTFS5
ext2/ext3
HFS+
ReFS
Pricing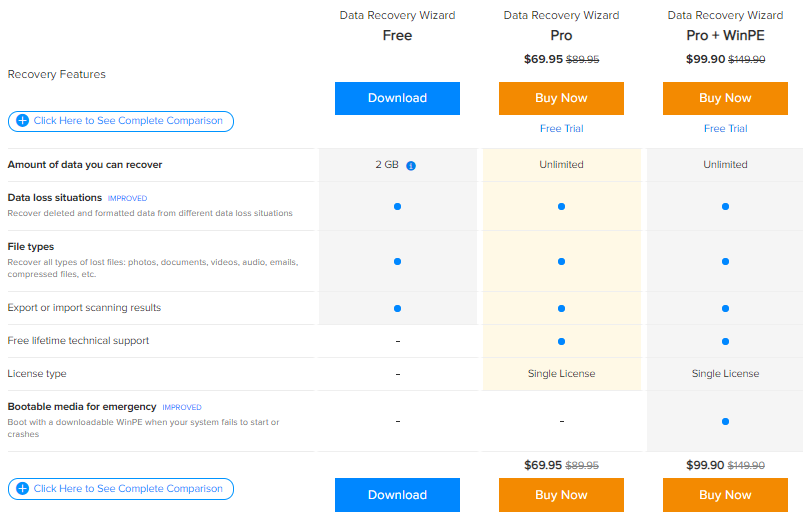 The EaseUS Data Recovery Software has stable pricing considering it can recover all your deleted Media.
Surprisingly, There is a free version of the software available. The Free Version can recover up to 2GB Data for FREE. Initially, users can instantly recover 500MB data with Data Recovery Wizard for Free. To Recover more data users have to share the software on your Facebook or Twitter timeline to grow to a limit of 2GB.
For Unlimited Data recovery Users have to buy the Data Recovery Wizard Pro for $ 69.95. It will also ensure that the User will get Free lifetime technical support.
Further most, the User can upgrade to Data Recovery Wizard Pro +WinPE for $ 99.90. It will give you additional feature such as Bootable media for an emergency. It can also recover data even when system fails to boot or crashes
All of these variants come with a Free Trial which is another plus point.
How does it work? and how to use it?
As you can see in the image below, I had four photos in my drive which I accidently deleted.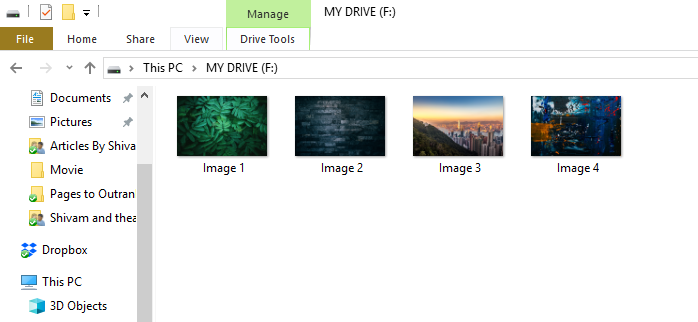 It can happen with most of you. Now let's see if we can recover it with the EaseUS Data Recovery Wizard.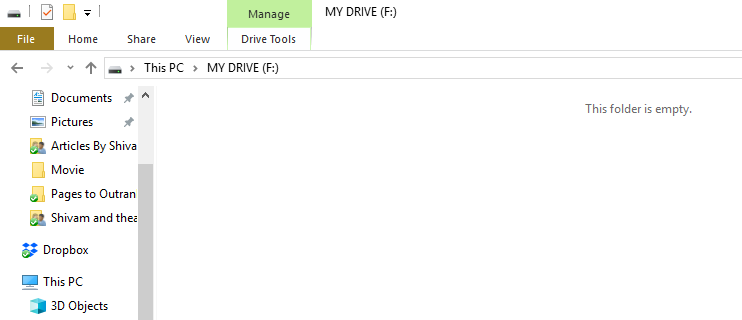 Here I have my Software running. On the homepage, you have to select the drive where the file was originally located. In my case, it was My Drive, so I'll pick that and click scan.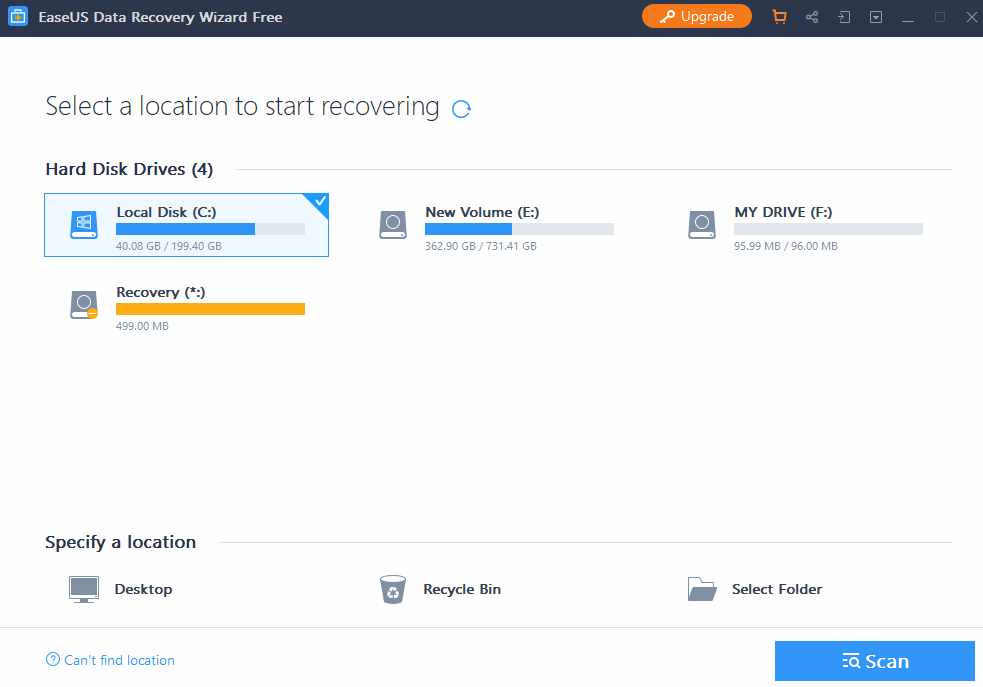 Right away you guys will start noticing a lot of files will start appearing. I was also able to locate my missing files after a second of scanning. You can see all the data which were deleted in the past and choose to recover some or all of it. Within a matter of seconds, the software was able to locate all the files which were missing from the drive. Now I'll go ahead and select specific files which I want to recover.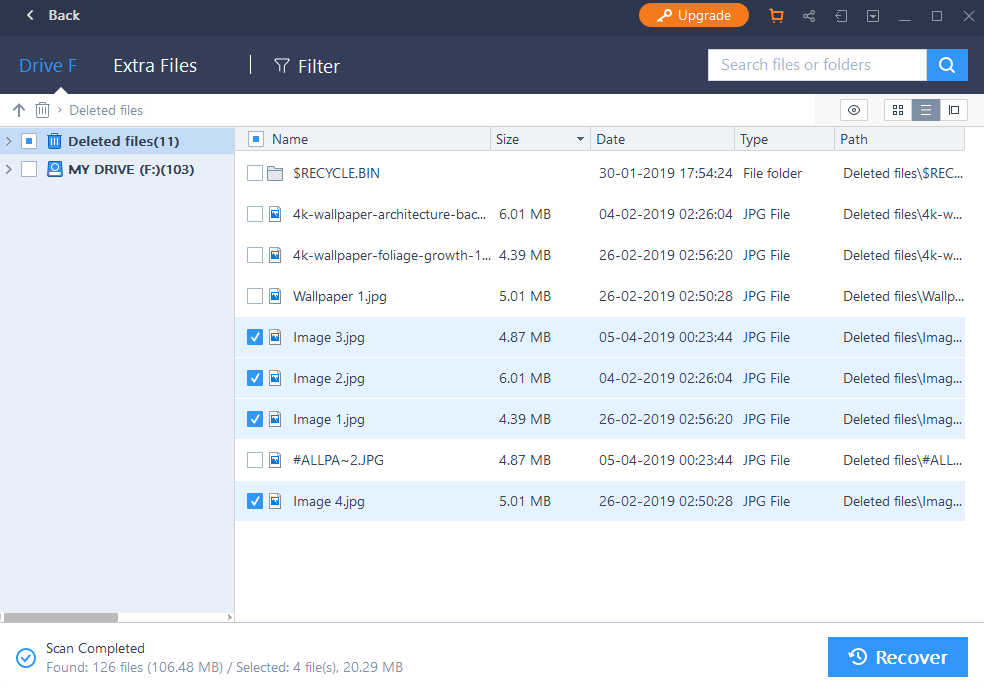 Now I will choose where I want to save the recovered files, and you might see a warning like this whenever you select the same drive for storing the recovered data and where the data originally was. So I'll go ahead and choose a different drive location for my restored files. Now let's see if it worked or not.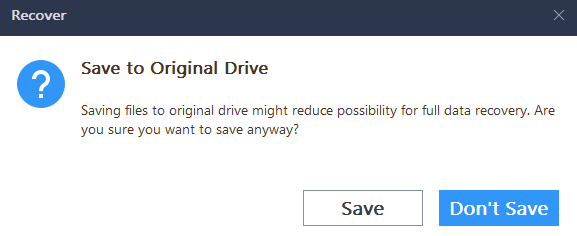 That's it! The EaseUS Data Recovery Wizard managed to recover all my files. These were the pictures which I accidently or knowingly deleted from my drive after backing up for the sake of this tutorial, and I can open them as well.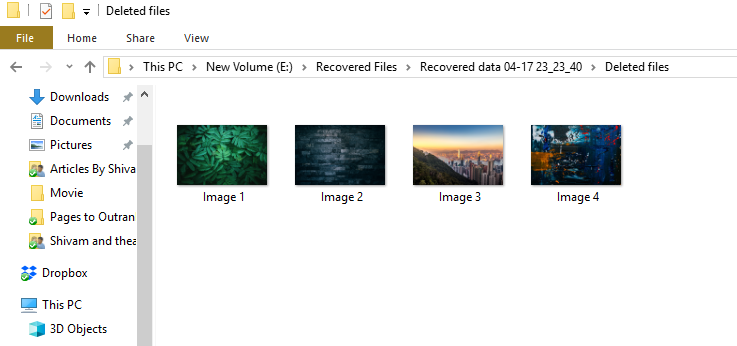 Well, I still don't know how it worked because I completely formatted the drive and yet it found all of it. Amazing, isn't it?
Conclusion
In my opinion the EaseUs Data Recovery is a great tool. It worked without any issue for me and recovered all my deleted files.
Whether you lost something on your hard drive, Sd card or Digital devices like camera then this is by far the best tool you can use it to recover some of all of the lost data.
Along with this tool there are a ton of other tools by EaseUS as well to take care of your data and save your day at a very little cost.