Law being one of the primaeval subjects, it offers excellent career opportunities. To take admission in the government and private law colleges in India, students need to appear in the law entrance examinations. Almost every college considers CLAT entrance examination scores for admission in undergraduate and postgraduate level law programmes. Therefore, each year a large number of students opt for CLAT entrance examination.
To fulfil the dream of becoming a lawyer, one needs to score good makers in the CLAT examination. The applicants need to prepare according to CLAT syllabus to secure a seat in the best law colleges of India. The CLAT syllabus is generally announced in the last week of December. Hence. The CLAT syllabus 2020 is expected to published on the last week of December 2019.
About CLAT syllabus
CLAT syllabus provides an overview of the subjects that a candidate needs to prepare while going for the CLAT exam. The syllabus helps the students to focus on the preparation as well as helps to prioritise from most important to least important topics. The exam syllabus contains information about topics, marking scheme and exam pattern that is considered while taking admission to the undergraduate or postgraduate level courses. CLAT is conducted NLU's every year. This year's CLAT syllabus will be announced by National University of Study and Research in Law, Ranchi or NUSRL.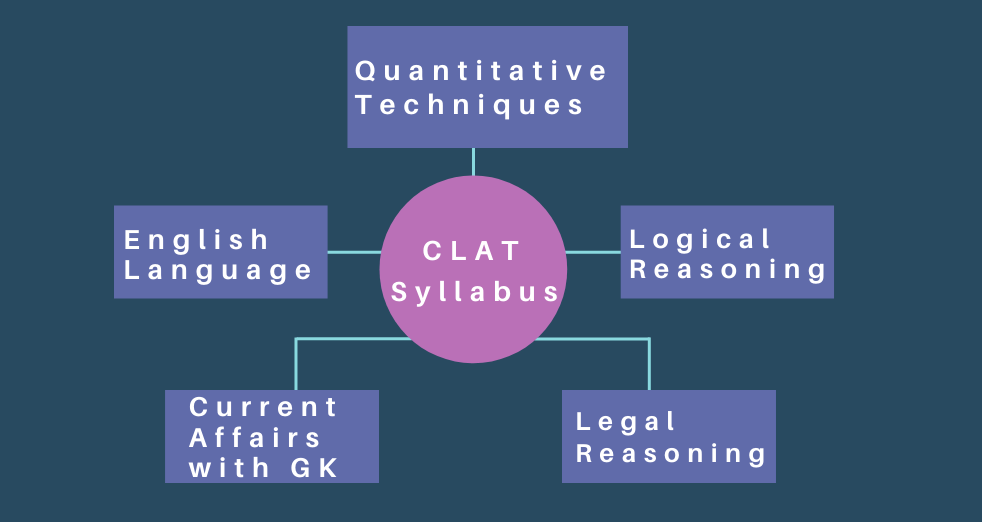 Details of CLAT syllabus for UG programmes
The total duration of the UG level CLAT examination is 2 hours for 200 marks. The syllabus for undergraduate law has five sections. Each section has separate marks division. The five sections of CLAT syllabus UG include English and comprehension, Mathematics, Logical Reasoning, Current Affairs and General Knowledge and Legal Aptitude etc. The following is the coverage and score for different subjects:
The English section in CLAT syllabus is designed to test the candidate's proficiency based on grammar and passages. In the comprehension topic, the candidates will be evaluated on their understanding of the passage. The students need to answer the question on the basis of their understanding of the central theme of the passage. On the other hand, the grammatical section includes correcting incorrect sentences, fill in the banks ith correct parts of speech and many other high secondary level grammatical questions.
| | |
| --- | --- |
| Section | Topic |
| Grammar | Fill in the blanks with correct parts of speech, vocabulary, fill in the blanks with the appropriate word, choose the correct spelling, one-word substitute, adverb and proverbs phrases, antonyms – synonyms, sentence correction, |
| Comprehension | Unseen passage, Questions from the unseen passage. |
This section consists of elementary-level math problems. Some equations can be tricky so students need to practice a lot to score good marks in this section. One should practice the maths questions taught up to class 10th.
| | |
| --- | --- |
| Section | Topic |
| Mathematics | Algebra, Average, Number System, Profit Loss, Area and Mensuration, Percentage, Time Speed and Distance, Probability, Work and Time |
General Knowledge and Current Affairs
The general knowledge of the students will be assessed based on their general awareness. This section includes topics of current events focusing on legal aspects and news of national or international importance etc. Therefore, the students should aware of all major developments happening in the field of law, legislation and judiciary of India.
Section

Topic

Current affairs

Sports, events of international and national importance, New appointments, current knowledge on Legal affairs including New laws, amendments and Judgments.

General knowledge

Political science, Environment, History, General Science, Geography

Important amendments, important laws.
One of the major aims of the logical reasoning section in CLAT syllabus is to evaluate a candidate's ability to identify different patterns, rectify all illogical arguments and build logical links. This section consists of several questions from logical reasoning including syllogisms, analogies, logical sequences, blood relations, numbers and alphabets etc.
| | |
| --- | --- |
| Section | Topic |
| Logical Reasoning | Series, Logical sequence, Syllogisms, Sequence matching, Analogies, Blood relations, Seating arrangement, Numbers and Alphabets, Calendars and clocks |
This section is laid out to test a candidate's interest in the study of law. Therefore, students are evaluated based on their problem-solving ability, research aptitude and knowledge od legal terms. The question may depend on legal propositions and applicable facts or examples of those legal propositions.
| | |
| --- | --- |
| Section | Topic |
| Law | Propositions, facts important laws like the law of torts, IPC, CrPC etc, Important events related to constitutional and legal developments |
| Polity | Judiciary, Rights, Duties, Supreme Court, High Court, Parliament, Executive, President, Legislature, Current events related to the polity of India. |
| Constitution | Important acts and amendments in India, History of Indian constitution |
Details of CLAT syllabus for PG programmes
The syllabus of postgraduate level law has two sections. Each section has a different marking scheme. The total duration is two hours for 100 questions. The five sections of CLAT syllabus PG include Constitutional Law and Other Law Subjects. The following is the coverage and score for different subjects:
Constitutional Law refers to the implemented and stated rights in the state or federal constitutions. All topics included under this is derived from federal or state supreme court rulings. Constitutional laws ensure that laws passed by the legislature are not violating the constitutional limits.
| | |
| --- | --- |
| Section | Topic |
| Constitutional Law | Quasi-Judicial bodies and Tribunal, Indian constitution, Rights, Duties, Writs, Supreme court, District courts, High Court, Elections to President, Elections to Vice-President, Elections to the Legislative Assembly, Official language, Important acts such as Emergency powers and Panchayati Raj etc |
Apart from constitutional law, there are several different topics of law that a student needs to know before opting for CLAT examination. Other law subjects include Law of Contracts, Criminal law, Law of Torts, International law and Intellectual property rights etc.
| | |
| --- | --- |
| Section | Topic |
| Law of Contracts | Consequences of breach of contracts, Agency contract etc., Nature of contracts and formation, Void and illegal, unenforceable contracts, Discharge of contracts, Quasi-contracts, Guarantee and insurance |
| International law | Major international bodies such as the UN, IMF, WTO, etc., International treaties, Dispute settlements, Humanitarian laws and UN charter |
| Law of Torts | Liability, Definitions, strict, different types of liability, absolute liability, Joint tortfeasors, Negligence, Remedies, False imprisonment, Defamation, Conspiracy and malicious prosecution |
| Criminal law | General principles of criminal law, exceptions and Punishments, Liability, Offences and defamation, Criminal conspiracy |
| Intellectual property rights | WTO IPR rules, Patents, the patents Act and other important rules |
There is 0.25 negative marking for every wrong answer. Therefore, students are advised not to attempt any question unless they are absolutely sure. Students are also advised not to skip the instructions. Prior knowledge on CLAT syllabus will be beneficial for the candidates to ace their preparations and give their best shot in the CLAT examination.