The whole TikTok hype can be very confusing if you don't belong to Generation Z. TikTok is, therefore, an application designed to upload short videos by anyone who has a smartphone and wants to do so. TikTok is already changing the social networking landscape and we can agree that there hasn't been an app since Instagram that has become so popular in such a short time, so popular that it has "woken up imagination" of those who don't use it and made them wonder whether they were missing out on something important. Although this seems like a high school "I Got Talent" to many, it shows what real social media engagement looks like.
It sounds amazing that TokTok is one of the fastest-growing apps on the planet despite being released worldwide from China only 3 years ago. Last year. TikTok settled at the No.2 of most downloaded apps in the world with 740 million downloads from app stores. Only WhatApp can brag with a higher number of downloads (860 million), while Facebook Messenger and Facebook come behind TikTok in the ranking with 720 million and 685 million, respectively.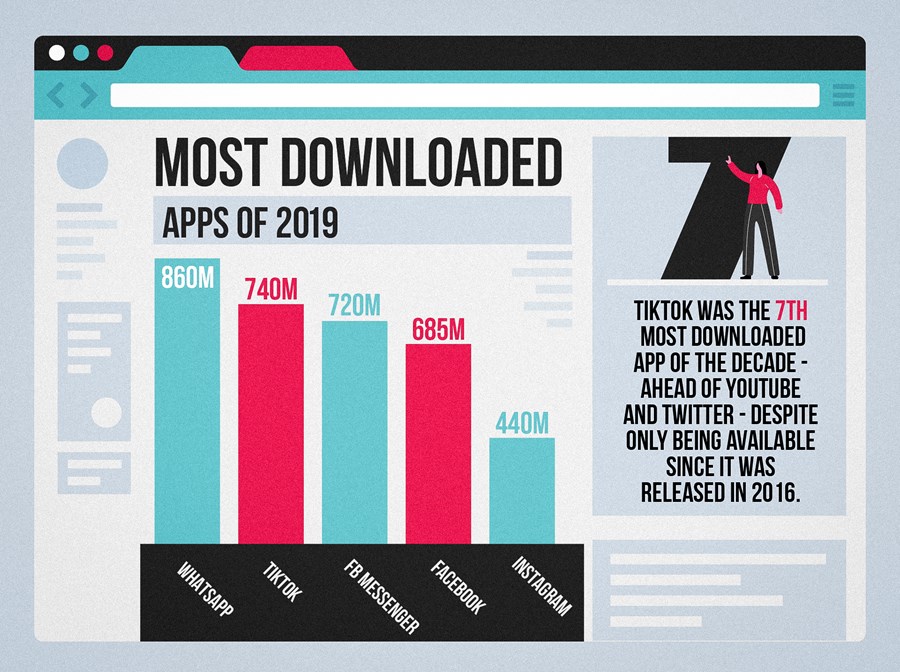 (Research: Betway Sports)
It's Addictive
All social networks are constantly upgrading and developing their new directions, but they more or less rely on narrow circles, "our" people, whether they are the ones we really know or the ones we value and love and consequently follow. Instead, TikTok encourages a rapid change of audience and the creation of what might be called a "temporary circle of friends" that comes together to lip-sync something or do a group activity. All in all, there's an unmistakable feeling that using TikTok you use a platform that expands in every possible direction and, if you thought the amount of content you saw on other social media was huge, try diving into the TikTok "pool".
There's everything, the content is mostly benign, even meaningless, but someone really invests time to create it and the results are various. It can be weird, but it can be extremely sweet and charming or hilariously funny. Most often, "why-am-i-looking-at-this-at-all-but-let's-just-watch-another-one" is fun. In any case, the rise of TikTok is noticeable to the extent that it absolutely redefines the word "content" and that it's necessary to explore this parallel reality where something seems to be happening 24/7.
To put it simply, it's addictive and literally universally endless, while the algorithm keeps you trapped in a loop of what you like and have fun with. It's hard to come to that, though, because you have to go through an astonishingly large number of videos of those who do practically nothing special but, once you stay and like a video, it's over – you'll find yourself desperately seeking for fun that you haven't even looked for in the first place.
It's Ultimately Inclusive
You might never think it would be ingenious to watch a video of a pinecone with little eyes and arms spinning in a circle, or a "concert" in which gummy bear Adele sings "Never mind I'll find someone like youuu" to a group of other gummy bears, but you'll find out that you can spend hours looking for fun that you may not need.
TikTok has, in fact, obliterated all traditional and cultural norms and boundaries, and the more time you spend on the app, the more you'll realize what its incredible beauty and significance are – in ultimate inclusivity. And it's so damn relieving. TikTok is totally excluded from Instagram aesthetics and the need to convince each other how lucky we are, have a great life and have a better time. It has been completely bypassed by every type of selection, it's totally unresponsive to Twitter's outsmarting and pursuing justice, and not interested in Facebook's connecting of private and public.