Charcoal and propane gas grill are both popular grilling method that all backyard enthusiasts love. You can find their advantages and disadvantages on the Kitchen Tools Club website.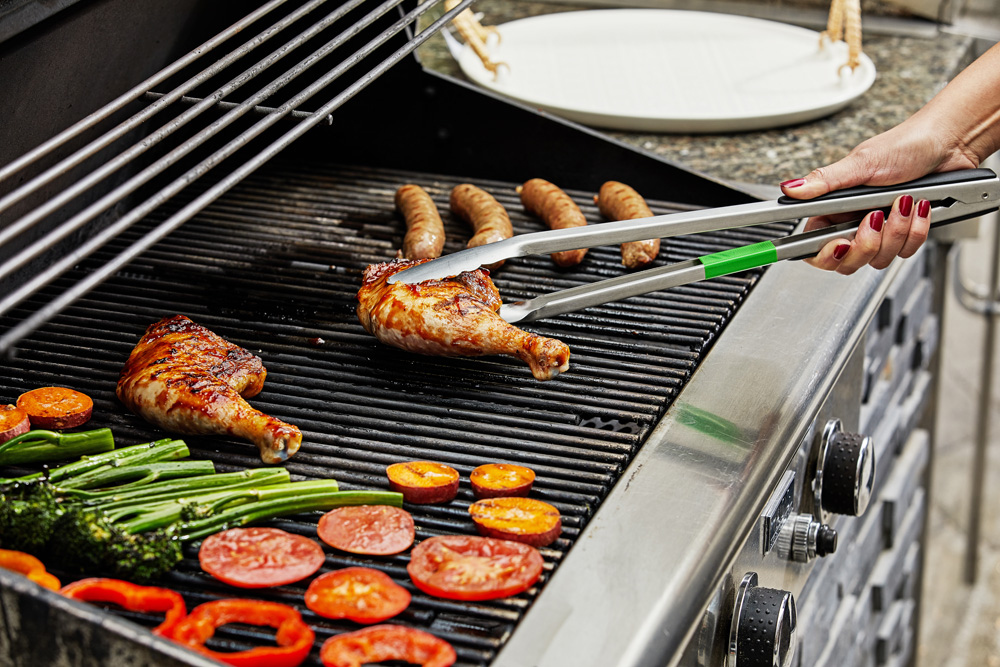 There are people who believe the traditional charcoal gives your food the best test. On the other hand, there are also folks from the other spectrum claiming otherwise. Are you looking to get a grill and not sure which type due to the highly controversial discussion between the two?
Well, I have done some tests on both grilling methods. As such, I am here with this article to put an end to this hotly debated topic
Testing method
I ran the charcoal vs. propane gas grilling test using three most popular ingredients at any barbeque party, and they were burger beef patty, Mexican cheese sausage, and steak.
Two of the mentioned ingredients were grilled and served while the testing person was being blindfolded.
The result was quite interesting.
Taste differences
This is the most distinguishing difference between the two grilling method. My friend (the tester) was able to accurately tell which was from the propane gas grill and which was from the charcoal grill.
Apparently, the foods were both good either charcoal grilled or gas grilled. However, the ones that were charcoal-grilled had more complexity in its taste. The heat produced from charcoal gave it an aroma that was easy to identify even blindfolded.
Texture differences
Here is the interesting part. In terms of texture, it would seem that charcoal grilling would cause your food to be slightly chewier.
The propane-gas-grilled sausages were reasonably easy to cut through compared to gas-grilled sausages. The outside skin of the charcoal-grilled sausage was vividly more bouncy.
Truth be told, I am the sort of folks that prefers food to be less chewy so I would favor the gas grill in terms of texture.
Smell differences
The food smelled amazing, regardless of whether it was charcoal-grilled or gas-grilled. Although the charcoal does give the food a more distinctive aroma (mentioned above), it would not be as noticeable unless you put your nose close to your food.
Temperature
Now, onto the other main things between charcoal and gas grill that you should consider before getting a grill.
You have to be aware that temperature control is relatively more difficult on a charcoal grill. For a gas grill, you simply turn the switch to give it more gas or less gas to control the temperature.
However, a charcoal grill would require you to pay attention to a lot of different factors.
To properly control the temperature on a charcoal grill, you need to adjust the vent for airflow accordingly while adding charcoal to maintain fire properly.
Too much airflow but not enough charcoals would cause the fire to produce too much heat and burn out all the charcoals too quickly.
Direct and indirect cooking
For folks who are new to the grilling hobby, food can be grilled directly or indirectly. Direct cooking is, well, cooking your food directly right on top of the heat source. Whereas, indirect cooking is placing your food on the rack that is adjacent to the heat source.
Indirect cooking allows you to cook a thick cut of meat better. Most grillers prefer indirect cooking because direct grilling usually leaves the inside raw while only the outside is cooked.
However, this article is not written to give a tutorial on how to handle indirect cooking. So, the gist is that to properly indirect-grill your food, you need to know how to control the temperature. As mentioned, it is quite hard to do so on a charcoal grill.
Charcoal or Gas
The gas grill has an overwhelming victory in the convenience department, but the charcoal grill is definitely a beast of its own when it comes to taste.
If you are serious about mastering the grilling technique, it is better to purchase a charcoal grill in the long run. However, if you just want something easy for the everyday backyard party, the propane gas grill is definitely more suitable for you.
By the way, there is one thing you should know about choosing a grill. You do not have to choose just gas or charcoal. There are tons of hybrid grills out there. Just remember to do some research for the best gas and charcoal grill combo.
Bottom line
Alright, folks, that's about it for my take on which one is better. I would definitely prefer the gas grill because I am more a texture person rather than taste. However, you might have a different opinion on that.
Regardless, let me know in the comment section below about your decision. I am thrilled to find out other opinions on this matter.