USB-C is becoming the new standard for cable connections, featuring enhanced data transfer speeds and faster charge rates, and it's Thunderbolt-capable connector available. So it's not surprising that every new release of tablets, phones, and laptops, has this connection included.
On top of its obvious advantages, USB-C also features a few more convenient design choices:
USB-C is much smaller than its dated counterparts are.
USB-C features connectors for both ends, so it can be used with almost every device.
USB-C doesn't have a typical up/down orientation, making it easier to plug and connect.
This type of connection is, undeniably, the path every device is heading toward. However, making the switch to USB-C presents a few challenges. This article will be going through the most common issues for this connector and how every user can easily avoid them.
The Transition from Older Connections to USB-C Can Be a Challenge
Making the switch to devices that only use USB-C ports is a potentially tricky prospect. Most people tend to collect different USB cables for their hard drives, printers, phones, laptops, e-readers, tablets, and other gadgets. This means that each one of those cables can't be plugged in (at least directly) into a pure USB-C device.
Fortunately, there are two ways to bypass this issue:
Replace every cable with USB-C.
Purchase an adapter for older cables.
The first one is the more expensive option because it would mean having to replace every older cable. However, it enables better cable organization.
The next option is a cheaper alternative that can still do the job quickly and efficiently. New laptops like the latest model of MacBook Pro can greatly benefit by getting a USB-C adapter since these devices essentially allow more connections for added functionality.
USB-C Ports Come in a Different Forms
USB-A connectors are simpler in the sense that users can plug in every USB type and it'll still work. With USB-C, it gets a bit more complicated. USB-C adapters and cables may not function, depending on a device's features. For example, some can support version 2.0 of USB-C but not the 3.1 or 3.0 versions.
It's also important to note that USB-C connectors feature different alternate modes:
So anyone who's getting some limited-display connectivity issues should check their external display, computer, or cable if it supports any of these modes. Ensure that each PC or cable supports USB-C features similar to those of the one they're connected to.
The Potential for Causing Device Damage Is Higher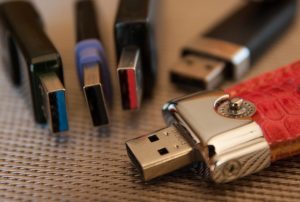 Using the wrong cable can damage a system. While this issue is present in almost every cable type, the USB-C connector that features a higher level of voltage can cause a higher degree of damage. Given the number of different USB-C types in the market, it's easy to make the wrong purchase for one's device.
Here are two ways this can be avoided:
Avoid getting cables that use both USB-C and USB-A connections on opposite ends.
Opt to only use cables that come in a unit's original packaging.
Since USB-C connections support enhanced charging, using a cable like the one above (one with a USB-C and USB-A connector) may cause a device to draw in excessive power. This can potentially damage it. Phones are especially susceptible to this, but even older computers can be affected by this surge of extra energy.
USB-IF Logo Issues
The USB Implementers Forum (USB-IF) uses different logos to show if OEMs have passed every required compliance test. This is the process of standardization for the USB manufacturing industry, but sadly, not everyone knows about these logos. What's worse is that even the most popular online retailers, like Newegg and Amazon, rarely show them.
Some manufacturers will illegally use these logos for their untested cables. Meanwhile, some brands, despite making high-quality cables, aren't subscribed to USB-IF's process. So how can one separate good cables from the bad ones?
The only surefire way of choosing high-quality cable is to stick to established brands that have been in the market for a long time.
Conclusion
USB-C, much like any other new technology, comes with a few hurdles that may make the transition a bit harder, but the benefits far outweigh the costs. Soon, the older connector versions will become obsolete as more brands are making the switch to this new connector type.