Art came into existence long before the language to express emotions and ideas or tell stories because it is as old as humanity and social gatherings. So you can get an idea of how art used to be a means of communication dating back to at least 36000 years ago when cave painting used to be the best way to express your thoughts.
If we talk about our present human society, we take the help of art to articulate ourselves in ways that even our languages can not do so effectively. That is why you can appreciate the words of an old saying that considers a picture equivalent to thousands of words, painted to express ideas through art.
At this point, I would ask you if art can be a practical tool beyond the pleasures it can offer to the audience and the artist. In this dynamic world where our children's future employment may not yet exist, some folks feel that creativity can be the most incredible skill of all that can be transferred from one generation to another. And mind you, art is not only beneficial for children who aspire to be artists but for everyone else too.
Albert Einstein said once that great scientists are artists too. Leonardo da Vinci can be the best example of the fact that great scientists are nothing but artists. It may sound a bit inconsistent, but art and science are two sides of the same coin. Art is vital for science, business, and other fields because you have to use imagination, visualization, and conceptualization to create anything.
Therefore, if you are exploring the camps appropriate for children, art camps are worth the effort, even for those who are not too artistic. In Singapore, there are several camps for children, for example, Newtonshowcamp, offering something for all age groups. Art is fast becoming an activity to enrich the children with a wealth of valuable knowledge that will be useful for them for an entire life.
If your children join an art camp, they can learn a whole range of exciting activities, including colorful sand work, clay/ graphite modeling, paper mesh art, resin work, collage, portraits, posters, tessellation, sculpture painting, and drawing. The best art camps allow children to explore different techniques and choose the ones they like the most.
But all art camps are never the same as some are better than others, which makes your job harder to choose the one that is best for your child. Hence, we have compiled seven reasons to consider to help you decide this holiday which art camp is better than the others.
Art Camp Maximizes The Creative Potential Of Every Kid
Your children can become thinkers by joining art camps because the platform provides your kids the self-confidence to explore and invent new ideas. When they learn to use the latest methods to show their abilities, they can raise their creativity to newer heights. In the process, they learn to use creativity and imagination to develop their basic skills, which will be helpful for the rest of their life.
Art Camps Can Shape Well-Developed Personalities
We know very well that all kids can not be walking encyclopedias like Leonardo da Vinci. Still, It is gaining fast acceptance that those kids have the best chance of succeeding in life who have a well-rounded personality. All domains of work are linked to one another in one way or the other. Art can help you in visualizing and expressing your thoughts to other people. Art can be a medium for providing joy and praise to children for their creative work, and that appreciation and enjoyment remain with them all their lives.
Art Camps Impart Knowledge Of Essential Life Skills
Art can improve their coordination and agility while exploring different procedures, enhancing their fine motor skills crucial for their growth. Similarly, art camps also impart learning to teach essential life skills like critical evaluation, objectivity, teamwork, social skills, concentration, and empathy. Those life skills help them grow stronger in different phases of their lives.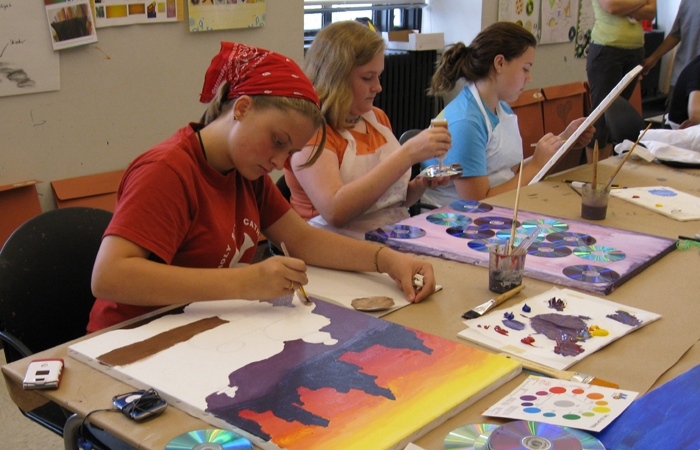 Art Camps Are Extremely Popular Among Children
Art camps are so popular among children because they get a chance to make new friends, socialize and have fun while making their choices about things they want to create and ways to go about them. They feel satisfied and joyful by creating new things and showing them to their friends and family members.
Art Camps Are The Best Way Of Having Screen-Free Time
Art camps provide a rare chance to kids to have a screen-free, pure, fun time. They often spend most of their time at home or at school in screen-based activities where they are unduly exposed to the harmful effects of addictive technologies. They rarely get such opportunities to try hands-on art projects by resting their eyes for a while from glaring screens of laptops, tablets, and so-called smartphones.
Art Camps Can Enhance Kids' Self-Esteem And Confidence
Summer camps and design clubs provide a platform for children to take calculated risks and face challenging situations. In the process, they understand that other people can also be subjective in their evaluation. If somehow they succeed in pleasing them while enjoying the art simultaneously, It can be their most important achievement.
Art Camps Are Known To Improve Problem Solving Skills
Art camps ignite the kids' brains by stimulating their five senses while experimenting and creating their best art pieces. They get infinite possibilities to make choices, evaluate results, rethink decisions, and make conclusions from challenging circumstances.
Conclusion
All in All, we recommend parents to choose art camps managed by qualified teachers having rich experience. Besides, we encourage them to consider the teacher-student ratio, which should not be too high. If few teachers have to look after too many hands, the kids may not get the best benefits of art camps.
In a nutshell, Charles Colley, An American sociologist, put things in perspective by saying that artists never fail; it is to be successful in being artists.