The traditional skateboard is already fantastic for what it is. However, electric skateboards are believed to be capable of bringing much more to the table. Built with a motor that can go around at top speeds and equipped with a battery life that can last long for travels, it offers a significant improvement compared to its modest counterpart.
The electric skateboard or e-skateboard is an innovative and convenient mode of transport that was first conceptualized decades ago. Wireless technology was a novel idea at the time, so the idea died out for a while until today's technological advances made its development possible. Now, it's believed that it's one of the most popular modes of transport a commuter may take.
E-skateboards have now become a hot trend that is being fancied by both novice skateboarders and advanced riders alike. Some would even tweak and modify their boards depending on how they intend to use them such as on the streets or the trails. But mostly, battery-run skateboards are used as a means of hopping from one destination to the next.
Below are four reasons why electric skateboards are generally regarded as an ideal mode of transport for today's demands.
1. Cost-Efficient
Using an electric skateboard may mean you don't need to spend your hard-earned cash to pay for vehicle registration, bus fares, taxi rides, or train tickets anymore. This will help keep your money in your pocket. In addition, compared to fuel, the cost of charging your electric skateboard and its servicing is said to be much more affordable. Not to mention the outrageous cost of parking fees car owners usually pay.
These are just some of the reasons why people who commute daily prefer using electric skateboards as their mode of transport. Although you won't need a driver's license to ride one of these things, you must still check your local laws regarding electric skateboarding. Also, you must learn about different electric skateboarding safety tips to ensure sound and secure travel.
Regarding the price of a unit, these boards aren't entirely cheap as their prices can range from hundreds to thousands of dollars. However, they're still fairly less expensive than other vehicles with similar performance.
2. Easy To Use And Maneuver
The electric skateboard's powerful motor is believed to be able to reach impressive inclination angles with ease. This of course varies depending on the rider's height, weight, and wind resistance.
When it comes to the need for speed, no matter how hard you push a traditional skateboard on flat ground, it won't go as fast as these boards. So, if you're a speed demon, this will surely get your blood rushing. Imagine downhill bombing on these things! Besides the fact that you can have more aggressive drop-ins, you'll also be able to go way faster than gravity alone can take you.
If you're worried about slowing down and braking entirely, you can still slide electric skateboards or use the regenerative braking that they're equipped with. This makes them safer to ride as they're less prone to wipeouts.
But in case you're looking for a more snowboard-y kind of feel, different e-skateboard offerings such as Onewheel electric skateboards and the like can scratch that itch for you. This is another type of electric skateboard that'd allow you to carve harder than the regular electric skateboard. Thus, more steez!
With battery-powered boards, you'll be able to surf the concrete waves with just a push of a button. This may help you get stoked before going to work and on your way home. It's said to be a liberating feeling that can get rid of any stresses that might build up throughout the day.
3. Helpful In Reducing Travel Time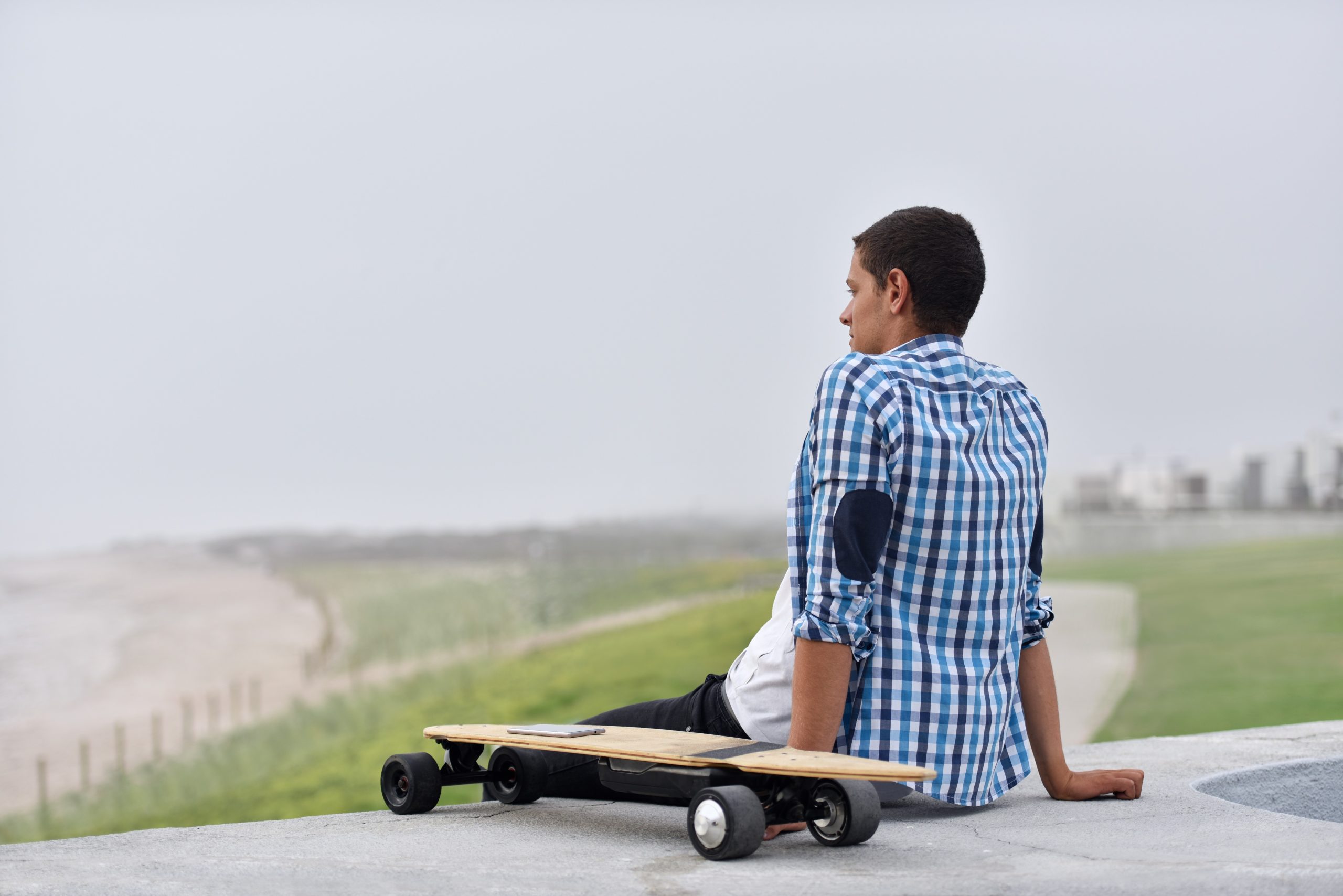 Electric skateboards are said to be traffic proof and can make getting from one point to another faster. They're a lot more compact than automotive modes of transport which makes it easier for you to cut through traffic jams. Furthermore, you won't have to wait in line for public transit anymore during rush hours. Yet, one should be cautious of the possible dangers brought upon the use of this particular means of travel on the road.
Even though finding parking slots is now made easier with parking apps, electric skateboards still prove themselves to be more convenient. These boards are small so you can just carry one around with you just like you would with a traditional skateboard. You can even keep it inside the office and just park it under your desk.
The battery life may not be long enough for distant travels, but you'll still be able to save time walking to train stations, bus stops, or the last few miles of your travel.
4. Environmentally Friendly
Since e-skateboards run on stored electricity, they're deemed safe to use and wouldn't do any harm to the environment. All you need is a trusty brain bucket and a power plug and you're good to go!
By opting for an electric skateboard as your main mode of transport, it's said that you'll be able to decrease your carbon emissions. Unlike fuel-powered vehicles, electric skateboards don't emit greenhouse gas or other fossil fuel components that contribute to the Earth's warming.
This strongly suggests that green transport is the way of the future and we're at the forefront of the movement with different modes of travel such as electricity-run skateboards and others.
Final Thoughts
Some may think that electric skateboards, better known as e-boards, are just a fad yet using them has many purported benefits making them an ideal mode of transport. With its growing mainstream success, more and more people are getting into the idea of availing themselves of a battery-run skateboard.
It's always recommended that if you decide to buy one for yourself, make sure to conduct your research to find out the best make and model fit for your travel needs.