Couchtuner is a free online service/website that allows you to stream content such as TV shows, movies available on online streaming services such as Netflix, Hulu, Amazon Prime, etc for free. If you are a TV series fan or like to watch the latest movies online then couchtuner is a great option for you. Thought, unlike Netflix, Hulu, Amazon Prime, HBO and other streaming services that charge you some sort of fees in the form of a monthly or yearly subscription, couchtuner in united states is absolutely free.
Couchtuner is a network of multiple websites with different aliases. These websites are hosted on different domains mostly belonging to countries that have not so strict anti-piracy laws. Couchtuner is a pirate website that provides pirated content. Due to this, it needs to protect itself against copyright infringement cases. Having multiple backup websites hosted on different domains is one way to tackle this issue without having to compromise the availability of the service even if one of the couchtuner websites needs to be taken down for any unforeseen reason. You can also find multiple different couchtuner proxy sites that allow you to visit the couchtuner websites using a proxy without having to reveal your IP address or location.
Couchtuner is a great free service for streaming online media content of your choice but sometimes it may happen or might have happened with you that even after having a fast internet connection, streaming media on couchtuner has not been an easy job. You might have faced regular video stutters and buffering even when you have enough internet speed to stream HD content. This lag or choppiness while streaming online media is quite a common issue and can occur despite the speed of your internet connection.
Why couchtuner feels choppy?
Couchtuner is not a single website but it is more likely a collection of different websites hosted on different servers in different locations of the world. This reason is enough to justify the choppiness that you feel when streaming any media on couchtuner. Choppy experience in terms of streaming usually means out of sync audio, stuttering of video even when using a fast internet connection, inconsistent stream speeds or sudden drops in the frame rates. The main reason for having a choppy experience with couchtuner can be due to two different reasons. We have discussed both the reasons in detail below along with solutions for those issues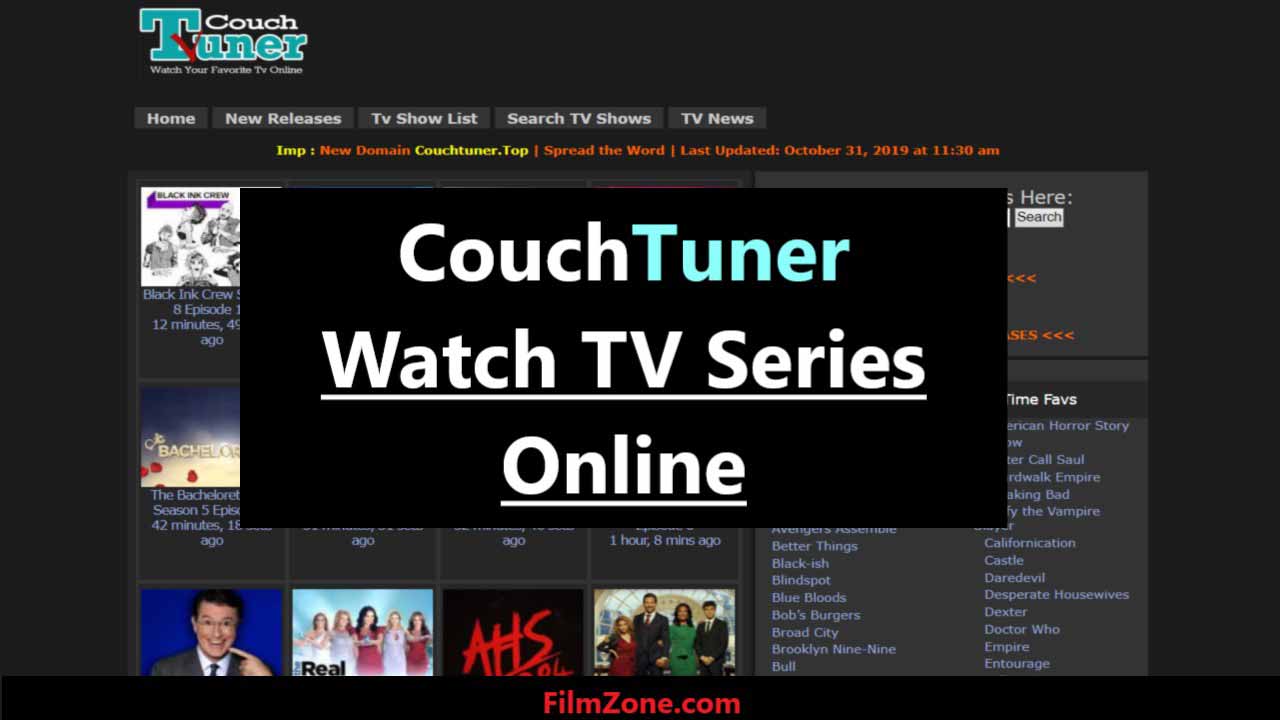 Website issues – the most common reason for choppy experience is most likely due to the couchtuner's website itself. Since couchtuner is a pirate website and therefore illegal, it needs to host its websites in countries that don't have strict anti-piracy laws or dont have anti-piracy laws at all. Mostly such countries are the ones with not so advanced technologies when it comes to the internet. This very reason causes the websites hosted in such countries to feel inferior to other websites in terms of speed and efficiency. So if even after having a great internet connection with good enough speed to stream HD content you are having a choppy experience on couchtuner then its most likely the website's fault.
In this case, you can not do anything than just trying a different couchtuner website altogether. The alternative couch tuner website may provide you better speeds and smooth experience.
Device issues – Sometimes it's not the fault of the website if you are having a choppy experience. The choppy experience may likely be due to the device you are using to stream the content or more specifically due to the browser that you are using to stream. Since this is more of a localized issue which can be fixed by changing a few settings on your device, you can very likely get a better experience after doing the following steps
The first thing you need to do is to get rid of any junk from your browser. For this, you need to clear all the history and private data along with internet browser cache and all the temporary files that the browser creates during a browsing session. The exact settings/options to perform these tasks may vary according to the browser you're using, so it's better to fiddle around a bit in your browser's settings to know what you exactly need to do.
You also need to disable any kind of hardware acceleration feature in your operating system. For this, you need to go to "Control panel" and look for the "Settings" tab. Now select the "Advanced" option and then click on the "Troubleshoot" option. Now drag the hardware accelerator slider to the minimum. Hardware acceleration used your processor's power to decode and display the videos on your screen. Disabling the hardware acceleration will help to minimize the strain on the processor when playing the videos which will also help to reduce any choppiness if it was there due to processor straining in the first place.
You may also need to add some virtual memory to your operating system. You can do this by connecting a USB pen drive to your computer and using it as an unused RAM storage space by going into its properties and enabling virtual memory settings. Adding extra virtual memory helps to store more content in the memory while an application is running. So adding extra virtual memory will help to make the video run smoother.
Sometimes fragmented disks can also slow down the video playback. You need to defragment your storage disks in order to avoid this problem. Go to Start and click on programs and select system tools and look for disk defragmenter. Using this tool defragment any disks that are fragmented.
Conclusion
If you are facing any kind of choppiness or stuttering while streaming any media on couchtuner then it might be due to different reasons. We have listed the most common reasons and solutions to them in this article. If you still face choppiness even after following the solutions above then most likely its an issue with your internet connection or your device is not able to handle streamable media that efficiently.