3D printing technology is rapidly increasing in the manufacturing sector year by year. It is being adopted by a different industry like Health, Aerospace, Clothing, and food. Nowadays everyone is harnessing the advantages that a 3D printer provides and we can print whatever we want to without any limitations. Great! isn't it?
When it comes to 3D printing the important part of it is the Filament. You simply cannot print anything without the filament. A filament of a 3D printer is just like the ink in a regular print except for this time it is made up of different materials like plastic and resin.
The 3D printer filaments come in various different types and choosing the right filament depends upon the object you are going to build. Are you looking for the best filament to buy right now? Wondering which one will be perfect for your 3D project? Then you have visited the right page.
This article aims to give you a deep understanding of different types of 3D printing filaments so you can pick the best material available in the market. You will also learn about their purpose and they compete against each other. Continue reading further to learn more about them.
What is a 3D Printer Filament?
A filament of a 3D printer is its ink. You can call it the plastic which is used to make the three-dimensional objects. Some of the most popular 3D printer filaments are ABS (Acrylonitrile Butadiene Styrene) and PLA (Polylactic Acid). These filaments are fed into a 3D printer using tubes and the machine uses different technologies to form an object.
Types of 3D Printing Filament
The two we have mentioned before are just an example because there are a ton of more filament types out there and these are just a few of them. You might have heard about some of them while many of them will be fairly new. Keep reading to know about some of the most popular ones you can buy right now for your 3D printer.
1. ABS 3D Printing Filament
This is the most popular 3D printer filament out there. Since ABS is tough and impact-resistant, it is being used in a wide variety of applications. It is strong as well as flexible and very easy to operate. you can also buy engineering-grade filament in the market.
2. PLA 3D Printing Filament
This filament is often compared against the ABS. PLA is a biodegradable thermoplastic and derived from renewable resources such as potato starch, sugar cane, tapioca roots, etc. PLA is the best 3D printer filament for peoples using best 3d printer under 1000 who love 3D printing due to its safe and non-toxic nature.
3. Nylon 3D Printing Filament
Nylon or also known as Polyamide is one of the most popular synthetic polymers. This filament is very cost-effective and is being used in many industrial applications. Apart from being cheaper, it is also strong, flexible, water-resistant and lightweight. It is the best filament if you are making mechanical or functional parts.
4. Wood 3D Printing Filament
Yes! Wood is also a 3D printer filament. If you are bored with regular plastic and want to show your creativity you can use the Wood Filament and FDM machine (Fused Deposition Modeling) and create any object you want. This filament contains a mixture of recycled wood with a binding polymer.
5. Sandstone 3D Printing Filament
Sandstone is another great 3D printer filament. You can create amazing and unique objects using this filament. This filament is made up of combing chalk powder with PLA which gives a good color and texture similar to a stone. If you are searching for a filament that has a sandstone finish then get this one.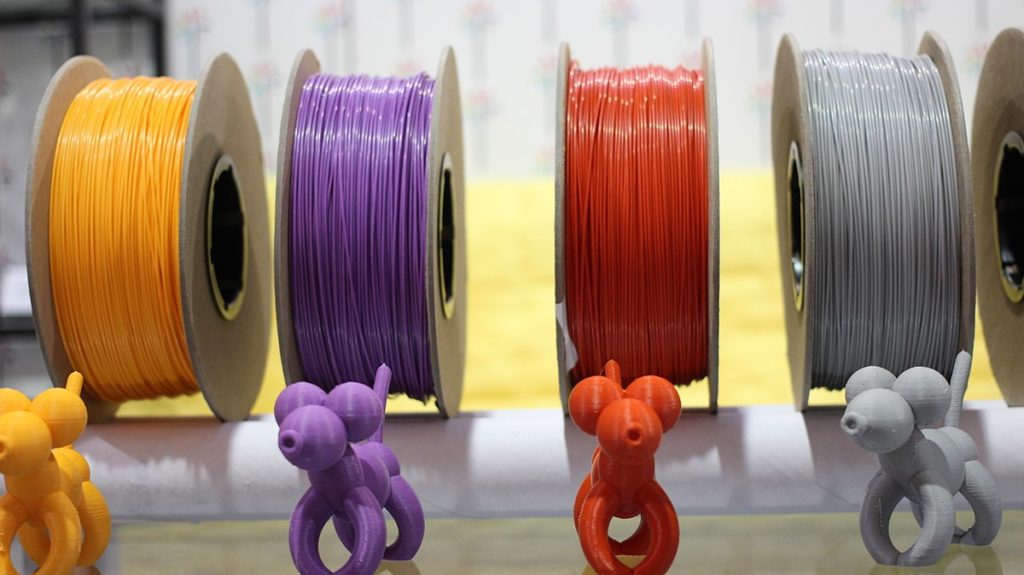 6. Metal 3D Printing Filament
Not to be surprised, Metal is also a 3D printer filament and just like Wood, it is made up of combining actual metal powder with PLA. Using this filament, you can create objects which look and feel like actual bronze, copper, and brass. Good for jewelry, statues, home hardware, and artifact replicas.
7. Glow In The Dark 3d Printing Filament
Just like the name suggests, this filament is made to glow in the dark environment. It is made up of a special type of PLA which is also biodegradable and environment-friendly. This filament is best for Halloween or ghost-themed projects. Don't worry about the light going off, it is made to glow for an extended amount of time.
8. Flexible/TPE 3D Printer Filament
Most of the plastic-based filament is flexible but nothing can beat this filament in terms of flexibility. This filament comes in two types, TPE filament which is made up of elastomers and is super stretchable. The other one is TPU filament which is made up of thermoplastic polyurethane.
9. Carbon Fiber 3D Printer Filament
Who doesn't like carbon fiber finish on their products? This carbon fiber PLA filament lets you create carbon fiber 3D printed objects. It contains small chopped carbon fiber strands which give it great rigidity, amazing structure and good layer adhesion. Processing this filament is comparable to a standard PLA.
10. Magnetic Iron 3D Printing Filament
Another great 3D printer filament to try out. The Magnetic Iron PLA is made by infusing finely ground iron powder to a base material. It is useful when you are going to make magnet like 3D print objects. You can make fridge magnets, sensors, magnetic strips, etc.
How to Choose the Right 3D Printer Filament?
With this many type of 3D printer filament available in the market, it is surely challenging to choose the right one. There are wood, nylon, magnets, carbon fiber or even glowing filaments which you can utilize in your project.
Just remember that choosing the best one always depends on the purpose. Simply consider the type of object you are going to print and then choose the material. If you want to make wooden objects then go with the Wood PLA filament, go with Metallic filament for magnetic object and so on.
Also, while choosing the filament doesn't always go with the cheapest one. They might be of low quality and will probably clog the tubes and nozzles. Go with a reputed brand and a higher quality to ensure better efficiency and great print output.