Instagram has become a source of income for millions of people. Influencers, e-commerce businesses, and shops generate leads and sales thanks to this community. Numerous IG-based shops don't even have a website and use Instagram as a CRM platform – for sales and managing orders.
Yet, the truth is it's inconvenient and sometimes impossible to use just the default app for business matters. Those users who want to boost engagement and curate content like a pro need trusted marketing tools. This review will provide you with sufficient information to boost your Instagram audience, create more catchy posts, and streamline routine IG tasks. Stay tuned to know all the facts.
What marketing tools do you need this year?

If you are following the IG news, you know that algorithms often renew the game rules. But hashtags have always been a legit way to make your content searchable and likable, and as a result, it will be shown in the Explore section. Have you noticed that it is almost impossible to research new hashtags by using the app? Here you need a professional marketing tool.
I recommend trying a hashtag generator by Ingramer. I compared this tool with analogs like HashtagsForLikes, Instavast, and Hashtagify and concluded that this hashtag finder is the most functional and handy. Here is why:
The recommended-by-Instagram hashtags are easy to copy. When you discover hashtags in-app, the algorithm suggests for you related hashtags that are often used together, but you can't copy them. On the Ingramer service, you only need to scroll down to the section "Related hashtags" and tick the boxes of the ones you want.
Research several keywords at once. Ingramer is the only hashtag tool where you can enter up to 5 keywords for searching hashtags. This feature will help you get more detailed and niche hashtags. I recommend you include synonyms to find semantically similar hashtags.
AI search options. On Ingramer, you can find hashtags that will bring you true engagement even without keywords. Simply upload an image you will post or paste a link to an IG post – the smart system will show you top hashtags related to the image.
In-depth statistics. When practicing hashtag marketing, you should dive deeper to know whether you should use a hashtag or not. Tap on a hashtag from the list, and Ingramer will show you the difficulty, the number of posts per day, recently added posts – that's how you understand if a hashtag is active and if the content is related to yours.
What results can you get by using the right hashtags? More non-followers will discover your posts: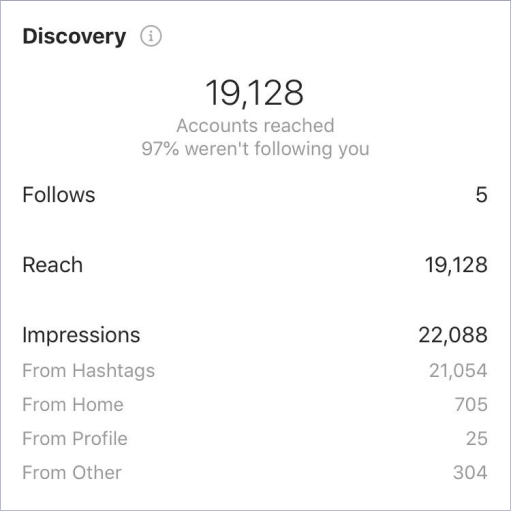 Furthermore, hashtags are handily grouped by frequency (the number of posts using it). Ingramer suggests that you mix hashtags from the groups to make the set diverse.
Price: $19/month. The lists of hashtag trends by categories for free.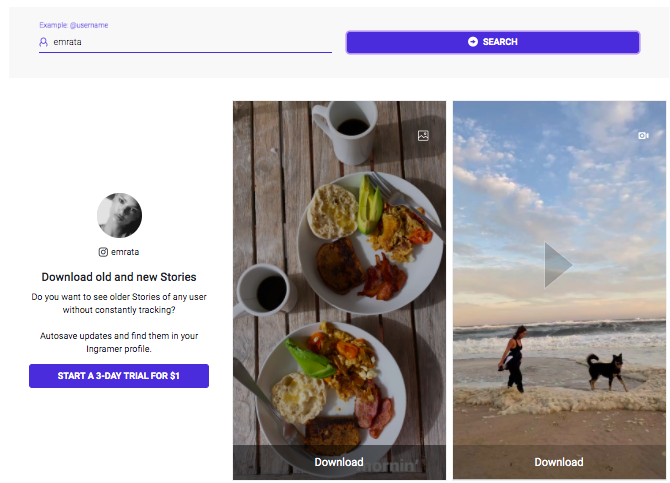 One more tool for improving your IG strategy is the Downloader for IG content. If you sell or provide services through Instagram, you will likely share user-generated content on your account. This type of content is getting popular; some commercial accounts now consist of 80% user posts.
The Downloader will help you save Stories, images, videos, and IGTV, in original quality and fast. There is no need to screenshot or screen record the media you want and repost it at a lower resolution anymore. The Downloader solves this problem.
In addition, you can save the whole profile of any user whose account is public. Why you need to pay attention to this tool:
Save content for repurposing. Keep someone's content and reuse it on your profile (you will need to mention the author). Instagram feature profiles and influencers sometimes use images by photographers to diversify their feed. You can use it to repost testimonials clients share in their feed and Stories – you can add them on your website, Facebook group, and across other channels.
Save the archive of your posts. If you are thinking about deleting Instagram but need all these files on your device, you can downloand all the media in one click. The files will appear as an archive in your downloads.
Save valuable content. Sometimes IG users share truly precious tutorials, workouts, or lives that they might delete later. You can make these files forever yours.
Moreover, Ingramer suggests tools for saving content from platforms like FB and Twitter. It is a find for digital marketers because they can utilize posts from one social media channel for others. If you need to keep your favorite FB Watch TV-show, check the video downloader asap.
Price: forever free. Extra tools like bulk Story downloader and profile downloaders start at $1.
Instagram Fonts Generator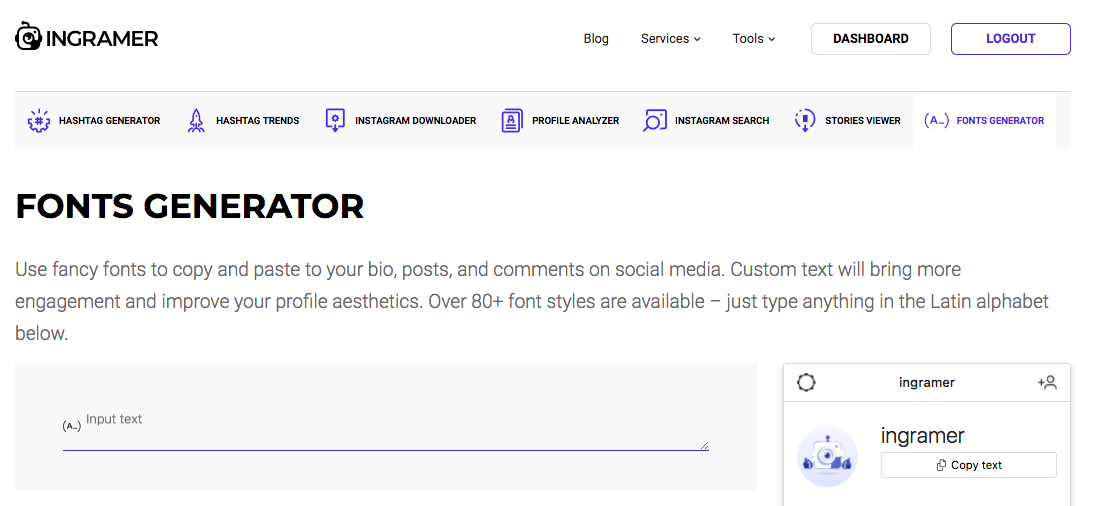 Have you seen those fancy IG fonts in influencers' posts or cool Insta shop posts? You can have all of them on your profile too. The Ingramer Fonts Generator has more than 80 styles that you can copy into your name, bio, caption, or Story.
What you need to remember is to stick to 1-3 styles so that your profile looks on-brand. Also, fonts should be readable and aligned with the mood of your account.
There are similar services, like Igfonts and Lingojam, that also let you generate cool characters for Insta. But what I like about Ingramer is the convenient preview window of the mobile version.
4 steps for creating fonts for IG:
Enter your text into the Generator.
Ensure it looks great in the Preview.
Choose Copy.
Paste the stylish text where you need it.
By the way, IG names typed in a font different from the default one attract more attention. You can also highlight the essential info in your bio so viewers can quickly get what your profile is about.
Price: $0.
Profile Analyzer

This Ingramer tool is a must-have for content creators and social media marketers. It lets you spy on the strategy of competitors or any trendy account for free. Here is the treasured data you can get:
Engagement rate. Don't know if you should cooperate with an influencer or not? Look at their engagement – it's calculated automatically based on the number of followers and their activity.
Posting schedule. Don't know when is best to upload a post to get more reach and likes? Look at the schedule of successful accounts.
Top posts. How do you decide what content is most appealing for your target audience? Look at what works for your competitors. The most liked and most commented posts will give you a hint about what to post next.
Stories Viewer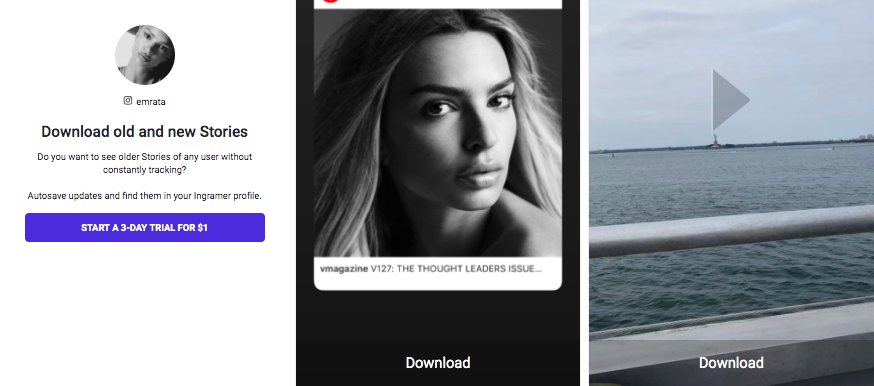 This tool is not actually for Instagram marketers but more for detectives. If you don't want to reveal your name among those who watched Stories, use this anonymous Story viewer.
All you need to know is the nickname of a person whose Stories you want to spy on. Don't want to miss any new piece of content from this account? Try the automated saver for Stories – it will collect every new Story of this account in your Ingramer profile.
Lastly
If Instagram is more than just a photo album for you and you are interested in growing your audience and producing valuable content, try the tools I've described above. The Ingramer Hashtag Generator is a perfect tool that will help you implement IG SEO and get to the top of Instagram without paying for ads. Also, bright fonts will help your posts to stand out in the feed, and the Downloader will help you save the IG files for reusing.