Many of us have experienced this: you wake up at 6 am in the hope to make an intense run. The earbuds and a pair of sneakers are kept handy. You hit the road and, a few miles after, you're building up speed. Your legs pump a bit harder. You're in a good place to take that extra mile.
Suddenly, those wires wrap around. Or worse, the buds dangle from the ears and are about to fall out. You'd prefer to focus on the run, but instead – you check if the earbuds are still in your ears.
To avoid any discomfort, you simply need to pick the best Bluetooth headphones for running. Moreover, you want to survey the models that allow staying within a budget. Before offering you to view affordable headphones for running, first, let's clarify what characteristics you should take into account.
The best headphones for runners must be water-resistant and sweatproof. If you're planning to wear them outdoors or at a gym, then you need the headphones to tolerate rain and sweat. You wouldn't like your running to be interrupted because of a problem that water resistance could have helped prevent.
The wireless headphones come with an IP/IPX rating. This IP (Ingress Protection) rating is followed by a number from 1 to 8 that indicates how waterproof they are. The higher the number, the better. Earphones having the level of IPX7, for example, are absolutely waterproof.
For most runners, IPX4 is enough. It means water is diffused towards the item for 5 minutes from all directions.
Some earphones like the AirPods have no rating at all. But they are still on the list of the top wireless headphones for running due to some other important reasons (which we will cover when viewing the earbuds). In this case, you should consider what is your number one priority in characteristics when choosing your ideal pair of headphones.
When looking for the best running wireless headphones, first think if you want wires. At present, athletes, fitness coaches, runners use cordless earphones just because it is comfortable. So, our primary advice would be to go wireless. Once you feel what it's like to run wire-free to great beats, you won't want to return to outdated running headphones with all their tangling wires.
However, with respect to your preferences, we also included some wire-connected buds into the list.
Bluetooth connection and codecs 
Top rated running headphones feature the latest Bluetooth version – 4.2 and 5.0. We have to confess: Bluetooth connection comes short of audio quality compared with the wired one. But you need to have a Superman hearing to catch that tiny difference. After all, you're jogging, not examining every tone in your music.
The best wireless Bluetooth headphones for running have the version – 5.0 and aptX or AAC codecs to reduce the delay in wireless connection. Both are perfect for iPhone users. As for Android devices, AAC and SBC sound protocols would be great as well.
Snug fit matters a lot in any kind of exercise. You'd want to concentrate on your run instead of adjusting the earbuds in your ear.
The most traditional design of the top rated wireless headphones for running is in-ear one. There is also on-ear and over-ear design. But this is the subject of personal preference.
For example, the in-ear fit is provided by silicone or foam eartips. If they sit firmly in the ears, it improves the isolation from surrounding noises and, thus, improves audio quality.
If you want to have a tight fixation on the outer rim of your ear, then you should look for a headset with ear-fins in the box.
Over-ear headphones embrace the head and provide more reliable noise isolation. But they are heavier, and not everyone loves it when running.
The prime Bluetooth headphones shouldn't be necessarily expensive. There are options that work with any budget and meantime meet the needs of the pickiest athletes. In this piece, we'll cover the best wireless earbuds under 100 dollars that won't break your bank account and will be great for running.
Now, you're well equipped with the necessary knowledge that will help you pick an ideal pair of headphones. Leaning on these characteristics, let's regard our top 5 best affordable headphones for running.
JLab JBuds Air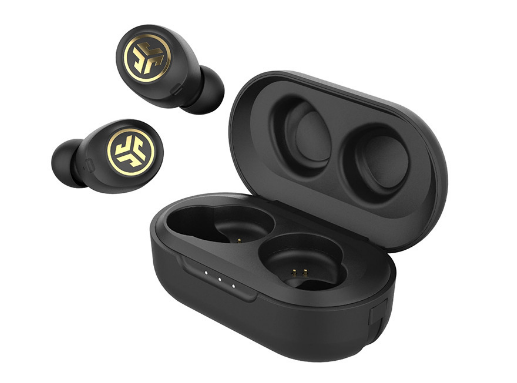 Wireless earpieces are easy to get excited about based on price alone
Here's why you can wear them during your run:
Above-average sound quality with boosted bass
IP55 rating guarantees the modest protection from dust, water and sweat
Lightweight and secure in-ear fit
Three to four hours of battery life
The charging case provides up to 14 hours of extra battery life
One button on each earbud for basic controls
Audio on calls is only in the right ear
Other points to take into account:
Siri or Google Assistant activation
Built-in EQ with three modes: Signature, Balanced, Bass Boost
Mic offers average intelligibility: e.g. the Voice Memos app
The controls might be annoying. The earbuds are perfect for bass lovers. In general, if you're looking for the best cheap Bluetooth headphones for running, the Jbuds Air are the way to go.
TREBLAB X5 – high-end Bluetooth earbuds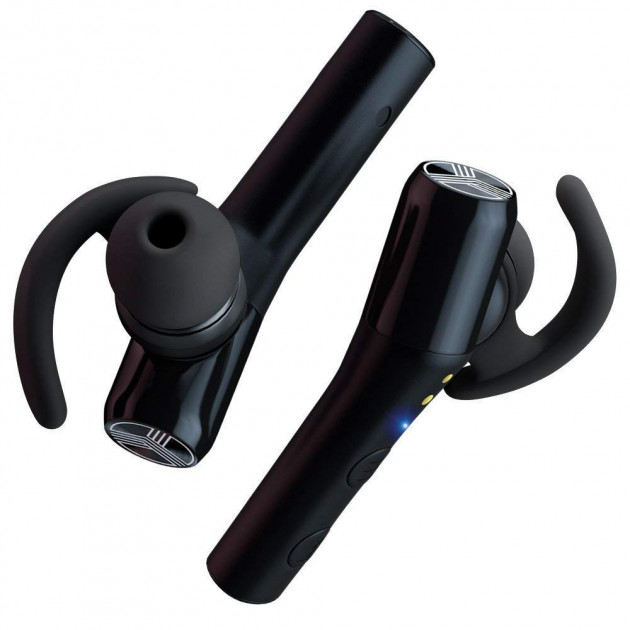 Wireless earbuds with fantastic audio! When wearing them during your run, you will get:
Excellent audio experience
Comfortable, secure in-ear fit thanks to three sets of custom ear-tips and ear-fins
IPX4 water resistance protection
Latest Bluetooth 5.0 and AAC codec
Fast connection due to Bluetooth 5.0
The things you also might find interesting about Treblab X5:
Compatibility with iPhone and Android devices
Noise isolation to deliver an impeccable audio quality of calls
Siri, Google Assistant activation
7 hours of playback on one charge + 28 extra with the charging case
Phone calls might be heard in all ears
With this battery life, they are regarded as the best Bluetooth headset for running and even for marathons. Actually, TREBLAB is focused on developing the products for athletes. Make sure you checked Treblab online store when choosing the gear for your sports.
JBL Reflect Mini 2 – Crisp sound and a snug fit but dangling wires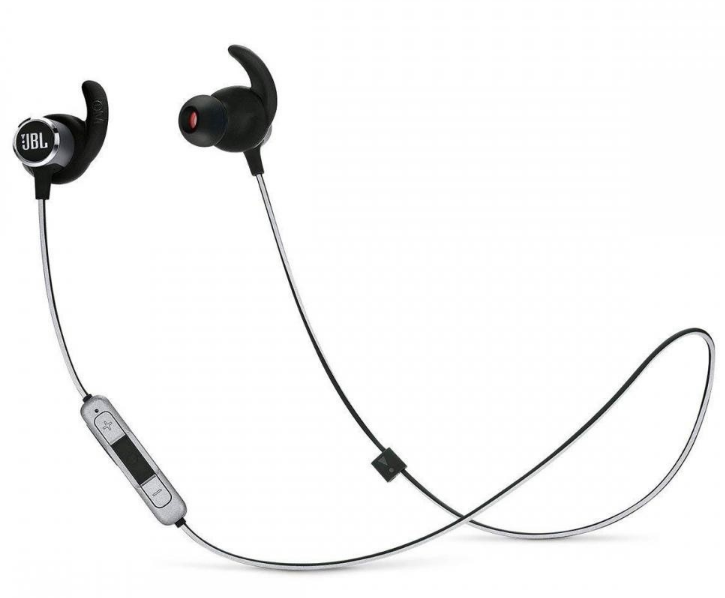 There reasons you might take them on the run:
No ambient sound allowed – total isolation from the world around you
IPX5 water-resistant rating
Comfort fit due to flexible silicone ear tips and Freebit enhancers
If you prefer running in the evening, then you'll love their sport reflective cables designed to be visible at night.
If you have more room in your budget, here are other models.
Aftershokz Trekz Air – Earbuds with bone-conduction technology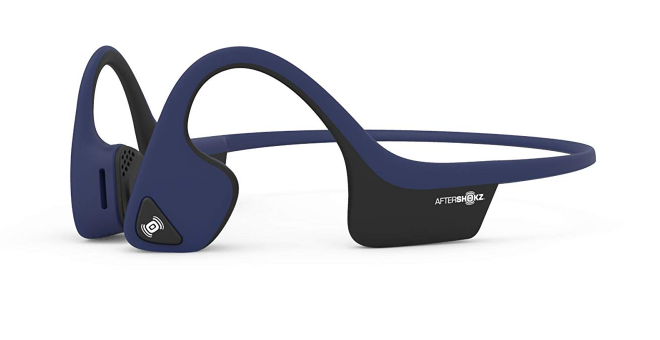 You'll love them in your ears during your jog because of:
Bone conduction technology: you turn up the volume and still hear everything around
Open-ear build for safety, not in your ear or cover it
Semi-rigid band that connects around the back
Lightweight and comfortable
There is a bonus for Apple products' lovers – Aftershokz Trekz Air pair with the Apple Watch. If you run on the road and want to be aware of unforeseen circumstances, then this pair might be the right choice.
AirPods 2 – Immensely comfortable wearing experience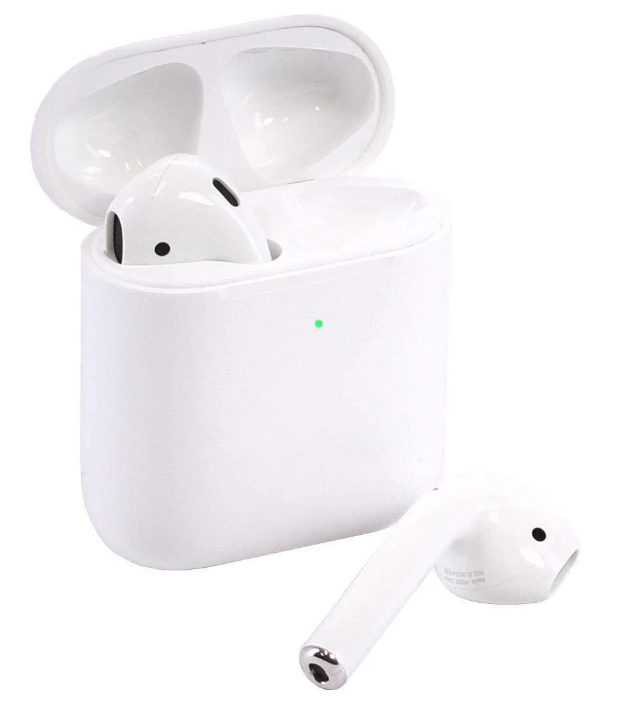 Take a closer look at why these might be ideal for your running endeavors:
Bluetooth 5.0, AAC support
Compensatory bass due to the lack of tight seal
Ambient noise allowed for more awareness about surroundings
Comfortable for extended wear
Programmable buttons for quick controls
Fast connectivity due to the H1 chip
There are a lot of perks that come with the AirPods 2:
Perfect phone calls sound quality
If you read the wireless headphones for running reviews, you'll find out that the AirPods 2 have no waterproof rating at all. However, they are still considered convenient for running. They allow some ambient noise so that people could run and be attentive about their surroundings. Plus, it's possible to receive phone calls and enable Siri hands-free. It is attractive for runners who used to make business calls on the go.