Remote working has become the norm of the digital era. A time of 24/7 connectivity where individuals can virtually connect with anyone across the globe.
If people can connect with one another, why cant employers, leaders or executives do the same with their employees?
Managing employees remotely can be a challenge – especially if you and your team are not utilizing proper management tools. A study from OwlLabs surveying 1,202 full-time workers found that 54% of respondents work remotely at least once per month, 48% work remotely at least once per week, and 30% work remotely full-time. The magnitude of remote working is increasing by the year, as more and more employers are starting to consider it as an acceptable practice.
However, remote working is not a new concept. Certain industries have been demanding their employees to move across job sites for decades. For example, the construction and home repair industry, both require employees to work from remote areas on a day-to-day basis.
Which begs the question: How have these businesses managed their remote employees for decades in the absence of technology?
Initially, remote working wasn't a global phenomenon and few executives cared about its consequences. As such, a handful of managers, bookkeepers, or other relevant shareholders would manage their remote staff through pen and paper timesheets, while others would not measure it at all.
Today, digital solutions have revolutionized the way employers and employees perceive time management.
The Impact Of Digital Time Tracking Tools on Remote Working
Among these revolutionary digital solutions are digital time tracking tools. The idea of tracking the hours of an employee during a day has been an integral function of businesses for quite a while now. However, the way businesses keep track of productivity today is a lot more different than what it used to be.
Digital time tracking tools have evolved into multi-device platforms that offer convenience, flexibility, and functionality at your fingertips. Imagine having the ability to pull every employee's work hours at a tap of a button?
As put by Atto, a simple time and location tracking solution: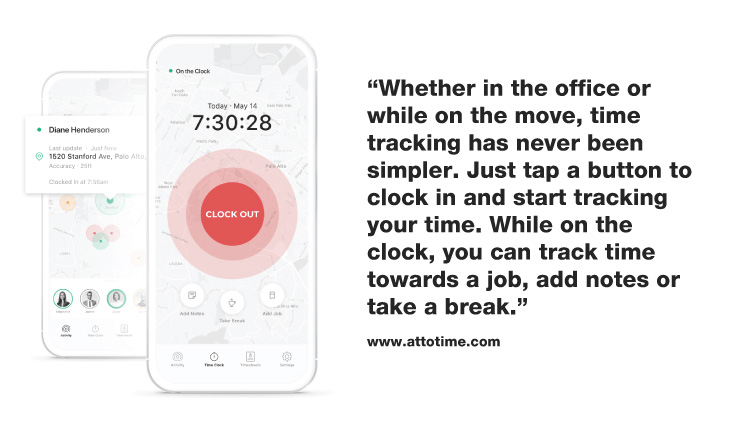 The reason why time tracking tools are so effective comes as a result of their compatibility with mobile devices. As an Android user, you can choose between a list of thousands of apps that offer similar features. Yet, recognizing which apps are worth the time can be a challenge. As such, let's look at a few key points that differentiate good time trackers from the bad ones.
Time Tracking At Its Core
What makes a time tracking tool good, to begin with?
Its ability to accurately measure the workhours of tens, hundreds or thousands of employees at a time. Time tracking allows leadership to monitor the performance capacity of their employees, while also helping create a benchmark for future projects. Moreover, employers can now rest assured because time tracking tools are designed to minimize inefficiencies and losses throughout the business. No more extended breaks, late arrivals without you knowing it.
Another added benefit that we will explore next is the ability to see where employees are during work hours.
Encourage Accountability And Transparency With Location Tracking
A recently advanced feature of modern time clocks is GPS location tracking. The adoption of time tracking software towards mobile devices has opened up new opportunities for developers, among others the ability to use the phone's GPS to create a powerful feature such as location tracking.
Today, you can easily monitor the exact location of your team directly from your mobile device. This feature is extremely beneficial for businesses employing remote workers because it offers detailed insights on their performance.
As a tech business you will most certainly hire people from around the world, as a home repair contractor your crew will be moving from one job site to the other; Having a tracking app that notifies you when remote workers clock in and from where they do it can greatly influence future decision making.
Data-driven Decision Making Using Automated Timesheet Reports
Among one of the most time-consuming tasks that have haunted businesses for decades are timesheets. Keeping taps on timesheets manually is a struggle and the odds of making a mistake are extremely high. As such, time tracking apps have developed sophisticated algorithms that do all the reporting for you.
Not only is it simple to navigate across timelines but analysts can also look into macro data to determine how productive an employee was during a specific period of time. Essentially, timesheet reports will include regular work hours, breaks, job site details, overtime and paid-time-off (PTO) and more.
If there is still doubt in your mind whether remote working is effective than we suggest you continue your research online. However,