As one of the most visited rooms in the house, a bathroom should always feel comfortable. With guests frequently using the space, taking the decor up a notch makes your home more inviting. Discover a few large and luxurious bathroom ideas using double vanities to transform an ordinary living area into the ultimate oasis for relaxation.
The Benefits of a Double Vanity
Space is usually the reason why people choose a single vanity over a double one. Single vanities are practical but provide little room for storing personal items and getting ready in front of the mirror in the morning. A double vanity is ideal for larger bathrooms that can accommodate a bigger fixture. Benefits of choosing a double vanity over at Unique Vanities include:
Two people can use the vanity at the same time to save time when getting ready in the morning, which is especially important in one-bathroom homes
An incredible amount of storage space, which helps keep the counter clear of clutter for a more luxurious feel
Plenty of counter space for applying makeup, brushing teeth, styling hair, shaving, and other grooming essentials
Assigned sinks for him and her or whoever decides to share the bathroom space
Increased home value to potential buyers who prefer a bathroom with a double vanity
A double vanity makes the space more functional and beautiful while increasing the value of the home.
Impressive Transformation
Transforming a bathroom is more affordable than you might think. Investing in an eye-catching vanity becomes the focal point in the room. Without replacing other fixtures, the space instantly becomes more beautiful and functional. Consider space and design to choose a vanity that complements the rest of the bathroom fixtures.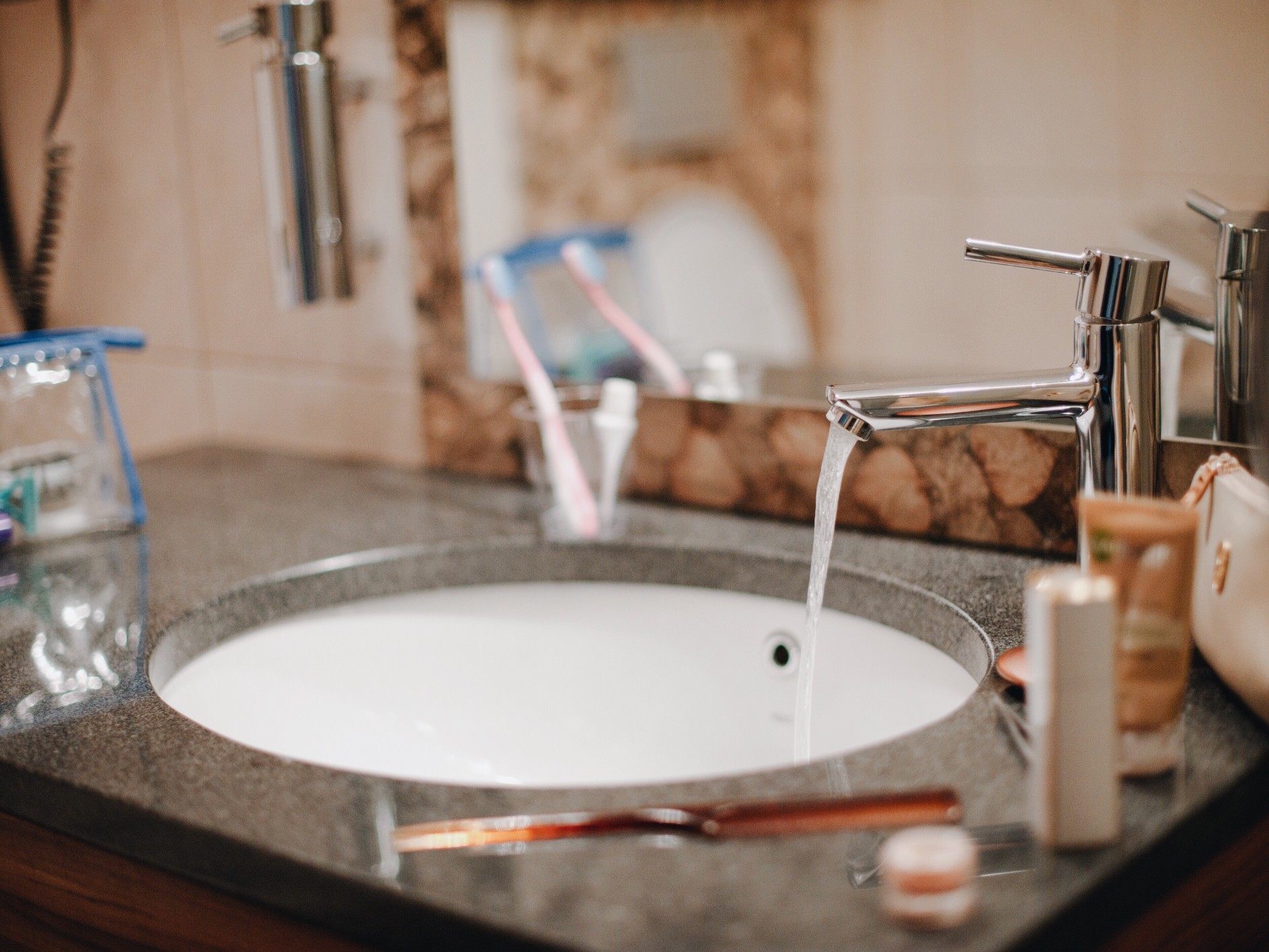 Most double vanities have two under-mounted sinks with a cabinet beneath them. The under-mounted sink design is flat and provides the most counter space. Vessel sinks bring to mind luxury hotels and restaurants. Basin sinks are mounted on top of the vanity for an added touch of class. Keep in mind vessel vanities often have less counter space than ones with under-mounted sinks.
Materials Matter
Double vanities should be constructed from sturdy materials that resist the constant moisture and use in a busy bathroom. Typical materials used to build the cabinet include solid plywood and particleboard. Look for solid construction with veneers to ensure water doesn't compromise the integrity of the vanity.
The top of the vanity is usually constructed from shiny, water-resistant materials, such as marble and laminate. Marble is a timeless choice that lasts for years to come but can become costly. Budget buyers can opt for quality laminate that looks like marble at a fraction of the price.
Size and Shape
Measurements are crucial to ensure the vanity fits the space without being cramped. Consider the length, width, and height, and features such as a mirror that would be placed around the double vanity. Replace a large single vanity with a small double vanity to make the room more functional. A wall-mounted double vanity is also an excellent option for smaller bathrooms.
Double vanities also come in a variety of unique shapes. Square double vanities are ideal for smaller spaces with a lot of traffic. A rectangular double vanity is a classic choice offering plenty of cabinet storage space for shared bathrooms. Rounded vanities add visual appeal while still providing excellent storage space. Larger double vanities are ideal for the primary bathroom or a master bathroom suite.
Assess the Plumbing
Consider the plumbing when selecting a vanity. In many instances, some plumbing updates are needed to install a vanity properly, especially when transitioning from a single sink to a double one. Most wall-mounted vanities require specialized plumbing, which can add to the cost of installing a new one.
Some vanities can be installed with little or no updates to the existing plumbing—factor plumbing updates into the cost of investing in a double vanity. Selecting a vanity that fits into the current plumbing helps reduce costs. Keep in mind a few affordable updates can mean the difference between a spacious double vanity and keeping a cramped single one.
Fantastic Features
Beyond the vanity and plumbing updates, there are many features to consider that enhance this bathroom renovation. Consider one or more of these updates to make the space more functional and appealing:
New faucets and fixtures to match the design and modern feel of a double vanity. An example is a vessel sink requiring a tall vessel faucet with dramatic options such as a waterfall spout for a sophisticated feel.
Towel racks or posts on or around the vanity area to hold hand towels and clothes for the type of elegant experience found at five-star hotels. Add monogrammed spa towels to take it up a few notches.
A soap pump is a convenient addition to a double vanity that helps reduce messy soap bottles and bars around the sinks.
Some vanities include a matching mirror while others are sold independently. A mirror is a necessity for everything from brushing your teeth to styling your hair for the day. From rustic to modern, there are an array of options to consider. Remember to hang the mirror at a height that works for everyone, from the smallest household member to the tallest.
Lighting is another essential feature to add to a new vanity space. From overhead lighting to a row of Hollywood bulbs over the vanity, the right lighting makes the bathroom operational and inviting.
Include a decorative bathroom mat that fits in front of the vanity where people can stand to get ready when they are barefoot from a shower or bath.
Double vanities add value and comfort to any bathroom. Even small bathrooms can accommodate the right size and shape double vanity with some planning. Remember to measure the space and choose sturdy materials to find a double vanity that improves the room for years to come. Having two sinks in the bathroom is the ultimate convenience for everyone!