To run a successful Amazon third-party account in the Amazon marketplace, you need to know your market niche, target audience, and have a product that brings in traffic and also great profit. Different tools help analyze the market systemically, IO Scout and Viral launch are examples of this.
This article will give an in-depth comparison between IO Scout and Viral launch, which are both Amazon FBA tools.
IO Scout 
IO Scout is currently among the top-rated Amazon product finder software. It can be used by either startups, new sellers, existing sellers, private labels, and drop shippers in the Amazon marketplace. IO Scout helps increase their search data accuracy and maximizes the seller's potential and profit by finding products with low competition and high margin(profit).
It is very accurate when determining the volume of products sold as it has a database of over one hundred and fifty million products to search from, and make sure the most accurate data and information to analyze market trends and gaps is provided.
Viral launch is a similar software that offers similar services. Below is a comparison between the two products to see which is the better choice.
Comparing IO Scout and Viral launch
Price
This is a very important factor to consider when wanting to choose software. Both companies offer monthly and annual payment plans; here is the breakdown.
IO scout gives a fourteen-days free trial option for Amazon sellers before paying for any of the packages. This free trial provides a safe and risk-free way for sellers to try out features and tools of the IO Scout before paying. The payment plan for IO scout is available in three packages for sellers, startups, and businesses.
The prices of the packages are 24, 49, and 69 USD monthly respectively, and this gives access to different tools of the IO Scout software. There is a 60 percent discount off when one purchases IO Scout for a year and a 25 percent off for monthly subscription.
For Viral launch, the payment plan is different from that of IO Scout. They have four packages which are: Beginner at 59 USD monthly, Pro at 99 USD, Brand builder at 149 USD, and Kinetic, the highest plan at 249 USD per month. However, there is a two-month free discount when you pay for the annual subscription.
IO scout offers a better and more affordable payment plan than viral launch.
Features
Viral launch offers nine product features that are called solutions on its website. They include;
Kinetic PPC- This feature allows one to automate your Amazon pay-per-click (PPC)
Market Intelligence- It allows one to see detailed statistics of the product, monitors review counts, and market trends
Split testing- This allows one to test up to seven variations of image, price, description, and title, and it tells which one is the most profitable.
Keyword Research- This tool is used to search for targeted keywords
Product discovery- This allows one to search for products by price, sales, and category.
Competitor Intelligence- It gives one an insight into how much traffic a particular product gets based on the ranking of the keyword
Listing Analyzer- It compares the ranking of your product with a competition's own.
Keyword Manager- It is an analytical dashboard that gives information based on the keywords of your product
Listing Builder- Helps to create a list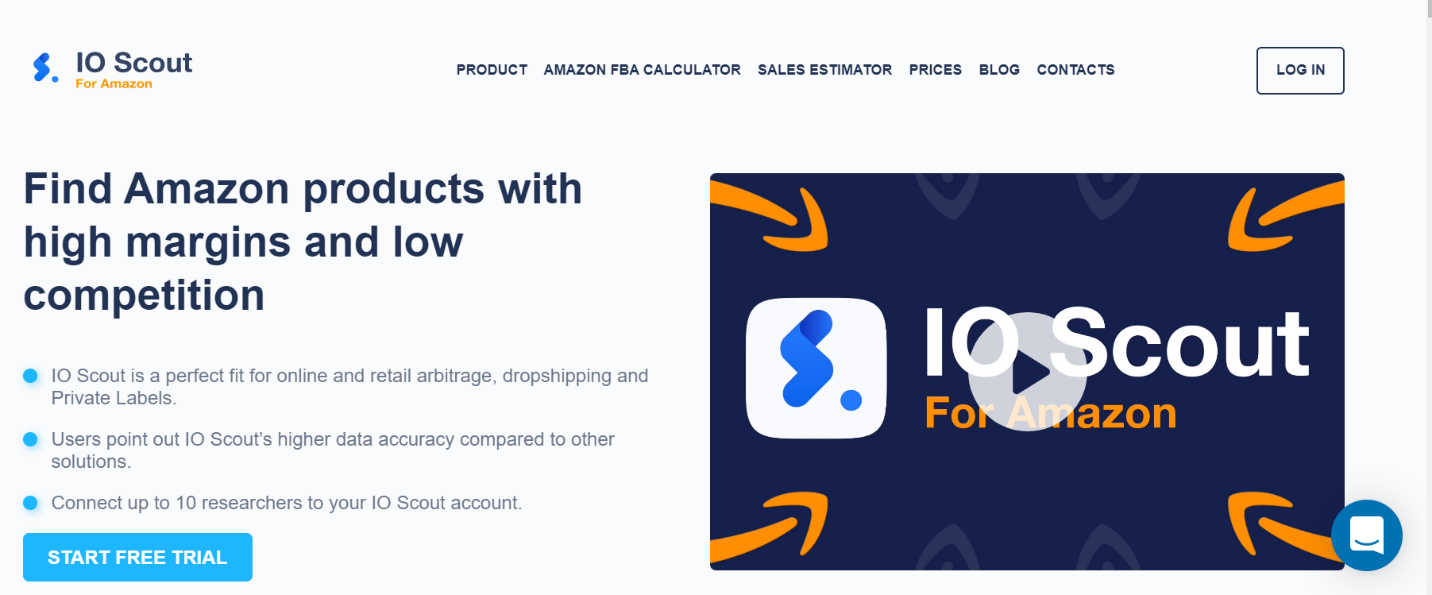 Even though they have some similar features, IO Scout has more variety of incredible features than viral launch has to offer. These features it offers puts them ahead of competitors, and they include:
1. Amazon sales estimator – This tool helps to estimate the number of sales made monthly by a seller based on the ranking of the product sales in a specific category. This is why IO Scout is popularly referred to as Amazon's best seller rank (BSR) calculator. This feature combines the competitor intelligence that viral launch has as a separate feature.
2. Product Finder – IO Scout Product finder https://ioscout.io/product-finder is a product research software with over two hundred million products that are updated daily. This ensures that one can access the most accurate information about the best products to go for and start selling.
3. FBA calculator – IO Scout has a free FBA calculator that helps FBA sellers and other sellers calculate their net profit without having to go through the stress of deducting the Amazon's FBA fees.
4. Google chrome extension – This allows google chrome users to optimize product searches by providing product data such as product sales, revenue, trends, and demand required for statistics and analysis without leaving the Amazon website
5. Sales analytical tool – This recently added IO Scout feature helps to track and organize all your sales on Amazon as it happens.
6. Inventory management tool – This IO Scout tool allows sellers on Amazon Marketplace to view their inventory. This allows the sellers to know when a product is out of stock and when and how much to restock.
Some other features of IO Scout include; Product tracker, Trends and history, Keyword tracker, Keyword scout, Listing builder. Alongside this, IO Scout offers 24/7 support, admission to educational resources, and a blog that answers FAQs. IO Scout offers more features than Viral launch, which makes it the better choice.
From the comparison, IO Scout has more features and tools specifically made for Amazon sellers, making it the best choice.