NASA discovers a mysterious disc around a black hole
Even as private aerospace companies work on innovative tech, i.e, a tug vehicle for transferring spaceborne cargo from one orbit to another (for example from LEO to geostationary), space remains a largely unexplored area. Just recently, astronomers from NASA noticed a disc of material encircling a supermassive black hole in a galaxy 130 million light-years away from ours. The discovery left NASA and ESA puzzled as, so far, it contradicts previous theories about black holes and their surroundings.
Why is a disc around a black hole unusual?
Black hole discovered in the spiral galaxy NGC 3147 surprised the researchers because until now, this particular type of galaxy was considered too low-luminous to sustain a black hole. The scientists believed that there was not enough gravitational material to feed a black hole. However, a thin disc spotted by the Hubble telescope is a mini-version of larger discs observed in more active galaxies.
Still, despite the lack of material on the subject, researchers are excited by this discovery. They believe that this latest discovery will help them study certain principles of Einstein's relativity theory because the gas disc is deeply embedded in the back hole gravitational fields.
Hubble measured the speed of this black hole disc at 10% exceeding the speed of light. At such speed, the gas seems to brighten as it travels toward the Earth and dims as it moves away from it. This effect is known as relativistic beaming. Hubble pictures also show that gas may be trying to escape the black hole's gravitational pool, which created red wavelengths. However, with the black hole's mass 250 times heavier than that of the Sun, any escape seems unlikely.
While studying black hole accretion disk, scientists used the Hubble Space Telescope Imaging Spectrograph (STIS) tool. This instrument divides light into different wavelengths, allowing to separately determine each object's speed and temperature within the circle.
Originally, the astronomers shortlisted this galaxy to research malnourished black holes. According to existing lower-luminosity models, gas discs should form when enough gas gets trapped inside the black hole's gravitational field. When this happens, the gas starts to emit light, forming a quasar.
Black holes and star discs in larger galaxies
NGC 3147 is not the only galaxy with a disc-encircled black hole. Another one is located in the Andromeda galaxy, 2.5 million light-years away from the Earth. When scientists noticed a bright blue light in 1995, they believed it came from a star.
Further research with the Hubble telescope proved that this light came not from one star but from a cluster of stars. All of them were circling around the back hole, just like all planets in our solar system circle around the Sun.
Additional research with STIS proved that this light came from a total of 400 stars, formed approximately 200 million years ago. Similar to the recent Hubble discovery, these stars were packed in a neat circle. Just like with the latest disc discovery, astronomers were caught by surprise. First, they believed that black hole gravitational pull should tear matter apart instead of packing it into neat, pancake-shaped circles. Now, factual research has proven otherwise, and any time you wonder — "how would we recognize the presence of a black hole?" the answer lies in looking for objects under its gravitational pull.
Sadly, the actual picture of black hole NASA keeps to itself, but below, you can see a picture of the Andromeda galaxy, also known as M31.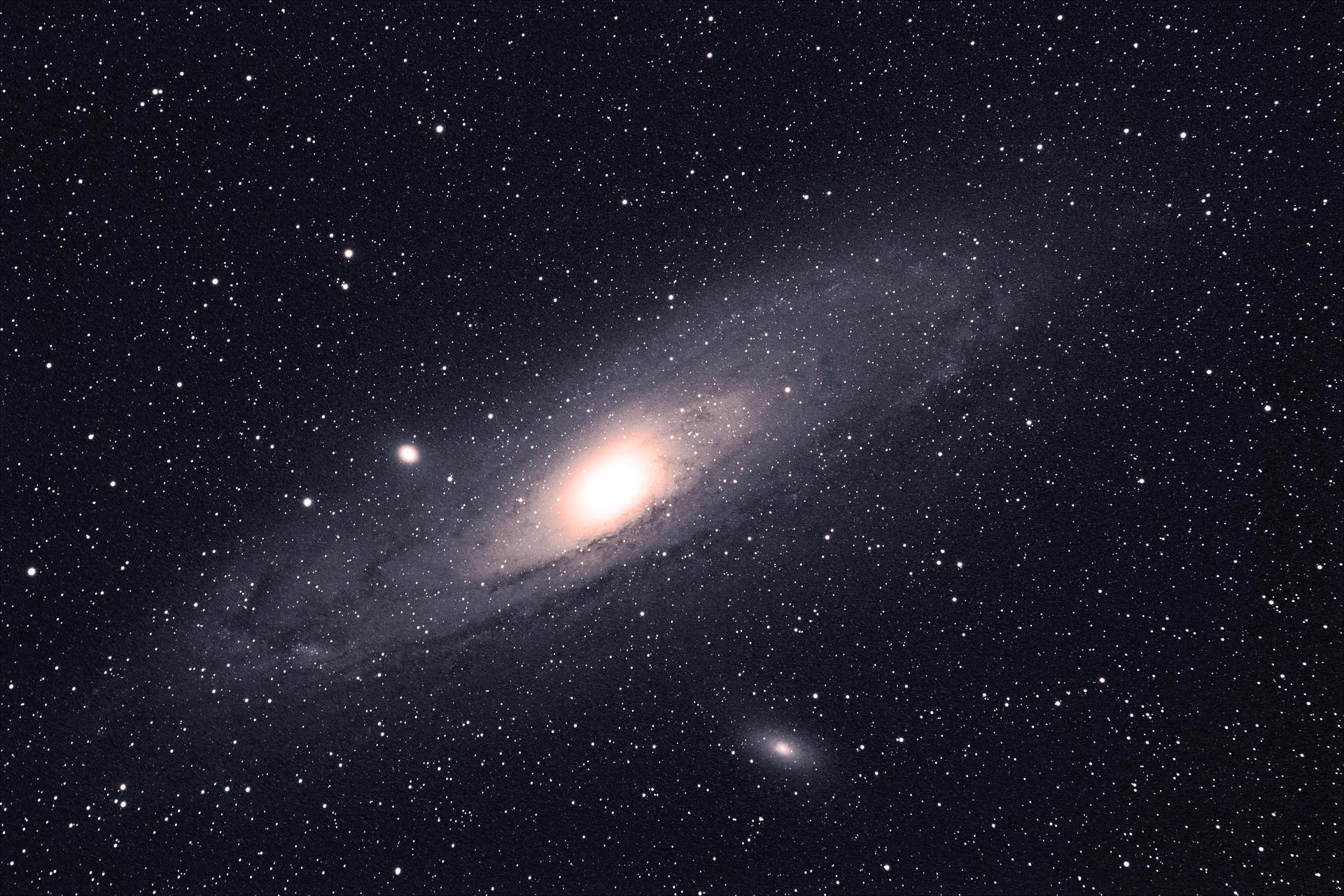 Source: https://pixabay.com/photos/m31-space-astronomy-astronomical-3613931/
Andromeda's black hole facts NASA unveiled mention that this hole is 140 million times heavier than the Sun. Originally, the astronomers believed the mass was at least three times smaller, but as it often happens with space observation, further Hubble space telescope black hole research proved this guess invalid.
While Andromeda is too far from the Earth, Hubble can reveal more interesting facts about this galaxy. In particular, we already know that the black hole and the disc of stars are not the only core elements in Andromeda. According to Hubble pictures, it looks like this galaxy has not one but two clusters of stars in its center. Today, astronomers believe that these clusters will eventually merge into one. However, it will take several hundred thousand years.
Astronomers believe that the second Andromeda nucleus consists of old, red stars. This ring is only five light-years away from the black hole. Another ring consists of younger blue stars. These stars are brighter, and they originally caught the astronomers' attention.
Surprised as astronomers were to discover a double cluster of stars, they assumed that such an arrangement might not necessarily be unique. Given a new discovery of a gas-like disc around a black hole in NGC 3147, we have reason to believe that space will have more surprises for us to discover.