With the increase in the use of smartphones, use of social media apps such as Whatsapp, Snapchat, has also been increased to a certain level. Children as well as adults use these platforms to interact with other people from around the world!
However, Snapchat is widely known for its self-destroying messages. All the unsaved messages disappear after some time, thus making it one of the best app for cheating or scamming a person without leaving any proof.
Hence, it becomes necessary for a parent or any other person, to keep an eye on their loved ones Snapchat account. But, it is difficult to keep a check all the time since, you cannot possess any other persons phone indefinitely! However, you can make use of SpyMyFone service to have an uninterrupted access to Snapchat account without letting the other person know!
Features of SpyMyFone include:
1. You can not only track the Snapchat asking but also other social media apps such as WhatsApp, Instagram, etc.
2. This service can be used to track into smartphones from Android as well as iOS devices.
3. You can live track your target smartphone and set up geo fencing so that you are notified everyone the target smartphone enters the restricted area.
4. Once you have successfully tracked into a smartphone, you can access all the information without raising any suspicion.
5. You can also take screenshots while going through your target device and share them on other platforms.
6. It is not necessary for the target device to be online for you to access its data. You can also monitor offline activities using SpyMyFone.
How to Track Snapchat using SpyMyFone?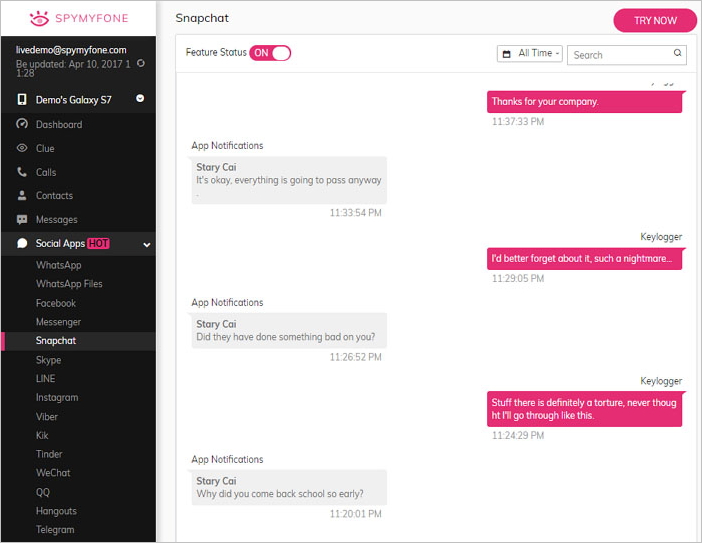 Step 1- Before you start with this method, you need to have an account in SpyMyFone. Thus, you need to visit the official website and purchase a subscription.
Then, you will receive a link, which you can use to download an application of SpyMyFone, which youneed to install on your target Android device.
Step 2- For tracking Snapchat on Android device, you need to set up provided app on your target Android device. Also, you need to enter the name and age of the person on the website.
For iOS devices, all you need is the iCloud ID and its password. This iCloud details should be of the account logged into your targets Apple device. Then, enable iCloud backup and Sync option of your target iOS device.
Then, choose the Operating system installed on your target device, which can be 'Android' or 'iOS', which will lead you to the next step.
Step 3- Now that the app is successfully installed on the target Android device, or the iCloud details are entered, login to your SpyMyFone account and you can easily track someones Snapchat and access all the Snapchat data of your target device.
You can also make use of the Keylogger feature to record the password which is typed into the keyboard.
Conclusion:
This is the method which you need to execute in order to into someone's Snapchat on any smartphone. The steps are simple to understand and execute. However, must follow each and every step with utmost care!
If we have missed out on any such useful information about using SpyMyFone to track someone's Snapchat, or if you have any queries regarding the above listed methods, then please let us know about it in the comments section below.