Have you ever come across a situation where you can see your hard drive, but are unable to access it? Yes! Your hard drive might have crashed.
You might be wondering now how can you recover your data from crashed hard drive? Do not worry! Recoverit data recovery software can help you in recovering your lost files.
In this article, you will learn different causes of a crashed hard drive, and also how to recover your lost data from the crashed hard drive with Recoverit.
What Are the Causes of a Crashed Hard Drive?
Hard drive failure can be a result of various reasons. Some of the possible ones are:
Sudden power outage
Physical or logical damage to hardware
Exposure to extreme temperature conditions
Manufacturing fault
Malware or virus
Corrupted system
Loose connections
Severe Fragmentation
Firmware Corruption
Water spillage on hard drive components
Whenever any of these things occur, the hard disk can crash, and the operating system can stop recognizing it.  Unusual sounds like clicking or humming, data loss, disk errors are some of the possible symptoms that indicate hard drive failure.
How to Recover Data with the Best Data Recovery Software: Recoverit
Recoverit is the best software that helps you in recovering deleted and lost files in three easy steps and within minutes. Whether you like to retrieve data from the laptop or computer or external storage device or recycle bin or internal hard drive, the software can recover data from all.
From audios, videos, images, emails to documents, and graphics, Recoverit supports various file types and formats.
Features of Recoverit:
It supports 1000+ file formats like NTFS, HFS+, FAT, APFS, etc.
With the highest recovery rate, the software can retrieve data in various data loss scenarios- virus attack, lost partition, formatting, accidental deletion, and others.
Retrieves content with two scanning approaches- regular and deep scan
It allows you to preview recovered data before restoring it.
Follow these three easy steps to retrieve data from your crashed hard disk:
Step 1: Select Location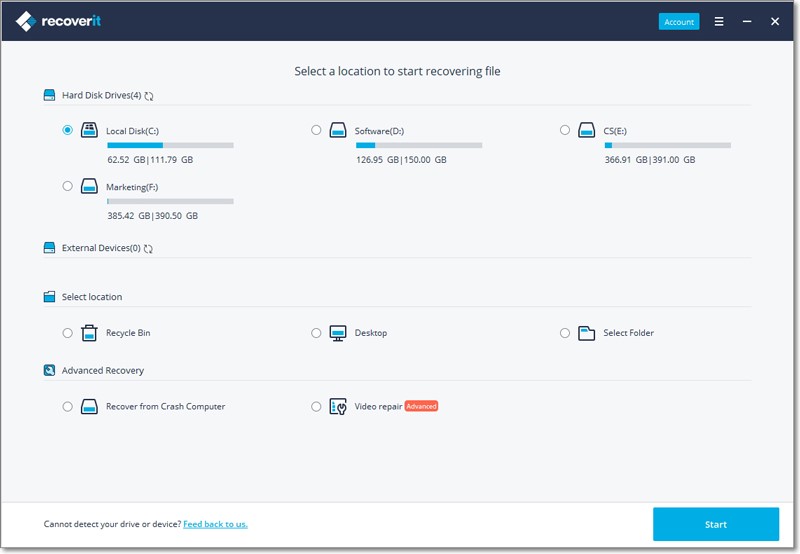 Install Recoverit on your PC and launch the software to get started. Now, select the location where you have lost your valuable data. For that, you need to choose a hard disk under the 'Hard Drives' section. You may also select an external hard drive option if you have lost the data on a different location, such as a recycle bin, desktop, or any other location.
Now, click on the 'Start' button to begin the process and scan the selected location.
Step 2: Scan Location
As Recoverit starts an all-round scan on different sources, it may take several minutes to finish the scanning. Depending on the size of the data & files, it may also take a few hours for large-sized files. You can easily pinpoint a specific location for scanning by selecting the file location and file type.
On the left bottom corner, you will see an option called 'Advanced Video Recovery.' You may use it to retrieve deleted videos. Moreover, if you are looking for large-sized videos, you can also perform a deep scan.
Step 3: Preview and Save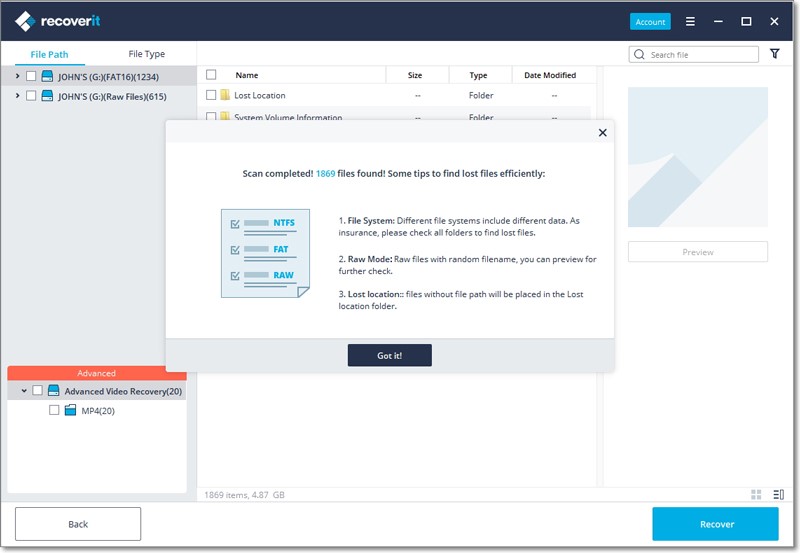 Recoverit gives you an option to preview the recoverable files before you move on to the recovery step. As when you click on the file, a thumbnail will show the content on the right panel. Moreover, preview offers all the information of the file, including its name, file size, file path, and modified date.
Click on the 'Recover' tab, if you are sure of that's the file you want to recover. Make sure you choose a different drive to recover the data and not where you initially lost it from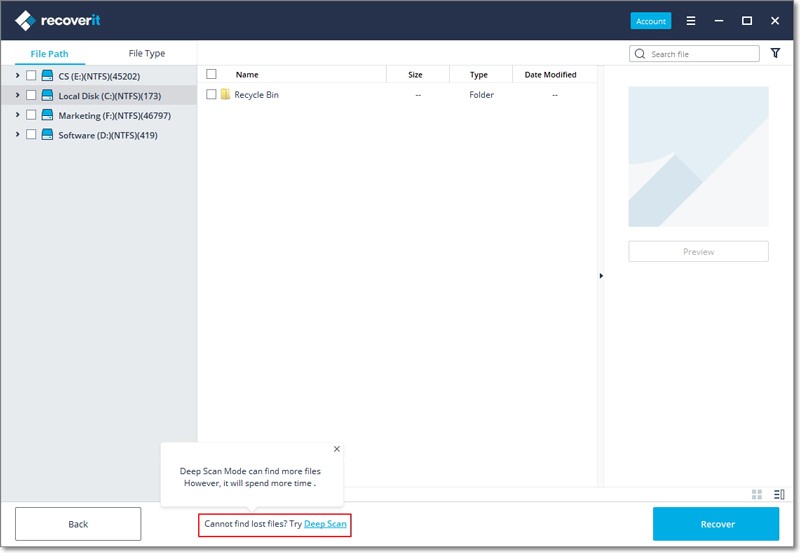 Final words
The number of reasons can cause hard drive failure. But with Recoverit, you can recover your lost data of any size, and format. Follow the detailed steps discussed above and recover data from your crashed hard disk.
We hope our guide proved helpful to you!