A strong online presence is essential for any new business. In today's digital world, potential customers often search for products and services online. If they can't find your business, they may not even know you exist.
According to a new survey conducted in 2021, up to 28% of small businesses have no website. This makes them invisible to potential customers who are searching online. This can lead to a loss in revenue and customers.
If you are a new business owner, it's time to build your online presence. Here are some ways you can get started.
List Your Business Online
When customers are looking for a product or service, the internet is the first place they often turn to. That's why it's so crucial for businesses to have a strong online presence. One way to establish this presence is by listing your business on online directories.
This will allow customers to easily find your business and learn more about what you offer. When creating your listing, include key information such as your business name, address, and contact information. You should also take the time to write a detailed description of your products and services.
It also makes sense that you claim your Google My Business listing. Google My Business is a free tool that allows businesses to manage their online presence on Google. This includes listing your business on Google Maps and allowing customers to leave reviews. By claiming your listing on Google My Business, you can ensure that your business is being seen by potential customers.
Create a Professional Website
Creating a professional business website is one of the most important things you can do to build your online presence. Your website is like your digital storefront. It's where potential customers can learn about your products or services and decide if they want to do business with you.
Make sure your website is designed professionally and is easy to navigate. Include clear, concise information about what you offer. And include high-quality images and videos to give visitors a better sense of what you do.
You should also make sure your website is optimized for search engines. This means using the right keywords and phrases so potential customers can find your site when searching for what you offer. Let the pros handle this task so you can focus on other essential aspects of your business.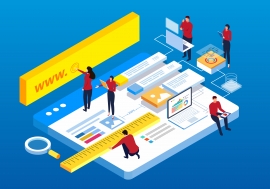 Choosing a reputable web development company will help you create a high-quality website for your business. It would be best to find one that can create a web design that reflects your business objectives and brand's personality. With due diligence, you can find the web development company to craft you more than just a regular business website.
Use Social Media to Your Advantage
Social media is a powerful tool to reach new customers and build your online presence. Statistics show that there are up to 4.65 billion social media users worldwide. Each month, nine out of 10 internet users are on social media. This shows just how popular such a platform is for consumers.
Building a strong social media presence on social media platforms can help you reach them and connect with them on a deeper level. Remember, social media is all about building relationships. So focus on creating interesting and informative content that will help you connect with potential customers on a personal level.
This means creating profiles on popular sites like Facebook, Twitter, LinkedIn, and Instagram. But remember that not all of your social media platforms will be the same. Each one has a different purpose and audience. So make sure you create content that is specific to each platform.
For example, if you're using Twitter, focus on creating short, snappy posts with Hashtags. On LinkedIn, however, you should focus on creating longer posts that are more informative in nature. No matter what platform you're using, ensure you're regularly posting fresh, original content to keep your audience engaged and coming back for more.
Generate Positive Online Reviews
Customer reviews provide potential customers valuable insights into your business while building trust and confidence. Good reviews can also improve your search engine ranking. This makes it more likely that people will find your company when looking for products or services like yours.
Of course, generating positive reviews isn't always easy. You need to provide outstanding customer service and give customers a reason to leave a review. You can also incentivize customers by offering discounts or other rewards for taking the time to write a review.
Another way to generate more positive reviews is by responding to both positive and negative reviews. Be professional and courteous in your responses, and take the time to address any customer concerns. This shows potential customers that you're interested in what they say and values their feedback.
Building an online presence can be challenging, but it's worth it. With the help of this list, you can introduce your brand and build consumer trust and confidence in your business. With a little effort, you can establish a strong online presence to help you reach your business goals.