As fleet management businesses expand in size, the number of carriers in their fleet increases as well. Though this expansion is a good sign for the business, it also brings with it its own set of managerial challenges.
Accurate and up to date tracking and compliance checks for assets is difficult to do manually when the number of assets is large. This problem can be easily solved by having a device to track your assets. This allows you to schedule and deploy assets while maintaining peak efficiency or effectively deal with ongoing activities.
With the Federal Motor Carrier Safety Administration's (FMSCA) electronic logging device (ELD) mandate, statutory compliance norms have become much stricter and one of the most important is the International Fuel Tax Agreement (IFTA) reporting. This data was recorded by drivers by hand.
The records were submitted and it was the fleet manager's duty to organize and tally this data for taxation purposes. This process is cumbersome and is extremely inefficient when the fleet size is large and it serves a huge area. Thankfully, IFTA software solves this and much more.
We will explore hardware and software which can be used to ease these two major pain points for growing fleet management businesses.
Tracking Your Assets
The most widely used device to track assets in the fleet management industry is GPS fleet tracking systems. Some of the benefits of adopting GPS technology for your fleet are highlighted below.
Cost Reduction
There is a sizeable investment that needs to be made when installing GPS software and hardware however the return on investment is significantly higher as it helps you cut costs in other areas.
The leading cause of increased fuel consumption is overspeeding and excessive braking and GPS tracking devices can alert you when drivers do so. It also provides you opportunities to plan and optimize the entire fleet's routes, therefore, charting routes with low fuel consumption needs.
GPS tracking systems can help reduce a driver's Compliance, Safety, and Accountability (CSA) score, which can help reduce overall insurance premiums. By monitoring driver behavior like reckless driving, you can take appropriate steps to curb this which will eventually help reduce insurance costs.
Enhanced Safety
GPS tracking systems are an effective way to keep your workforce and assets safe and operational. Accidents involving your drivers are easier to respond to when the physical location of your asset is available to you.
It can also map driver behaviors like speeding/braking, idling, hours of service (HOS), etc. This way you can track and address these issues individually with each driver before it leads to a dangerous incident.
In the case of theft, GPS tracking systems can also be used to track stolen vehicles.
Operational Efficiency
GPS tracking systems allow you with both planning maintenance schedules as well as dealing with potential breakdowns that may occur. You can schedule automatic service and maintenance alerts for each carrier by storing historical data like usage hours, miles driven, engine diagnostics, etc.
It can also help you plan long term arrival and dispatch schedules. By tracking the location of a delivery vehicle, you will have an accurate estimate of when the truck will arrive and you can plan the next load accordingly. This is great for reducing asset downtime and maintaining operational efficiency.
IFTA Management
IFTA is a co-operative agreement between U.S states and Canadian provinces, to simplify the reporting of fuel use for carriers operating in more than one jurisdiction. This arrangement sets a framework for fuel tax collection for IFTA member countries.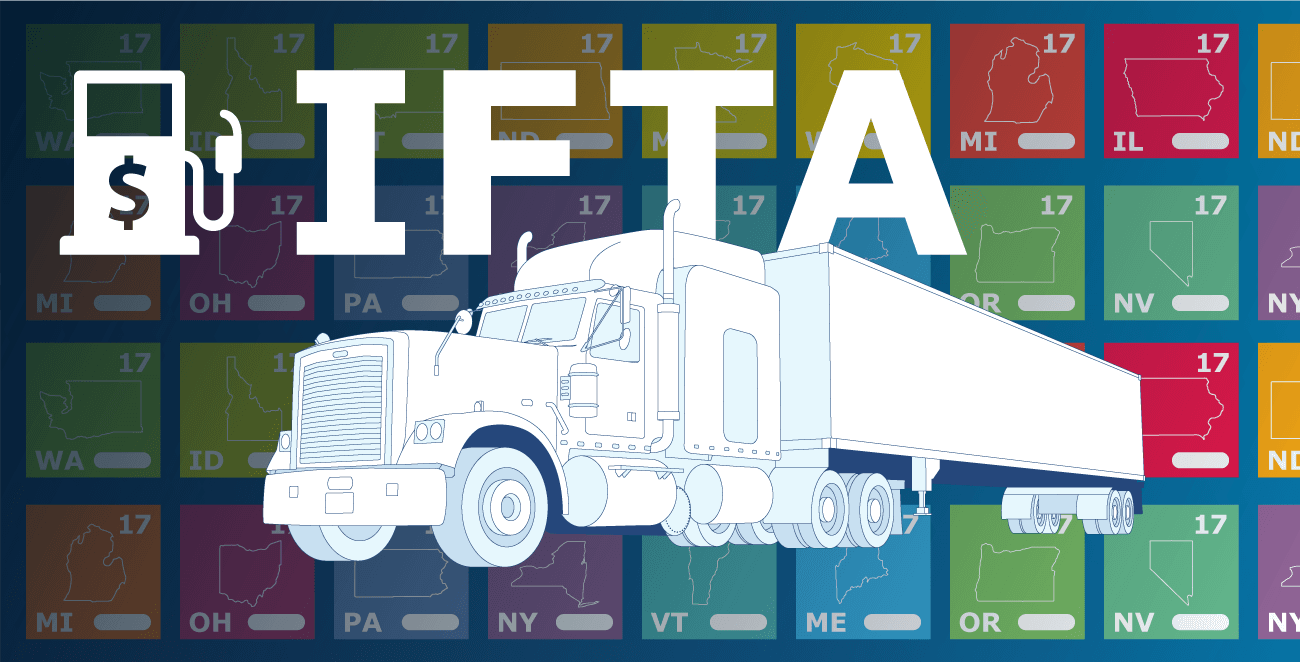 The tax laws say that businesses that operate a fleet of commercial carriers need to pay taxes to all states where these carriers have conveyed. The taxes vary in different states and are calculated on a per-mile basis. This data was written down by individual drivers daily and combined by a fleet manager to calculate the total tax expense.
IFTA software is a sophisticated software technology used to simplify this tedious clerical task. Some features of this software include:
Instant IFTA Reporting
Increase compliance – IFTA software periodically updates quarterly IFTA surcharge rates and regulations as per each jurisdiction.
Eliminate monotonous tasks – Reduce inconsistencies and duplicate fuel mileage entries due to clerical errors.
Stay organized – Instead of compiling and retyping information provided by drivers regularly, IFTA software auto-records mileage classified by jurisdiction.
Accurate IFTA Reporting
Eliminate costly mistakes – Automate fixed fuel tax information while processing so that no important data point is missed which may lead to incorrect filing and unnecessary fines.
Reduce DOT Penalties – Securely archive critical information and reports for reference in the future.
Streamlined Process – Compare and minimize tax liability by compiling data on fuel consumption in a variety of accepted formats per jurisdiction.
Fuel Downloads
Single System – Import taxable fuel count mileage directly from the carrier through routing for automatic miles per state and jurisdictional breakdowns.
Automatic metric conversion – IFTA software automatically converts Miles/Kilometers and Litres/Gallons as required.
IFTA software saves time, prevents errors and gives you peace of mind that all complex IFTA compliances are squared away. Using IFTA software, tax filing is done in an organized and consistent manner, therefore, reducing the chances of your business being pulled up for auditing.