The digital age has brought incredible innovation. This literal global marketplace allows us to communicate, learn, and do business with people from all over the world. Unfortunately, it also attracts a host of criminals who slip easily through the "cracks" or unguarded nooks and crannies of online reality. I have put together info so you and your family stay safe with Crptojacking protection.
Before I tell you what cryptojacking is (a little suspense won't hurt you) let's talk about the invention of cryptocurrency so we can understand how these cyber miners are stealing your money.
The Crypto Back Story
Just 10 years ago a currency revolution hit the marketplace. Its name is Bitcoin and along with an incredible 900 other digital currencies, it has taken everything we thought about the market to another level.
Controlled completely via cryptography (written code) it creates a document that records all the transactions that take place between people, commonly known as a "Blockchain". Now, here is where it takes a turn.
"Hackers see cryptojacking as a cheaper, more profitable alternative to ransomware," says Alex Vaystikh, CTO and co-founder of SecBI."
It would seem like the whole point would be stealing people's currency BUT what is actually being taken is the electricity needed to power such a complicated process. In fact, 80% of the cryptocurrency workload is being handled by our low-cost electricity friend, China. This is also where the criminals swoop in and "jack" CPU cycles and electricity all while getting paid without having to spend any money, of their own.
How to Tell if You Have Been Crypto-Jacked
Put simply, hackers gain access to your CPU so they can mine your cryptocurrency (like Bitcoin or Eretheum). If you have been hacked you may notice the following:
● Spike in usage
● Performance issues
● Increased electricity consumption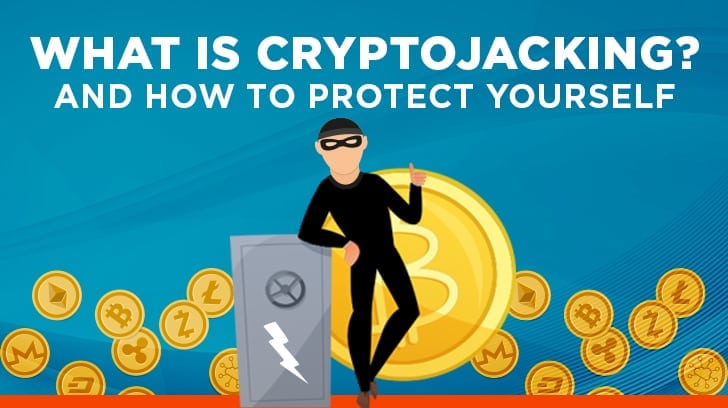 Just in case you think that your regular antivirus can protect you, think again. Major companies like Tesla and even the EU Water Utility Infrastructure have been hit.
That is why (thankfully) cyber protection companies, like BlackFog, are staying ahead of this crime wave and providing real Cryptojacking Protection.
Cryptomining and Cryptojacking Protection:
As mentioned above today's threat is more focused on stealing the energy one has to pay when mining currency. Originally cryptocurrency attacks were all about infecting web servers so they could mine digital currencies. Now hackers target individual computers specifically your PC as you visit certain websites through ads.
Before you throw your PC out the window, choose a cryptojacking protection service that will cover you so you can enjoy your internet usage without hackers. Here are the top ways you can do just that easily:
1. Ad-blockers – cryptojacking scripts are usually delivered through ads, so an ad-blocker can prevent malicious ads from popping up
2. Anti-cryptomining extensions- getting a specific extension that can detect and block miners is a good tool
3. Web filters – make sure these are up-to-date. Cybercriminals are constantly changing their tactics so staying up-to-date on your filters and anti-virus can help
4. Browser extensions – hackers can create malicious browser extensions to poison your computer
5. Use an all-in-one package to protect yourself – BlackFog has created a single option that does all of the above and more. It monitors every outbound connection in real-time so there are no transfers to any cryptocurrency site. This is done at the network level so it protects you against every infected app on your system.
Takeaway
When it comes to cybercrime, hackers are evolving at a rapid pace. Ransomware and other malware can be injected directly at your personal system's level. Cryptojackers are able to use your PC's energy and mine for digital currency through malicious ads on websites you browse. If you see an upsurge in energy you may have been hacked. BlackFog and others have solutions so your home is protected on the network level. Every PC should have cryptomining and cryptojacking protection to ensure they do not get hacked. Following these tips will save you and your family from being yet another victim of cybercrime.