Modern-day ecommerce allows you to sell your products through various online channels like mobile apps, ecommerce sites, price comparison platforms, social media and online marketplaces like Amazon or eBay.
Through your multi-channel selling strategy, you can offer your target audience various ways of buying your products, increasing the likelihood of them taking action on your offers.
However, in doing that, not only will you need a robust ecommerce platform to house your online shop, but you also need a platform that can give you the capability to execute your multi-channel selling strategy seamlessly.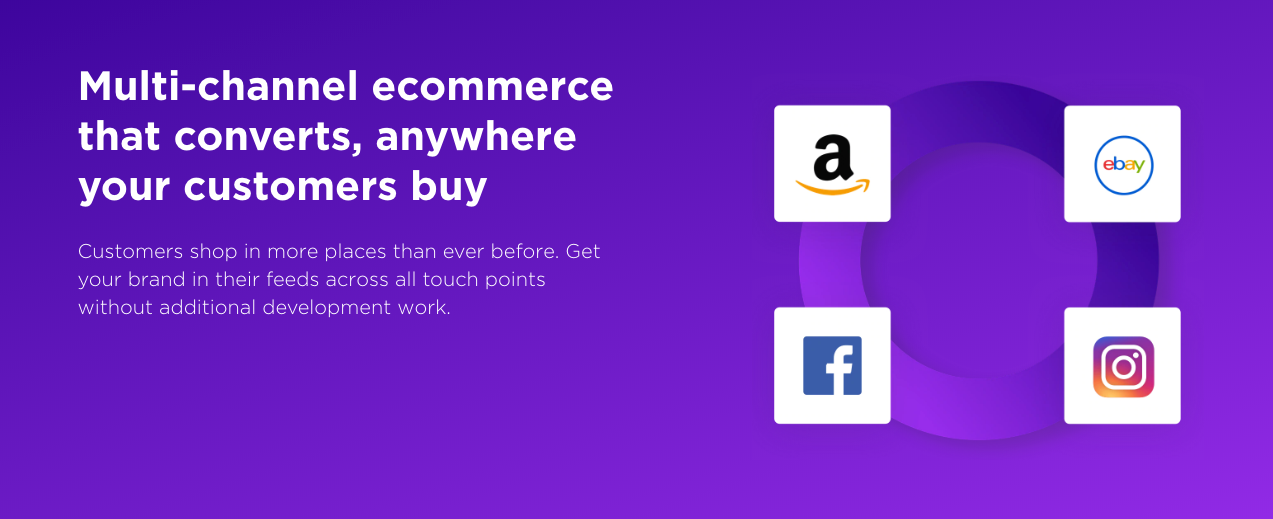 That's where BigCommerce comes in.
In this guide, we will look into the inherent features of BigCommerce and how it can help you with multi-channel selling.
Channel Manager
The Channel Manager is one of the most powerful features in your BigCommerce dashboard. This is where you set up and configure all of your off-site direct sales channels.
To give you an idea of how the Channel Manager works, let's look at its various supported options.
Connect and Sell Through Various Channels
With the Channel Manager, you can sell via social media sites, blogs, emails, marketplaces and more, all in one place.
This makes your multi-channel selling easier to pull off, since you won't have to sign in to various platforms just to manage your online business. You can log into your BigCommerce dashboard and run everything from there.
In this sense, you can look at BigCommerce as a commerce engine that operates independently of the various storefronts that are linked to it. You can tweak your content, add and remove products from your line, and use it as your business management hub, without risking that you'll mess something up on one of your channel presences. That's the advantage of a "headless commerce" platform.
To get started, you might want to connect your Facebook business page (and start selling from there) by setting it up through the Channel Manager.

Assuming that your tax setup is all in order and that your product catalog meets the standards of the "Facebook Commerce Product Merchant Agreement," you should be up and running within 48 hours of submitting your details to Facebook.
Now you can start setting up dynamic product ads for Facebook, start setting up your Facebook Shop tab and even configure shoppable Instagram capabilities.
You can use the Channel Manager to set up many other storefronts as well, but it's worth pointing out that some channels require specific permissions and setup processes, so you need to set them up individually.
Aside from connecting to online marketplaces and social commerce platforms, you can use the "Buy Buttons" app to sell directly from your emails, blog posts, or anywhere where you might want to include a URL that will automatically populate people's shopping carts.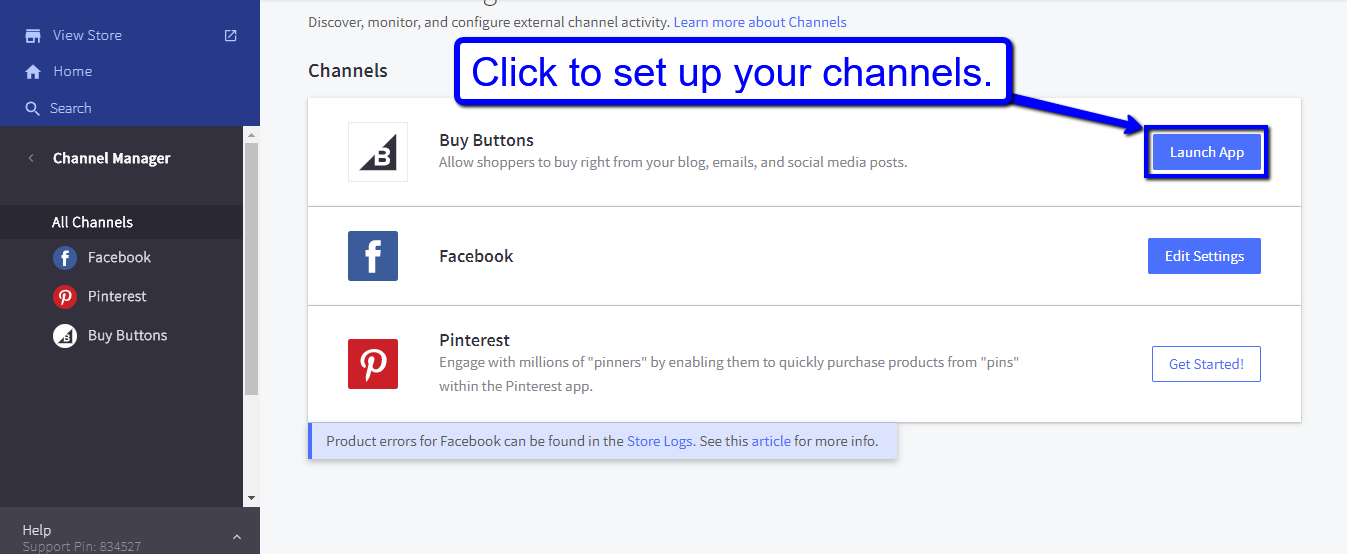 You can also modify the color, format, and the font of your buy now buttons to align with your brand.
Once you're done customizing, you can copy and paste your button's HTML to the channel you intend to sell your products — without you having to create a single code.
Product and Order Management
BigCommerce automatically pushes all updates to your product listings to all channels, to make product management throughout your various sales channels more streamlined and straightforward.
This gives you control over which products are offered in each of your channels.
The tool also lets you create your product listing individually or in bulk, and customize product details like the product price and name in your various channels.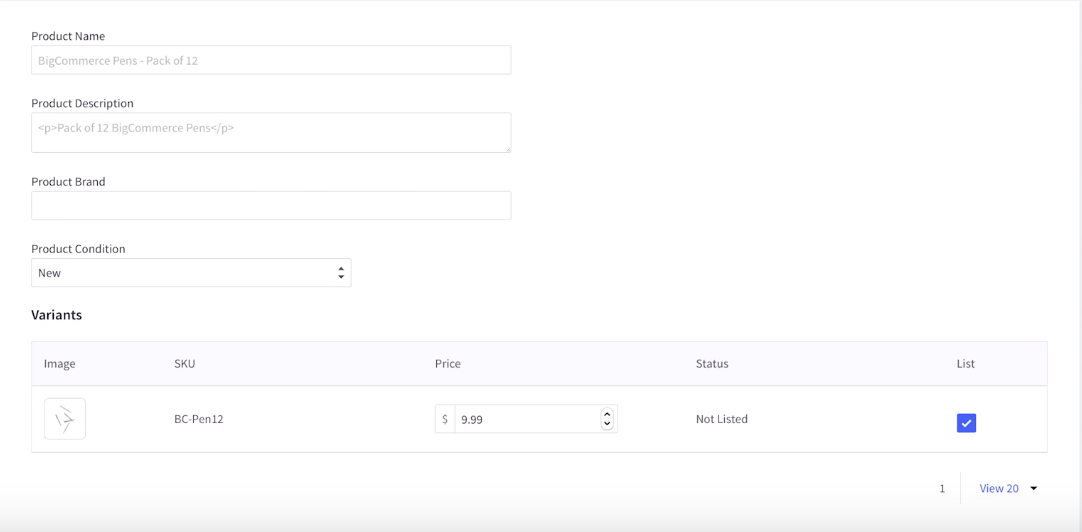 On your products list, channel order icons will show you which channels your orders are coming from, so you don't have to check each one manually.
You can also see the status of each order, whether they're Completed, Awaiting Shipment, Refunded, etc. This gives you a bird's-eye view of how your store's order fulfillment operation is running.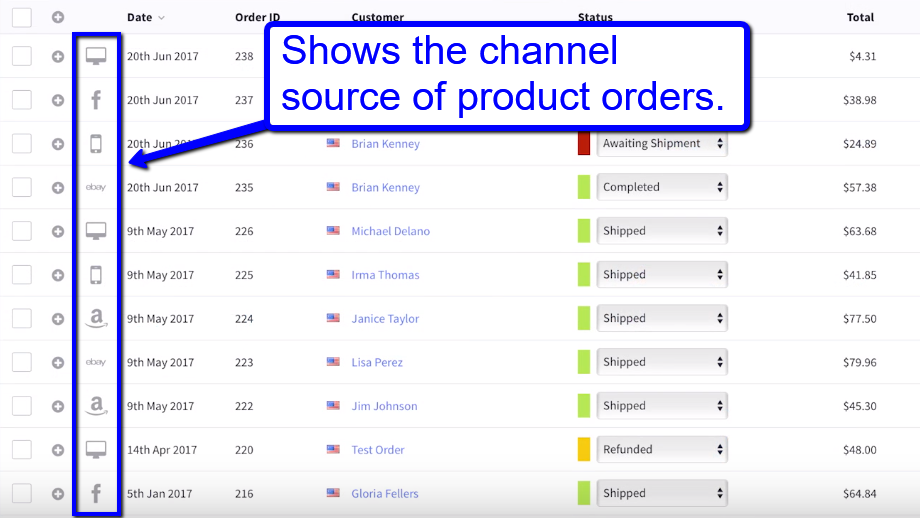 Another useful feature is it can automatically sync your stock levels and inventory in real time across your multiple channels.
Because of this feature, not only can you save time and avoid doing menial tasks, but it can also prevent you from making the mistake of selling product/s that already ran out of stock.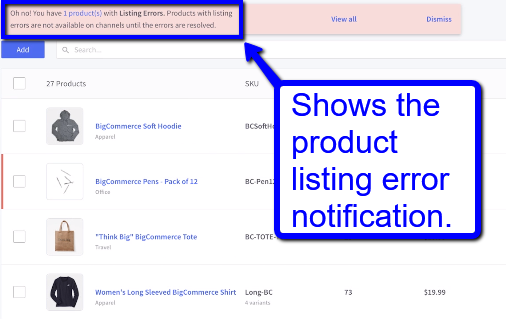 A product error notification will also alert you regarding any errors that might prevent your products from being included in a specific marketplace.
If you click on a product from your listing, a quick edit slide lets you change the product's SKU, inventory numbers, name, price and other variants.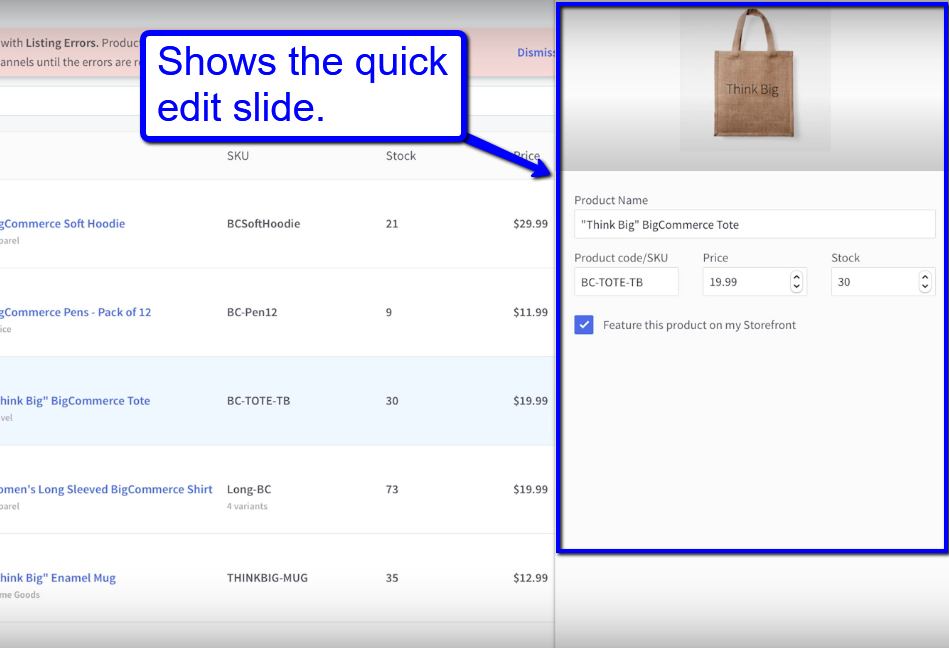 You can do all of this conveniently, without having to perform the modifications on the full Edit Product screen.
BigCommerce's Channel Manager feature allows you to sell (easily) on various channels and connects your product inventory across your online marketplaces, social media, and even your point of sale (POS) software.
Pricing
With BigCommerce, you have the option to choose from four different pricing plans: The Standard, Plus, Pro or Enterprise plan, depending on the needs of your business.
Considering the amount of value that BigCommerce can bring to your ecommerce business, the pricing plans offered by the platform are certainly reasonable.
From my perspective, BigCommerce might just be the most cost-effective and powerful solution for multi-channel retailing.
Other Features of BigCommerce
Beyond the multi-channel selling features of BigCommerce, the platform offers tons of other functionalities that you can use for your ecommerce business.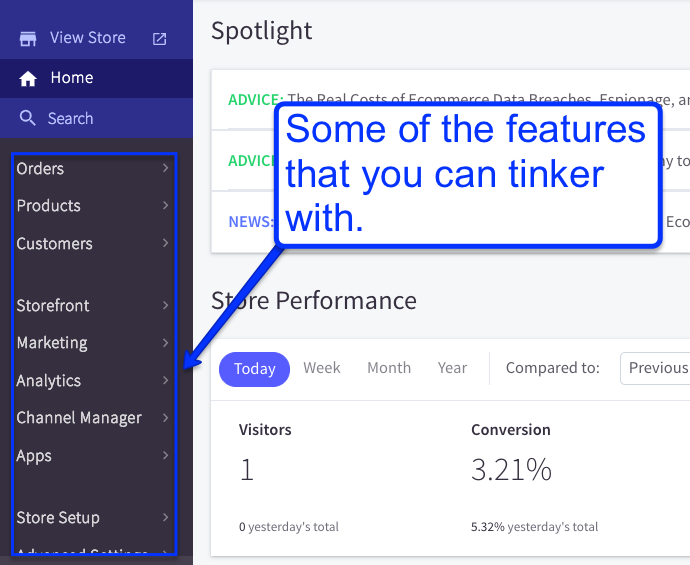 For example, clicking the "Storefront" menu will reveal several of the platform's website creation functionalities like the "Theme Marketplace," "Social Media Links," "Homepage Carousel," etc.
It's also worth pointing out that BigCommerce has several professional-looking and easy-to-install website themes.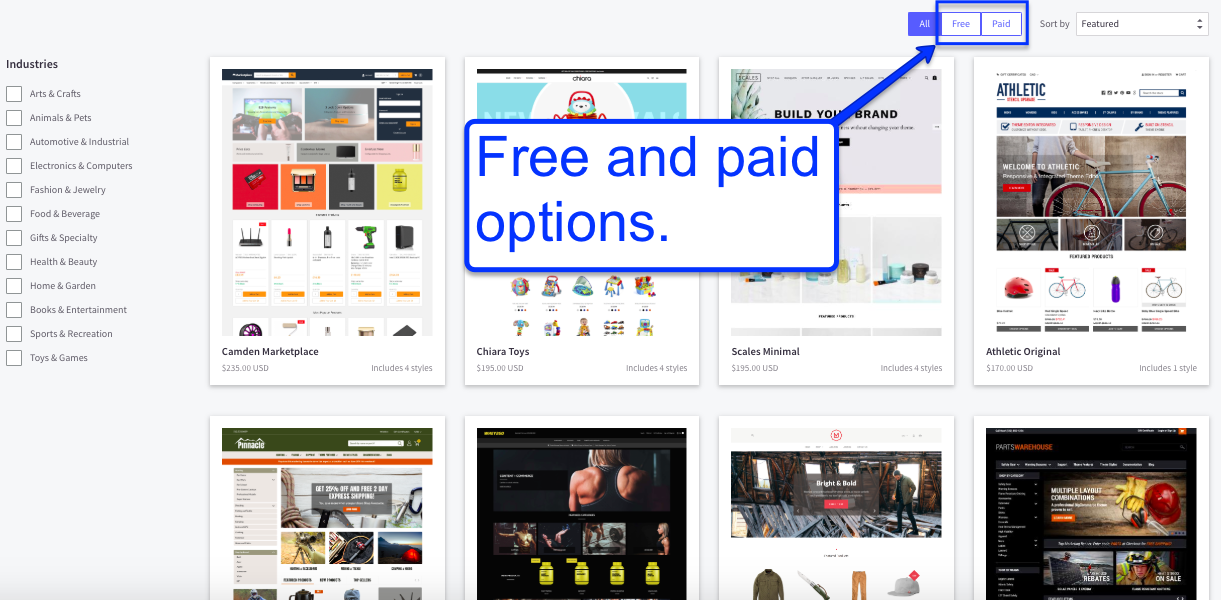 In addition, BigCommerce also has hundreds of apps that you can install into your website to further enhance its functionalities.
There are apps you can use for data transfer, tax and accounting, ERP, shipping and fulfillment, and even for merchandising.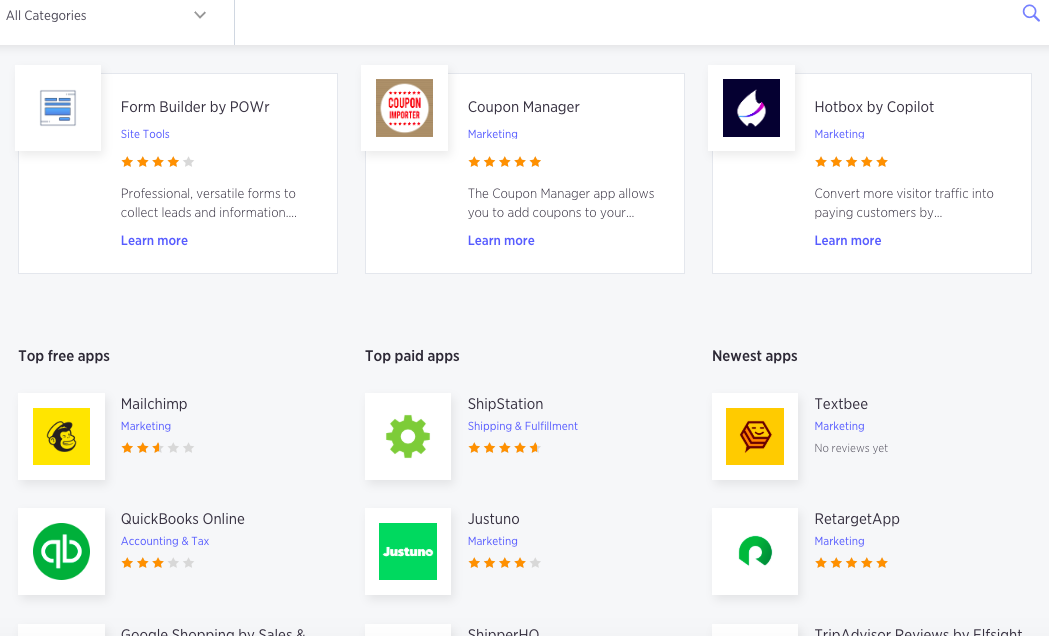 The platform's marketing features are formidable as well.
Whether you're into email marketing, sending coupons, or using banners, BigCommerce can help you. This bit is crucial. Because if you are serious about drawing significant sales and growing your ecommerce business, you need to market your products aggressively.
The ecommerce landscape has proven itself to be such a lucrative venture, that even those who are oblivious about how ecommerce works have decided to jump the bandwagon.
This leads to cutthroat competition. If the ecommerce platform that you're using doesn't have enough marketing oomph to it, your competitors are bound to dominate your niche.
Key Takeaways
BigCommerce's Channel Manager feature allows you to manage your multi-channel selling in one place — your BigCommerce dashboard — which ultimately helps you save time and effort since all your sales channels are connected.
Some of the channels available in the Channel Manager are Facebook, Instagram, Pinterest, eBay and Amazon. Beyond those channels, BigCommerce also offers support for price comparison engines like Google Shopping, more marketplaces like Jet, as well as content management systems like WordPress, Sitecore and Adobe Experience Manager.
You can manage the products you sell on various sales channels effectively through BigCommerce, since the platform updates your product list automatically. BigCommerce also has a myriad of features that you can use for website creation, marketing, reporting, community management, and app integrations.
Have you had the chance to use BigCommerce? What are your thoughts about the platform?
Please share your experience with BigCommerce in the comments section below. Cheers!