In this digital era, security is essential to prevent your business against cyber-criminals. There was a time when theft was physical, but now even thieves are stealing digitally. Different securities are needed to secure your business as well as your business site. Firewall is installed in computers for software and hardware security, anti-virus software is installed for browser security and SSL certificate is installed for website security.
What Is an SSL Certificate?
SSL is the acronym of Secured Socket Layers. The main task of SSL certificate is encryption of data. It is a digital certificate which builds a secured link between a visitor's browser and web server. They are small data files that digitally encrypt website data.
After the Certificate Authority issues the SSL certificate on request of business owner, it needs to be installed on the business site to keep transactions secured. Once it is installed on the web server, it activates a padlock in URL and https (instead of http) in address bar. Both these onscreen trust symbols help drive more traffic to your site; and that's why sites not having SSL security, are termed as unsecured sites by Google.
SSL certificates are available in different types and different brands. There are many cheap SSL certificate providers who provide all types of SSL certificates at different rates and discounts.
Best Cheap & Trustworthy SSL providers:
Let's take a look at some of the best and cheapest SSL certificate providers in 2020.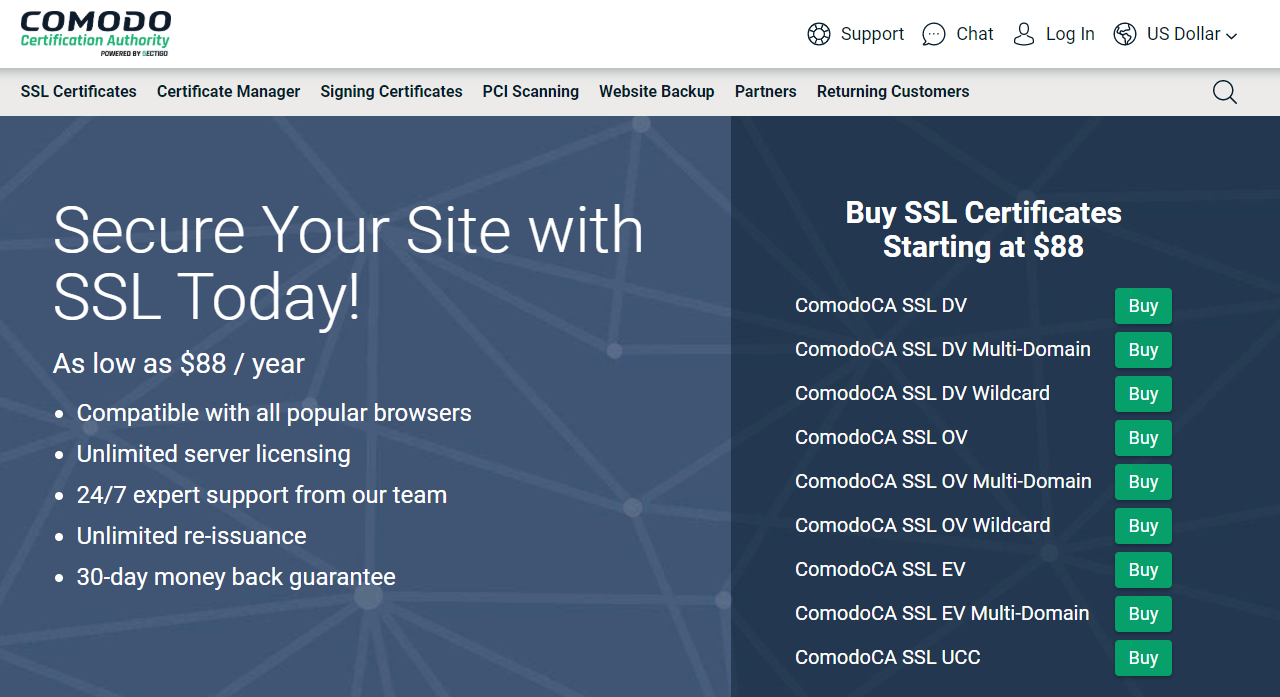 #1. Comodo – Global Leader in Cyber Security Solutions
Introduction of Trust Logo
Good Customer Support and Expert Help
Comodo is one of the best SSL certificate providers around the globe. It was founded in 1998 and has its headquarters in Clifton, New Jersey (US). They provide SSL certificate solutions at affordable prices for all businesses. Be it ecommerce or small industry, large corporates or medium businesses, Comodo SSL has it all.
Apart from 256-bit encryption security and 2048-bit signature, this SSL has introduced Trust Logo, the first "Point to Verify" real-time identity assurance technology on internet. When the customer points their cursor on the SSL seal, this technology shows them the real-time verification of business credentials. With 99% mobile browser compatibility and round the clock expert help, this SSL is a favourite for business owners. Comodo SSL certificate price ranges from $88 /year to $228 /year.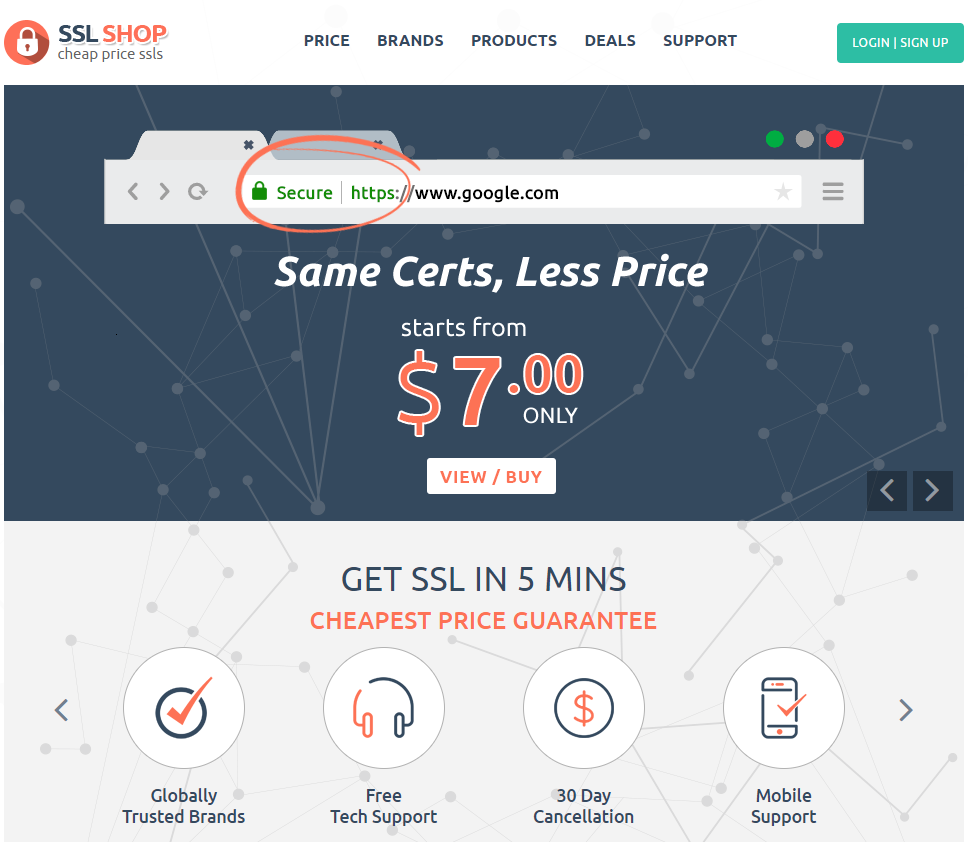 #2. CheapSSLShop – Cheapest SSL Certificate Provider
All SSL brands under one roof
All types of validations available
Best reseller
CheapSSLShop is a favourite for all business owners, because it provides a variety of SSL brands, all under one roof. Apart from being one of the cheapest SSL certificate provider where Comodo SSL products are available at a minimum price of $7 USD/year; it is termed as one of the best resellers who sell SSL products in all the three validations like Extended Validation, Organisation Validation and Domain Validation.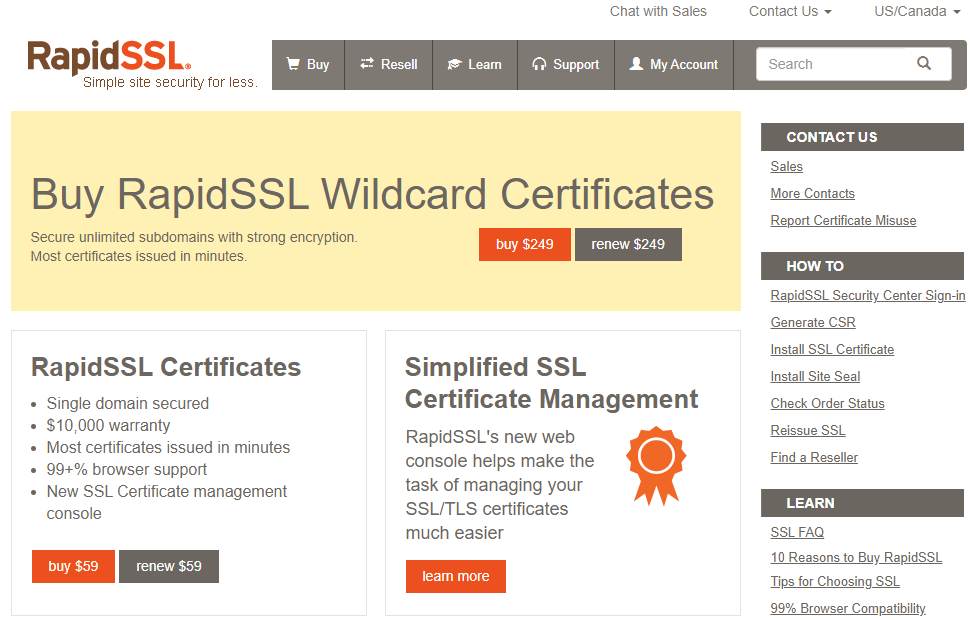 #3. RapidSSL – Low-Cost Certificate Authority (CA)
Operates on GeoTrust Global Infrastructure
Package includes installation tools
RapidSSL is a subsidiary of GeoTrust Inc and was founded in 2003. GeoTrust aims at large corporates while this entry level certificate, targets small businesses. RapidSSL is a low-cost Certificate Authority which has a quick issuance, money back guarantee, mobile browser compatibility and unlimited re-issues and server licences.
An additional advantage is that, this certificate provider also provides installation tools as a part of the package, apart from 24/7 customer support. RapidSSL certificate prices start at $59 USD/year.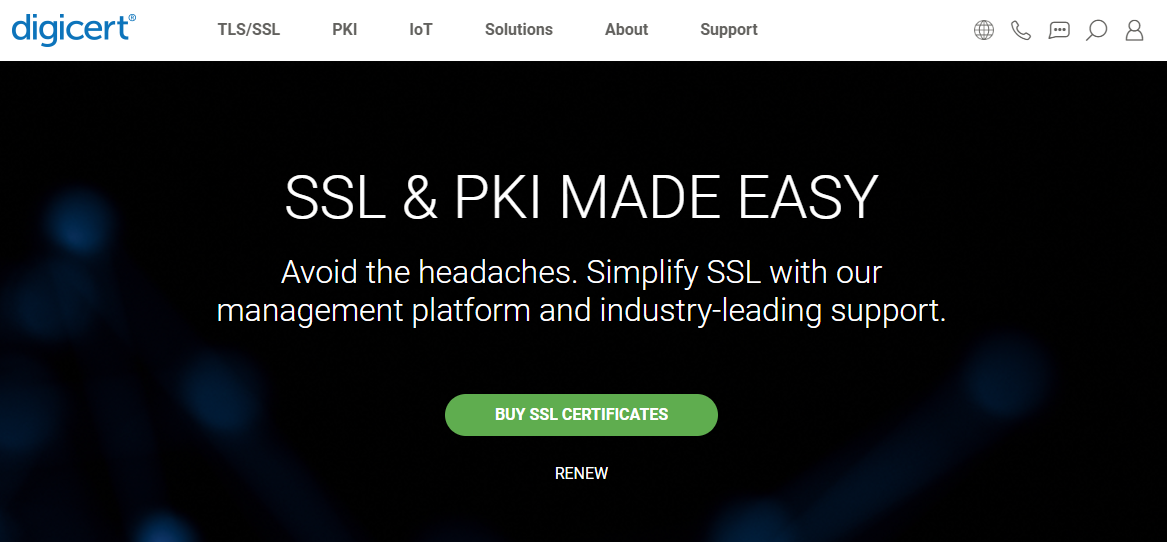 #4. DigiCert – Best SSL Digital Certificate Authority for Encryption & Authentication
International offices in 8 countries
Acquired Symantec's web security
Multiple Wildcard Option available
Trusted Site Seal
DigiCert Inc. was founded in 2003, and has its headquarters in Lehi, Utah. It is widely spread, across the globe with international offices in many other countries including India.
Internet's most recognised trust seal is powered by DigiCert, i.e. Norton Site Seal; is one of its strongest features. Hence it is the choice of giant brands like NASA, Facebook, Yahoo, Amazon etc. and has top clients spread across more than 180 countries. Robust encryption, unlimited re-issues, warranties and money-back guarantees all play a pivotal role in the success of this SSL certificate provider. DigiCert SSL certificate price ranges from $207 USD/year to $653 USD/year.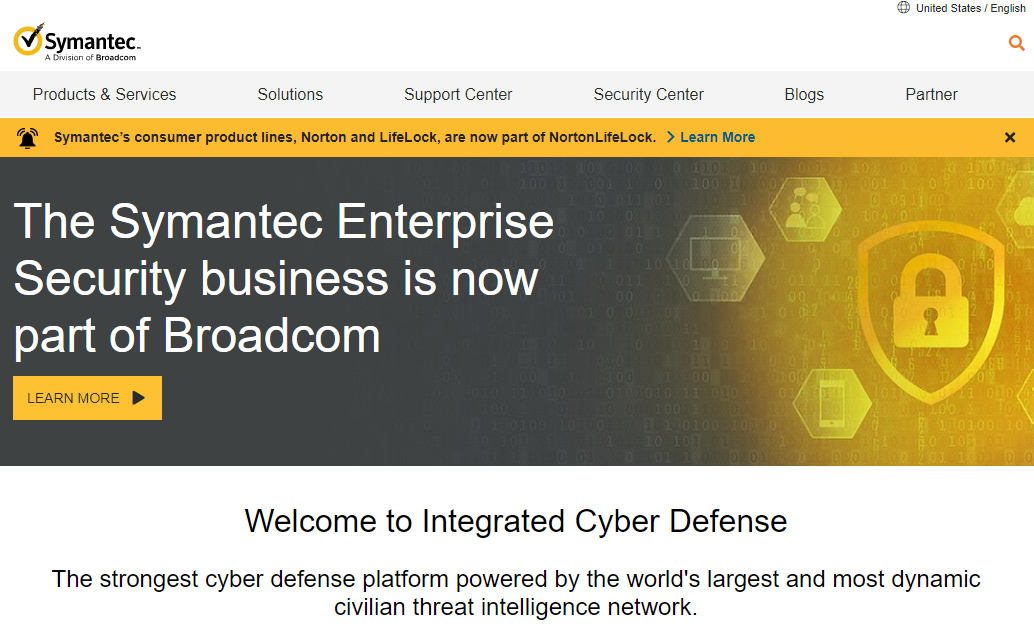 #5. Symantec – Global Leader in Next-Generation Cyber Security
Dynamic Norton Site Seal
Premium SSL hence costly as compared to other SSL providers
Symantec SSL certificate provider is a Fortune 500 company, which was founded in 1991. In 2010 it took over VeriSign, which is another big leader in SSL and hence Symantec is also known as VeriSign.
The best thing about this SSL certificate provider is projection of its site seal, i.e. Norton Site Seal. It is a favourite amongst banking sectors, finance sectors and large enterprises, because it offers Net Secure Protection Plan, which helps gain customer trust.
Free SAN facility for securing both non-www and www domains, is provided by Symantec certificate provider and hence it has a huge client base. Symantec certificate prices start at $399 / year.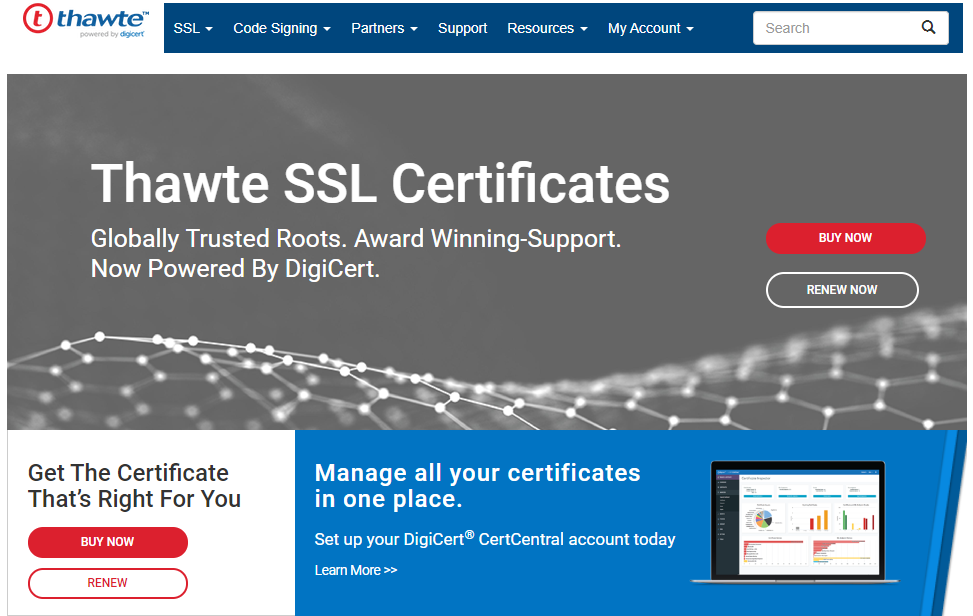 #6. Thawte – Best Code Signing Certificates Provider
Great certificate management tools
First CA to issue SSL outside US
Thawte was founded in 1995, with its headquarters in Cape Town, South Africa, and covers nearly 40% of the global market. Its online digital security is trusted by millions of people all over the globe. Thawte has issued more than 1 million SSL and code singing certificates in 240 countries approximately.
Available in all validations, this SSL certificate provider is a good combination of excellent certificate management tools and smooth browser compatibility. Its popularity rose when it became the first Certificate Authority for issuing SSL certificates to public entities outside United States; thus, grabbing the 5th largest CA in the world. Thawte SSL price ranges from $149/year to $344/year.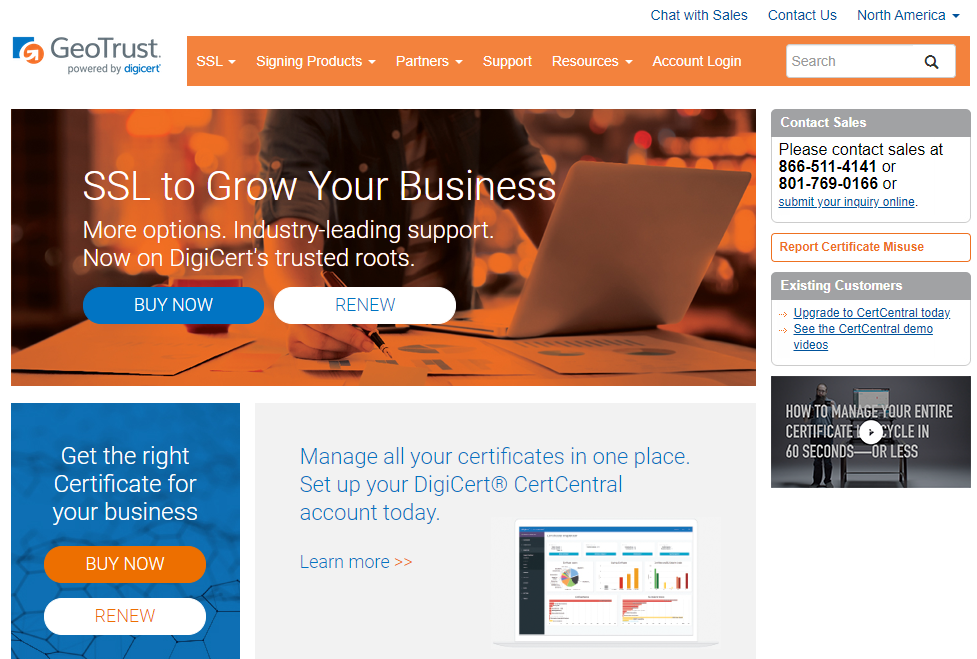 #7. GeoTrust – World's 2nd Largest Digital Certificate Provider
2nd largest SSL provider
Costly but very efficient
Enterprise solutions can be customised
GeoTrust is 2nd largest digital provider in the world having a global customer base of 1,00,000. Though it was founded in 1990, it started getting recognition in 2001, due to its 256-bit encryption and GeoTrust site seals based on identity verification.
This SSL is costly and competitive at the higher end and hence suitable for medium and large businesses. For OV and EV SSL, issuance time is bit high since identity checks take more time, due to its thoroughness to prevent phishing attacks. Representing future technology, this SSL provider uses code integrity for wireless platforms. GeoTrust SSL certificate price ranges from $149/year.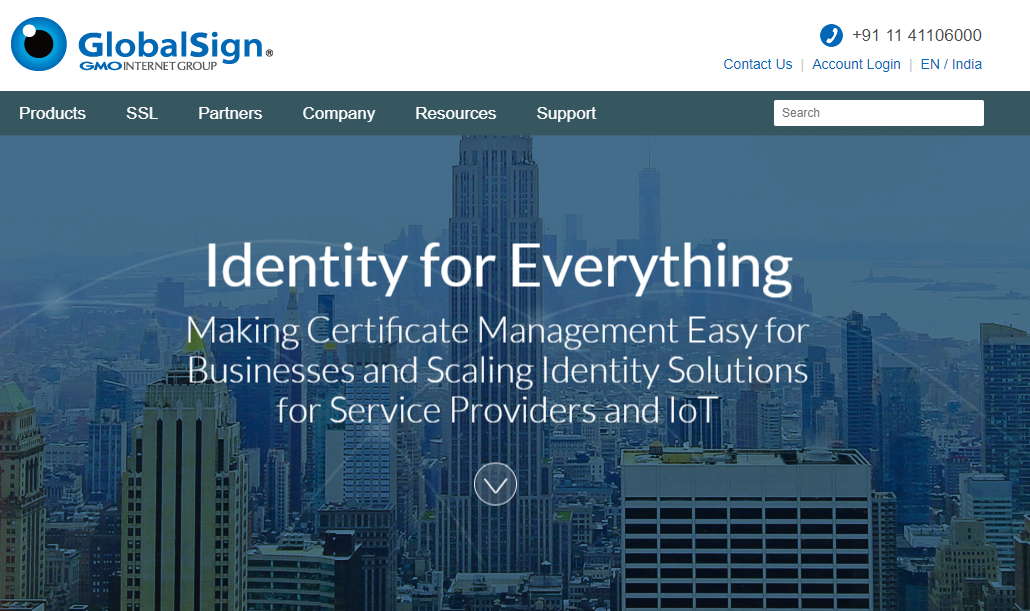 #8. GlobalSign – Best WebTrust CA and Identity Services provider
GlobalSign's Cloud-based, Highly Scalable PKI Solution integrated with Arm Mbed Cloud
Approximately 5000 certificates are issued every second, making it the Fastest Certificate Authority across the globe.
Combination of IAM and PKI technologies
GlobalSign SSL provider was founded in 1996 in Belgium, and is currently headquartered in Maidstone, UK. This trusted CA is a provider of Identity services and is a favourite for those enterprise customers who deploy highly scalable PKI solutions.
Integration of GlobalSign's cloud-based PKI solution with Arm Mbed Cloud permits a third-party developer, who is using Arm Mbed Cloud, to quickly automate digital certificate issuance from GlobalSign.
Perfect combination of IAM and PKI technologies, enables this CA to cope up with the high volumes of security needs for businesses, internet and gadgets. GlobalSign SSL price ranges from $249/year to $849/year.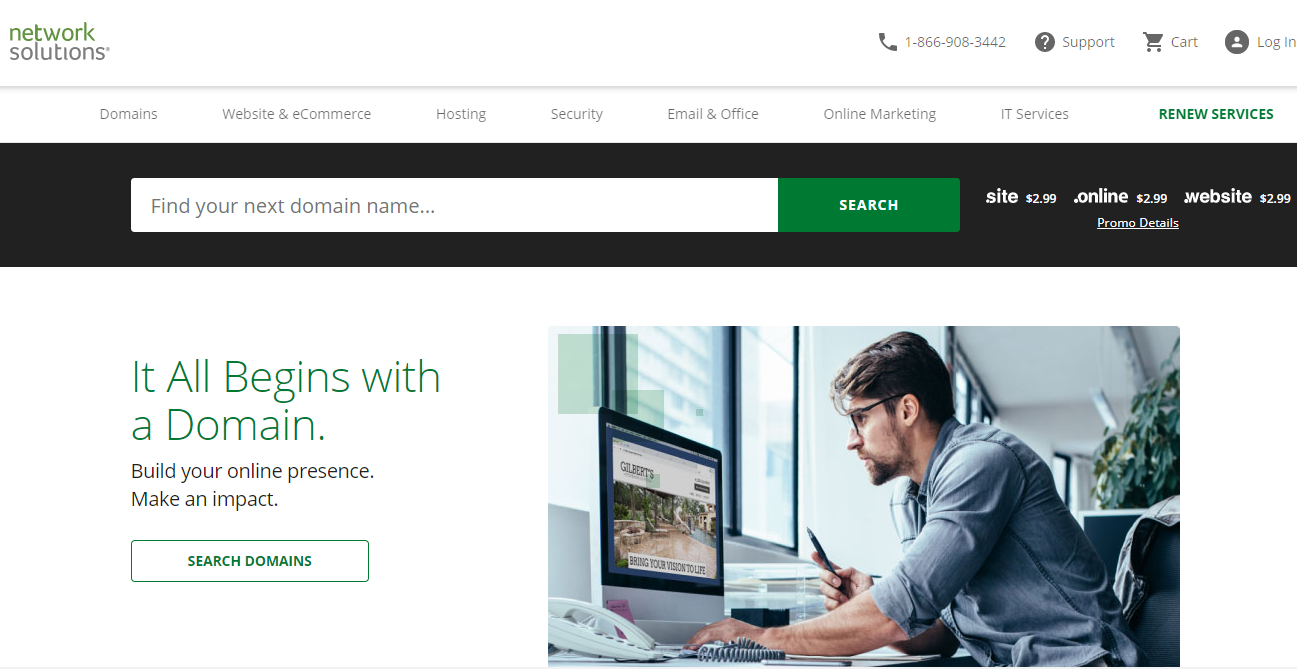 #9. Network Solutions – The World's First Domain Provider
Affordable rates
One of the best domain name registrar company
Network Solutions LLC is the 4th largest domain name registrar company in the world. They offer multiple ranges of web securities and services like SSL certificates, domain names, e-commerce solutions etc.
Though quick issuance and budget-friendly prices are its advantages, the main disadvantage is their support team is a bit weak as compared to other CA's. Its performance monitoring service not only scans your site for security issues, but also protects your website against hackers.
In case of change in hosting provider, this CA offers free replacement of SSL and hence is largely loved for this option. Network Solutions SSL certificate price ranges from $59.9 USD/year to $579 USD/year.
How to Choose the Right SSL Provider?
Majority of the SSL certificate providers provide 256-bit encryption and 2048-bit CSR encryption. Unlimited server licences, unlimited re-issues, 90% mobile browser compatibility, trusted site seal etc. are some of the other common features of SSL certificate.
Depending on the type of business you have, you can find the best cheap SSL certificate provider that meets your business requirements. Selection of proper validation of SSL for protection of your domains and sub-domains will help save your business from cyber-criminals.
Conclusion:
SSL certificate for your site helps boost SEO rankings, imbibe customer trust and faith in your brand, and increase network traffic, thus leading to business growth. Get one of the above installed right away and secure your business.