Glock has become the most popular pistols for lots of great reasons. The Glock is a very reliable and accurate handgun; it has overall a great simplicity and ease of use and also supports many aftermarket accessories. This is the reason why Glock Pistols is widely used by military, police, and private citizens across the world.
The default Glock trigger is a standard one, they are lousy and has long trigger pre-travel to that heavy trigger pull. This sometimes results in bullet hitting low and slightly left of the intended target. There are other factors as well which we should consider like grip and alignment these are important as well but the main thing is long trigger slack, and heavy pull takes.
The main problem here is the majority of Glock Owners doesn't fully understand the trigger mechanism of Glock. It is quite easy, and we consider the Glock Trigger mechanism to be pretty simple and easy to master for Glock Owners of all skill levels. Glock is loved worldwide because of its efficiency and performance, but these Glock Pistols comes with a polymer trigger which isn't that good at all.
This Polymer triggers my feel irritating and reduce production in some case for few users. So, in this case, you might want to replace the trigger after purchasing a new Glock trigger, or in case the trigger fails after a long period of usage, and you might replace it so here you will be looking for the best aftermarket trigger. These days there are a plethora of options, and we will help you choose the best. In this article, we will cover five of the best aftermarket trigger for different needs and will also suggest you the best bang for the bucks.
Why upgrade your Glock trigger?
Buying a new Glock is just like buying a new vehicle. Not everything that comes with it is enough for everyone. That's the reason a majority of people choose aftermarket parts to make their truck better. The same thing applies with buying Guns, The default trigger on the Glock might not be great, so you should upgrade your Glock trigger with the best option available in the market. Sometimes the trigger size fits from factory might not be what you are looking for, and that's why most of the Glock owners replace their trigger with the complete trigger set or even modify the trigger with new springs or connectors. Improving the trigger will improve your accuracy and also make it enjoyable while you shoot.
Glock pistols are very popular in shooting competitions, including practical three gun competition and other shooting sports which tries to simulate same as a real-life shooting situation. Just like we tune a car for racing sports, we can fine-tune a gun used for shooting sports. One of the thing in a sporting gun is optimized in the trigger, and the trigger is the heart of the whole process and for many other good reasons
The best 5 Glock trigger upgrade:
You will always find yourself confused with many products, but here we will take a look at some variety of Glock trigger upgrades which are available in the market for you to check them out and decide the best one for you. One of the most noticeable improvements will be an upgraded trigger system.
Overwatch Precision Tactical Trigger – Lightest Pull
Ghost 3.5 Pound Trigger Kit – Best for upgrading stock trigger.
Lone Wolf Adjustable trigger for Big Bore Glock –
ZEV Technologies – Fulcrum Trigger For GEN4 GLOCK Trigger – Best Choice
Apex Tactical trigger – Best Bang for the Buck.
So here are few of the best aftermarket Glock triggers:
1. Overwatch Precision Tactical Trigger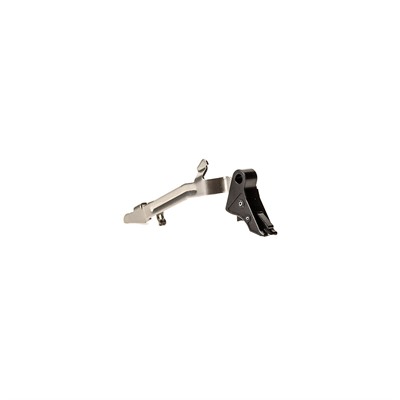 The Overwatch Precision Tactical Trigger is one of the popular aftermarket triggers, and the primary goal with this trigger is the carry it doesn't defeat any of the internal safety on the Glock pistol. It also got a robe of mb3 coating on the trigger bar which we haven't seen from any of the other aftermarket triggers from other companies. The Overwatch tactical trigger will fit all the different Glocks out there except for the Glock 43 and 45 ACP Models. This trigger has a smoother pull and a more crisp break, and you won't even feel this like a regular trigger. The trigger has almost no take up without interfering with any internals drop safeties. The trigger pulls at a consistent 4 pounds which we think is perfect for concealed carrying. Now with many Glock triggers the gauge kind of wiggles so you should hold it still with your fingers. While using Overwatch Precision trigger, you might notice a huge improvement even with the stock internals like the way it pulls straight to the rear. This Drop-in trigger replaces the boring factory trigger with a high match grade quality which features a clean and crisp break and is made from high-quality materials. This trigger is great for everyday carry guns, and if you are looking for a hardcore tactical trigger, then this one is a must for you.
The Overwatch Precision Tactical Trigger comes with a high price of – $134.00
Available at brownells
Ghost 3.5 Pound Trigger Kit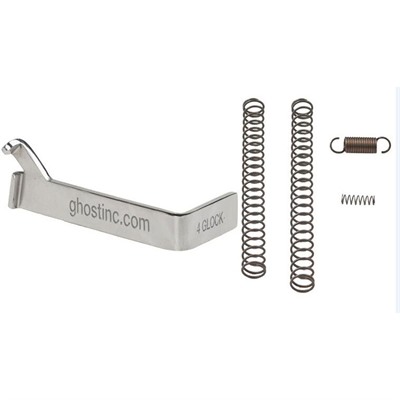 If you are a not a big fan of Glock stock trigger and think it is kind of mushy or heavy and wanted to have a lighter trigger pull then, you should check out Ghost 3.5 Pound Trigger kit.
For most people, it makes the gun more comfortable to shoot therefore increasing accuracy. The Ghost 3.5-pound trigger kit makes the factory trigger smooth and soft shooting. The Kit includes 1-Ultimate 3.5 LB. Drop-In connector, 1- 6.0 lb Trigger Spring- Not used on Gen 5 Glocks 1- 4.0 lb Firing Pin Spring (Target/ Sports Configuration), 1- 6.0 lb Firing Pin Spring (Self-Defense Configuration), and, 1- Reduced power firing pin safety spring. The Ghost 3.5 Pound Trigger Kit provides short pre-travel and fast reset, the drop in the kit has a newly designed self-cleaning trigger connector which helps eliminates bothersome pre-travel and allows you faster reset than the stock trigger. The Trigger connector features a self-cleaning debris channel which reduces the accumulation of residue and results in less friction, longer life, and improved reliability. The Ghost 3.5 Pound Trigger Kit will work on Gen 5 for the exception of the trigger spring, and this trigger will not work with the 42 or 43 models.
The Glock 3.5 Pound Trigger Kit for Glock is available at a price of $39.99
Lone Wolf Adjustable trigger for Big Bore Glock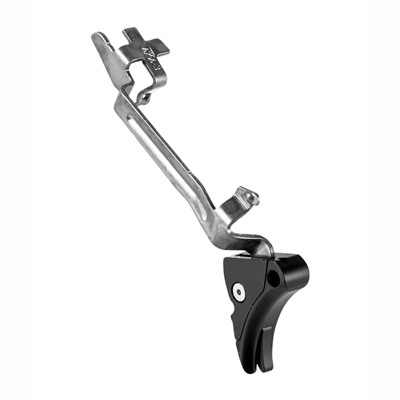 Not everyone who buys a new Glock pistol loves the stock factory trigger pull that's where the Ultimate Adjustable Trigger from Lone Wolf Comes in the role, The Lone Wolf Adjustable trigger has all of the features you want in an aftermarket trigger, and at a price you need. The Ultimate Adjustable Trigger is available for all Glock models except GEN5 (coming soon!) and can be ordered as just the bare trigger shoe, or complete with an OEM Glock trigger bar. This Trigger Offers in gun adjustability of the Pull, so you don't need to adjust pre and over travel. The Oversized safety lever in this trigger gives more comfort to the fingers while shooting. It has a single screw assembly which makes it durable and straightforward the two-piece design allows easy trigger bar swap. The trigger shoe is made out of 6061 billet aluminum and is put together with an honest screw, and does not use any press out pins as you see in similar trigger units. The trigger pull averaged around 3.4 lbs. Some of the main features of this trigger are its Aluminum construction with Polished trigger bar And User adjustable for pre-travel and over-travel without full disassembly which is excellent. Two Different trigger shape & radiused edges offer better trigger control & comfort while shooting. This is the best Glock trigger upgrade for those who are looking for more performance out of their high powered Glock Pistol.
Lone Wolf Dist, Adjustable Trigger for 10mm / .45 comes with a price of – $74.99
ZEV Technologies – Fulcrum Trigger For GEN4 GLOCK Trigger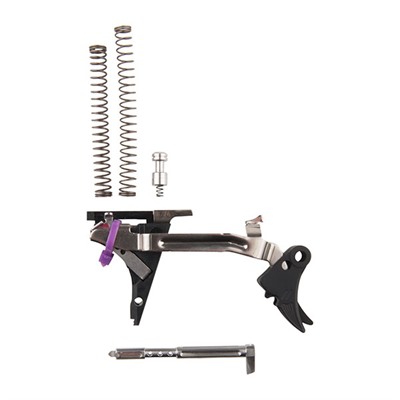 Zev technologies Fulcrum trigger is a greatly precise trigger which is adjustable for both pre and over travel, and if you own a 4th generation Glock which takes 9mm bullets, then this is a must for you. This trigger offers consistent short and crisp pull and reset. Zev trigger got a full drop-in replacement, and if you decide to get the complete kit, it comes with new springs, a new ejector, and a new firing pin safety plunger. This trigger is slightly expensive than other aftermarket triggers, but if you get the complete trigger kit, then it's definitely worth the money. The reset is extremely fast and is adjustable for pre-travel and over travel so you can tune the trigger anytime based on your shooting needs. The trigger pull and break is amazingly smooth, and you will surely feel the difference when moving from the factory trigger to this one. The trigger is slightly tricky to install than other triggers also the price is a bit high, are the only two cons we found while using this trigger.
The Zev Technologies – Fulcrum Trigger for GEN4 Glock Trigger is available at a price of – $250
Apex Tactical Trigger
Apex is a well known and popular trigger manufacturer for improving the precision of a trigger. It is a self-contained system with a trigger, trigger bar, and disconnector all having built together. This Apex Trigger will give you a quick stop initially so you will eventually get to know when to ease and pull the trigger. The Pull break is clean and has almost no travel to it. Another big difference is the flat faced trigger which still maintains the safety feature of a standard Glock. We like the Flat faced trigger because it has lesser pull weight. This is the least expensive trigger on our list, and this one works great, it reduces the pull weight and travel from the standard trigger and has a very great reset. This Drop-in trigger comes with a great price and the improvement. It will undoubtedly improve your shooting, but it also has some cons. This unit contains only Trigger and Trigger Bar so you may need to buy and replace the spring separately. We consider this trigger for an Average shooter it will improve your shooting and also make it enjoyable and at the end, it is a perfect bang for the buck. The trigger pull is around 1.5 pounds, and the trigger is smooth all the way throughout the pull and gives a crisp break and tactile click. Overall we think the Apex Tactical triggers an excellent purchase for a concealed carry gun.
Apex Tactical Trigger will cost you around $100
Final Verdict
A Trigger with no slack, light pull, and quick reset makes the shooting simpler. You can easily see the main advantage of an upgraded Glock trigger unless you don't have a good set of fundamentals on the gun you are using. Once you build our skills, then you can spend on upgrading triggers. You will not get the benefit from an upgraded trigger unless you can control the trigger at the first place. After you have learned shooting there are tons of benefits of an upgraded trigger like a smooth and less trigger pull will make the trigger easier to pull without moving the sights and at the end, it will improve the distance shooting. So this was a quick article on a few of the best aftermarket triggers available in the market to make your Glock shooting more precise and accurate. Whatever your reasons and choices are, there is plenty of options available, and the best Glock trigger upgrade is something which depends on your personal preference and also depends entirely on your budget, end of use, and what you desire to turn your gun into.
Also, Read how to Get Free Netflix for 1 Month Here